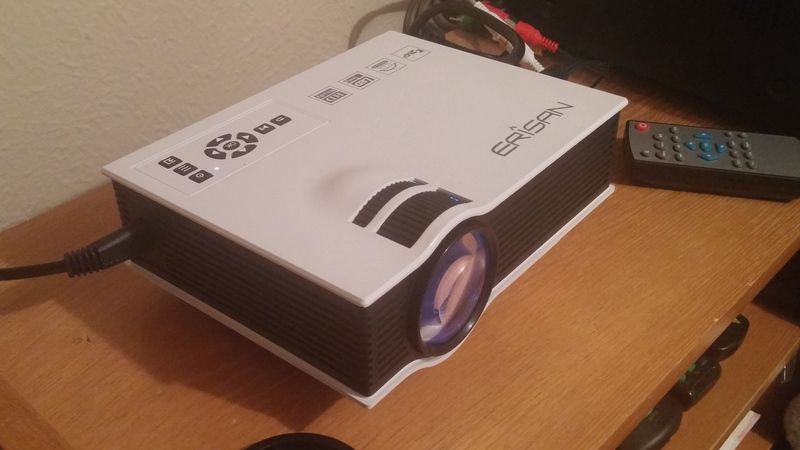 The ERISAN UC40 in all its glory.
I was originally planning to review the cheap Chinese projector I recently bought for this article, but I immediately realized that I am not willing to scrutinize this seventy-five dollar miracle in a way that would satisfy even the most casual reader. I plugged the thing in, fired up
Nazi Zombies
, and instantly fell in love. The End.
But I realized that perhaps a lot of my readers have not discovered the joys of gaming with a projector, and having recently purchased my third one, I thought I could offer some advice for those on the fence, or those who have never even given it a thought. So, where to begin?
Do you have a room that you can make mostly dark? Most people do, but it's an extra bonus if you have a room that you can completely darken during the day. With the first projector I bought, I used it in a room with one small window, which I was able to black out completely with just a bath towel. My first projector was the Optoma DS303, and I loved that thing!
Along with a dark room, you'll also need about six feet of clearance from wall to wall. I've always put my projectors on a bookshelf in the back of the room, but if you want to get fancy, you can mount it on the ceiling. How far away you can get the projector from the wall will dictate the size of the screen. I have never felt that I was short on space, but if you're fortunate enough to have a huge room, keep in mind the maximum screen size for your projector. My current projector is only eight feet away from the wall, but I am able to get an 85 inch picture from it.
Next, you'll need to decide what you are going to project the image onto. I have always projected onto a plain wall, which I am completely satisfied with. However if you want a sharper image, you can buy or assemble your own screen. You can also buy projector screen paint, which will supposedly reflect the image brighter than normal paint for a better picture. I have never seen screen paint in action, but I'd love to hear from anyone who has.
The next thing to figure out is your sound. Unlike televisions, most projectors don't have satisfying speakers. The one I just bought is only a little better than a cell phone speaker and the previous two that I owned didn't have internal speakers at all. Currently, I use an old-school stereo amplifier with two, old Kenmore speakers. If you have a more sophisticated sound system than that, you're probably good to go. An alternative to makeshift (or actual) surround sound would be headphones, if you're cool with that.
The last thing you have to decide, and this is a biggie, is whether or not you want to go for a high-definition or standard picture. The trade off for a considerable improvement in picture quality is a massive increase in price. As I mentioned above, the projector I just bought ran me a paltry seventy-five dollars, while the two previous projectors I owned, (both HD) were $550 and $400. When those puppies break beyond their warranty period, as both of mine did, that really hurts financially. I'm not saying I'd be happy if my cheap projector failed right away, but it would be an easier pill to swallow than the dead pixels that plagued my second projector only two years after installing it. The projector I use now down-samples an HD signal (from an HDMI cable) into standard definition, but to me it still looks sharp and crisp and I am very happy with the picture I'm getting for the money.
The picture quality is not too shabby and fills up the entire wall!
So by this point in the article, you might be thinking that I'm really glazing over all kinds of technical details, and you'd be correct. This is because my projector set-up has always been my secondary gaming set-up, and thus I've always approached my projector set-up with a slap-it-together-and-go type of attitude. If you've been thinking about trying a projector, grab a cheap one to decide if it's right for you, your family, and your set-up. Then, you can think about upgrading to a more expensive HD model. Either way, gaming with a projector is a unique and fun way to supplement your time with an actual television. With even the cheapest set-up, you can feel like you're playing your favorite games in a movie theater!
That's not a bad way to play games, and something I've never considered. I guess picture quality is the biggest decision you have to make when shopping for a projector. Thanks for sharing your thoughts on this kind of set-up.

I heartily agree with you on this, GrayGhost. I actually played through a bunch of NES games a few years ago with a projector, and it was f-a-n-t-a-s-t-i-c. It seemed perfect for playing 8 and 16-bit era games, though I learned the hard way projector quality varies. I had an NEC once that was amazing, then moved onto an HP that was a blurry mess. The Epson I have now works really well, though I usually just bust it out for kids sleepovers these days. I kind of want to play Contra on one now...

As soon as I find myself living in a place larger than my current apartment, I know I will be investing in one, I have wanted one for a long time. Many years ago, my friends and I would attend our church's overnight lock-in events and we would always head down into the basement where the theater room was located, hook up our Dreamcast to the projector, and play Soul Calibur together while also taking turns with single player stuff like Crazy Taxi, Sonic Adventure, and SEGA Smash Pack.

Good article, man! I have dabbled in this, but have never been able to afford a decent projector, let alone have a great place to put it. However, my company is getting new projectors this year (finally), and I may end up "inheriting" one of the older units. It's not full/true HD, but it has HDMI, component, composite, and of course, VGA. I could really see getting some use out of something like that with my Saturn, because I could display the "tate" mode for vertical shmups, and then just use the projector's built-in features to rotate the picture 90 degrees so I can get the full effect w/o having to set the projector on its side (a risky gambit). I have thought about buying a nice multi-input HD projector at some point, once I get a different house that's large enough to have a real den/game room, because I would love to be able to do some serious gaming on a 100" screen.


I used to have a XGA (1024X768) LCD projector in college. It was great for playing games and movies, but I'm not sure I would go back as I have a dedicated TV for modern and retro systems. I might change my mind once the basement is built out a little more. I would highly recommend trying out gaming on a projector if you haven't already. Thanks for the article!

I found some old pictures my projecting playing Mario Power Tennis and Star Wars Battlefront:

[URL=http://smg.photobucket.com/user/cisco678/media/IMG_0457.jpg.html][img width=675 height=506]http://img.photobucket.com/albums/v136/cisco678/IMG_0457.jpg[/img][/URL]

[URL=http://smg.photobucket.com/user/cisco678/media/IMG_0418.jpg.html][img width=675 height=506]http://img.photobucket.com/albums/v136/cisco678/IMG_0418.jpg[/img][/URL]

I have an XBox 360 hooked up to an HD projector and can't recommend it enough. Add surround sound to that and you are in for an amazing experience. The problems I've found deal with displaying lower quality sources and sd programming. Because you are blowing up the source to such a large size, lower quality signals have their inadequacies amplified while throwing it on the big screen.