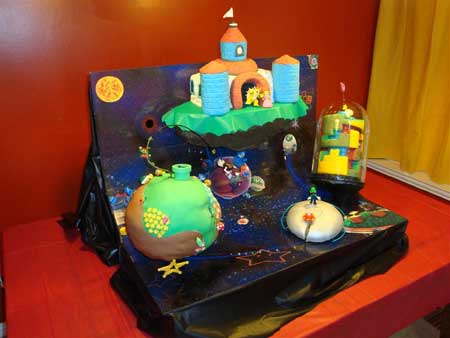 You know, normally we'd let other fine establishments waste your time with posts on game cakes. But, sometimes exceptional cakes deserve exceptional credit.
In this case, this Super Mario Galaxy cake was made for a daughter's 4 year old birthday party. As you can tell from the photo, it looks pretty damn awesome. I personally like the glass pill from the Good Egg galaxy or whatever special Galaxy it was from. Well, I know the Good Egg Galaxy had a pill, but it might not have been that exact pill, but still it's pretty damn cool.
Either way, this is a cake for the ages, and any game geek should be giddy with glee from the sight of this game cake. What? You say you aren't? Well aren't you a heathen? Well, perhaps a video of the cake might change your mind, as seen after the jump.
To say that is not a feat to be accomplished would be an out and out lie. This cake is amazing, and I give kudos to its amazing creator.
Hannah's Super Mario Galaxy Cake
[Willyliliana.com, via
Kotaku
]
That's definitely sweet looking, but how much of it is actually edible? It doesn't look like much is, so what was the point? Seems like he would have been better off putting the time, energy and money into something that was at least a little more useful.

You know, some people would argue that time could be better spent than contributing to RF Generation. To hell I say with them.

Beautiful Cake


...the cake is a lie

Sure looks cool but I like the fact that my mom made all my birthday cakes growing up.

Hmmm, I don't think I'd want to eat that.



It looks great but in my opinion he'd better made something durable. Spending so much time on something that is eaten/destroyed in 30min seems like a waste to me.

@Tondog: LOL. Good one.



Really cool-looking cake!

Reminds me of the stuff they put together on that TV show "Ace of Cakes". Fun reality show. The guy has a cake business in Baltimore, MD and they put together exotic cakes for weddings, bar-mitzvahs, etc. and the show gets into how they go about making each custom cake. It doesn't sound that exciting at first, but if you watch the show it's actually pretty creative.