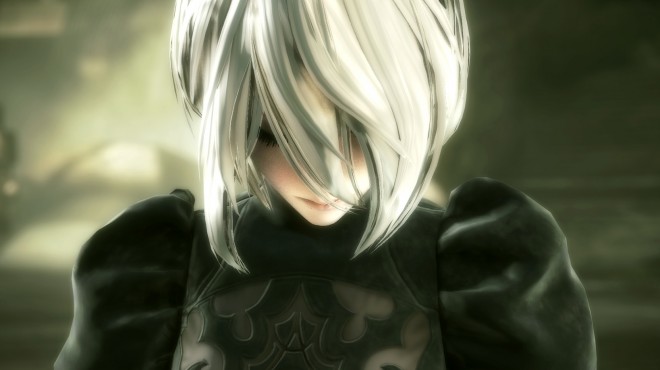 She just heard about her game's release window.
Most of us enjoy a good underdog tale and the existence of
Nier: Automata
certainly fits that description. It was released alongside two other highly anticipated AAA open world action/exploration games (
The Legend of Zelda: Breath of the Wild
and
Horizon: Zero Dawn
). That alone would sound a death knell for most games. In retrospect, it is amazing
Automata
has gained the attention it has.
While polished, with amazing character design, art direction, and a fantastic soundtrack, it was created on a developer-admitted small budget with noticeably last-gen graphics. This is shared with the rest of the series, as
Automata
is an unexpected sequel to the cult-favorite series
Nier
, itself an offshoot of the
Drakengard
series. And like its forefathers, there are a lot of reasons gamers may miss it.
Fans can look past dated graphics, although
Automata
's other limits continuously pop up with a constant stream of gripes and rebuttals. Limited enemy types, but they build up different attacks and tricks and remain fun to fight. A handful of reused environments, but traversing them is fun and simple. Washed out colors and textures, which artistically help emphasize the barren lifelessness of the game's world. Convoluted lore and unexplained game mechanics, by design. For every easy negative, a quick positive retort. But for me, there are two main reasons
Nier Automata
is to be highly lauded: its introspective story and the auto options. (We'll stay spoiler-free except for concepts and game-design.)
First, story. Indeed,
Nier: Automata
has risen above the easy criticisms mainly because of the strength of the slowly developing narrative. Much like its immediate predecessor,
Nier
, the full scope of the real story extends well past the first credit roll. In fact the obtuse narrative design all but guarantees that many players will get the basics of the events, fight the apparent end boss, watch the "ending" and ignore the game's assurance that starting a new game will reveal more. And before moving on, here's the real point of the whole article; play
Automata
, and play past the first two "endings."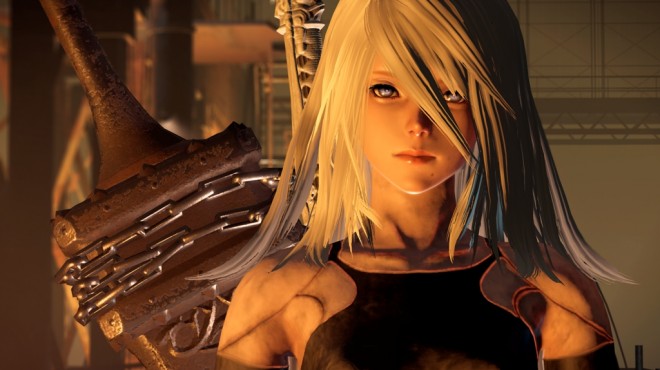 "Cloud who? I've always had this sword."
In fairness most of us old-school gamers are used to being disappointed in a promised "reveal" by playing on a tougher difficulty. Usually it is something like a black "Thanks for Playing, You are the Best!" screen added to the ending, and little to nothing more. Oh, the hours I put into
Axelay
and
U.N. Squadron
on the toughest setting just to see that. Some games like
Contra III
add extra bosses or other cool things, but for most games, completing on a normal difficultly assures that the player has seen 98% of the game.
That isn't true for
Nier
, and not at all for
Nier: Automata
.
In fact, if a player never starts a "new game" after the first "ending", they literally miss out on over a third of the actual story. The first time you see the credits, that's ending "A." Though it isn't spelled outright, starting a new game on that same save file begins the game with a different character in the story, (with all of your upgrades and items) and perhaps more importantly this character goes through different events than the first playthrough, so that by the time you reach ending "B", you've seen parallel but different stories that paint a more complete picture.
And that still isn't the "real" ending, which becomes immediately apparent to brave souls who start yet again. Instead of the same overall events, the beginning of the "third" playthrough starts explosively right after the story of the "A" and "B", with dramatic events that change the scope of everything that happened up to then. In fact, the first twenty minutes of the third "new game" shapes the two previous story arcs into a sort of prologue setup for the "real" story, which can end in three distinct and impactful ways. And that's not counting about twenty "joke" endings. (A "joke" ending may be, for example, failure to rescue a character, in which the screen fades, a pithy text scroll mentions how your character decided to take a stroll while everyone died, cue a comically sped-up credit roll, and a return to the title screen with a new identifier on the save file for a "discovered" ending.)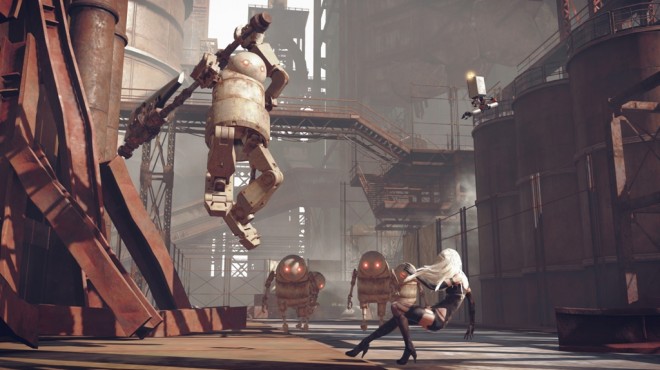 The war between robots and high heels continues.
The game does give many initial hints that there is far more to everything than the initial "A" ending. Some characters are introduced and then leave without explanation for the rest of that playthrough, or an adjusted camera angle may show something unexplained and odd going on while someone is speaking, and even the game's intro is mostly cuts from events that don't occur or have any context until at least the "C" playthrough. Indeed,
Automata
tantalizes without easily giving away what it has in store.
In the same vein, the characters have enormous customization options for how to approach combat, with dozens of different weapons, skills, and modifiers, almost none of which are explained in detail. How to equip, upgrade, and customize your character is barely explained, and experimentation is a big part of the gameplay. Speaking of which, although the majority of the combat is handled with a typical heavy attack, light attack, and dash-dodge system,
Nier
shares the mixing of gameplay in its predecessor with occasional shmup sections and twin-stick shooting segments. Even the main action sometimes gets into straight-up bullet dodging.
Rounding out the oddity are side quests for NPCs that can be hard to find and are at times unexpectedly cut-off until subsequent playthroughs. Even the save system is finicky on purpose, with absolutely no auto-save and the inability to save in certain sections and for narrative purposes. And there is a very important save-game issue familiar to those who completed the original
Nier
.

For a game that has such an eclectic series of narrative barriers and unexplained gameplay elements,
Automata
does feature a mechanic that I personally think should be included in far more modern games. This gets us to the second reason the game should be notable and even elevated. In the same way that some modern driving games feature "assists" that help (or take over) braking, over-steer, or even acceleration,
Automata
includes "Auto" ships for dodging, attacking, support firing, and even item collecting. It is easy to read that and wonder why the game would be allowed to basically play itself. Sure, for a game about androids and robots it seems thematically appropriate, but why take the "play" out of a game?
Yet the way this system is implemented is perhaps the greatest conceptual addition
Automata
adds to a crowded genre. Every assist is treated differently (even each of the HUD elements can be removed) and can easily be switched on or off. What if a player has perfected the normal action gameplay but is terrible at the shmup scenes? Click in the auto dodge. Tired of grinding? Run around an area of powerful enemies with the auto-attack on and mop up. Farming for that stupid rare item drop? Switch out your character abilities ("chips") for a higher drop rate, turn on the auto-collect, auto-attack, and auto-dodge, and run around the target area.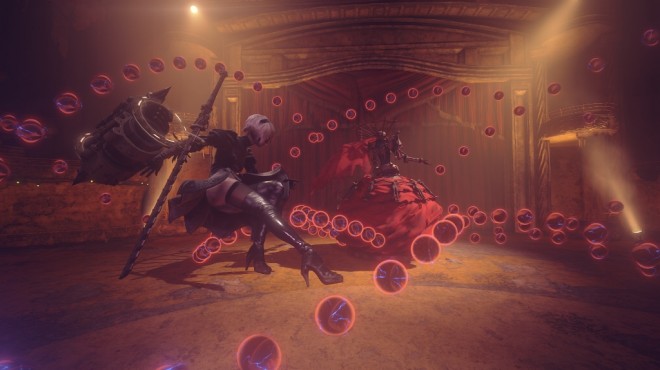 For some reason I'm having
Ikaruga
flashbacks.
One of the reasons the auto system is so perfect for
Automata
is because as the story really ramps up during the back-half and many startling revelations are made, the enemies get markedly tougher and some bosses get pretty rough. While this is appropriate, it is also a barrier for some who just want to see how the story ends. It should also be noted that the auto settings do not let the game completely play itself; it is indeed quite possible to take hits and even die with them on if the player is not paying attention and "in the game." However, the auto settings allow just about anyone to get through the main story and experience the narrative. For those overwhelmed with the intense action, these auto settings can be turned off as the player naturally builds their skills. Similar systems have been implemented in other games like
Bayonetta 2
and some Nintendo games, but
Automata
really nails how this type of system should work. Best of all, it is available but not required, so a player never has to activate any of them and can play as they typically would, or add and subtract as desired.
Finally, when it comes to a spoiler-free discussion on the story, about all I can say is that it is as good and well done as everyone who has completed it has said. The biggest gripes likely came from those who stopped at "A" and didn't realize the story hardly started. The themes explored are interesting, thoughtful, and thematically quite heavy. I haven't felt as philosophically engaged in a game since
Soma
, another of my favorites in recent memory. The concepts explored in
Automata
pick up a lot of the ideas from the original
Nier
but are well enough developed to stand on their own. I'd love to discuss them in PMs, but please keep the comments spoiler-free; I'm sure you'd agree there's nothing like finding out for yourself the first time.
That is why I mainly reflected on
Nier: Automata
in concepts instead of specifics; it is a game best served to go in open-minded and without knowing quite what to expect. I mainly want to give those interested a push not just to play it, but also experience the entire story. I'm not sure it will make my top ten of all time, but
Automata
has done something better; I want to take time and digest it. I have yet to finish the conversation
Nier: Automata
started.

*All pics from platinumgames.com