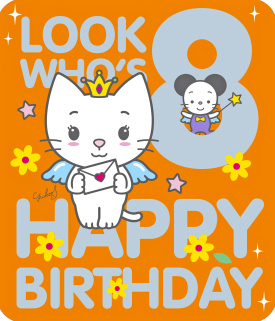 RF Generation is turning 8, isn't that great?! For 8 years, we've been working to create an amazing database of games and a swell community. I think we've definitely accomplished that. Our database includes both games and hardware, something most other sites out there simply do not. We have over 80,000 scans, all unique to us and not seen anywhere else on the web. We have over 60,000 games listed and almost 5000 pieces of hardware. Our community is so close knit that it often feels more like a large family spread throughout the world than a gaming forum. So yeah, I think we've spent our 8 years on the Internet pretty well.
But none of this would have been possible with you, our dedicated members who have spent countless hours scanning, editing, and researching to do your part to make our little site even better.
So thanks to each of you that have contributed over these last 8 years. And in order to show how much we appreciate all your efforts, we're giving away a fantastic prize! Now that it is officially the 8th birthday of RF Generation, the
Pain Yourself With Submissions
contest has officially begun! So get out there, and do whatever you can to help make our site better and you could walk away with a great prize!
Thats an impressive milestone. To think I was missing out on rfgen all those many years before I discovered it.

Oh and by the way, its on!!!


Happy Birthday, RF Generation staff

WOOO!!!

JELLO SHOTSH ALL AROUN'!

I wanna... I wan... I waana thank you guysh for da open bar at dish party...

An' anosher ting... I love you guysh. Um... no homo. *Pfffft, Snicker*

Speakin' a' whish... dis party's a total sausage fesht.

Where da chicksh a' dis birshday bash?

*THUD* ZZZZzzzzzzzz...


that is crazy... I guess I have been a member sense june 2005


@Zagnorch: Ok, no more alcohol for you, sir

Happy birthday!


Happy Birthday RFG!

Happy Birthday RFGeneration!


Happy Birthday, from Sweden

@Zagnorch: Looks like you're the first to get Leon drunk for the contest...

@Deafens Proner:

*HIC* Hey, I can quit whe... whenever I feel like it!

I jush don'... I dun' feel li' it ri'now.

Ashully, I feel ki'na... *BAAARRRFFFF**GASP*COUGH*

Oh man... whatta washte of perfec'ly good 4 Loko.

Dat wa' my besht shirt, too...

*SOB*


@Zagnorch: heres 4$ go to goodwill and get another shirt

Happy birthday RFG! I was referred to a couple of sites for tracking my collection a few months ago and I am proud to say this is without a doubt this is the best site to do so. No other site even compares!

@bickman2k:

How... how man' pointsh do I ge' for dat? An' why are dere three of ya?

Hey, where'sh Shonbro... shibo... dat guy who digs dat show wit' da horsies? I promished him we'd play some beer-pong to celebrate da... anniversary... thing.

If anyone else ish game, though, I'm... I'm all... I'm... I forget.

Um... jusht where am I, anyhoo?



I made brownies for the occasion.

Happy birthday!

Uuugghhh... oh, my freakin' head...

What the hell did I do last night?

And where the hell am I?

I just hope I didn't do anything that made me look like a complete @$$...

I'm the ass around here, not you Zagnorch. I make an ass of myself all the time, thats what i do best!


@Razor Knuckles:

Hey, if you want the title, it's all yours.

More power to you...

@SirPsycho: What kind of brownies



Happy Birthday RF Gen!

Karma's back!

@bickman2k:

Um... yay?


Yay karma!

Happy Birthday RFGen! Glad to be a part of this community.