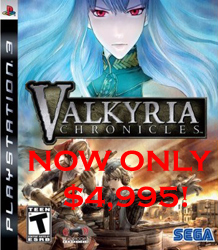 Gamestop, we all love them and their whole LET'S SELL OPENED GAMES AS NEW thing they like to do. Taking a stance against that policy, a clever eBayer by the name of newyorkrarebooks has put a "Gamestop NEW" copy of Valkyria Chronicles up for sale at $4,995. What's so special about this copy? I'll let the seller exlplain:



This is extremely rare to find in this state considering most other "new" / "sealed" games don't have the scratches on the disc nor the fingerprint smudges nor the somehow missing instruction manual that this version has.


Kinda funny, isn't it? Well, at least I found it funny.

Also, here's a fun anecdote about Gamestop and Valkyria Chronicles. As you may know, VC was one of the games Gamestop had as part of the recent Gamer Days thing they had. They were selling it new for 30. Initially I was like "BAWWWW IT'S GAMESTOP NEW SCREW THIS". But then I looked over at the used games and saw they had Valkyria Chronicles used for 30 and immediately stopped my whining. I even thanked the friendly Gamestop associate for saving me the hassle of having to open up the game myself.

Originally spotted on Sega's official blog.



Database Search
---
Site Statistics
---
Total Games:

134466

Total Hardware:

9745

Total Scans:

170688

Total Screenshots:

93347

[More Stats]
Our Friends
---
Updated Entries
---

(SW)
---

(N64)
---

(SW)
---

(SW)
---

(XOne)
---

(SMS)
---

(PC)
---

(PC)
Updated Collections
---
New Forum Topics
---
New on the Blogs
---
Nielsen's Favorite Articles
---