Ah,
Super Mario Bros.
, a classic... Level design, enemies, the music, the sounds, the atmosphere...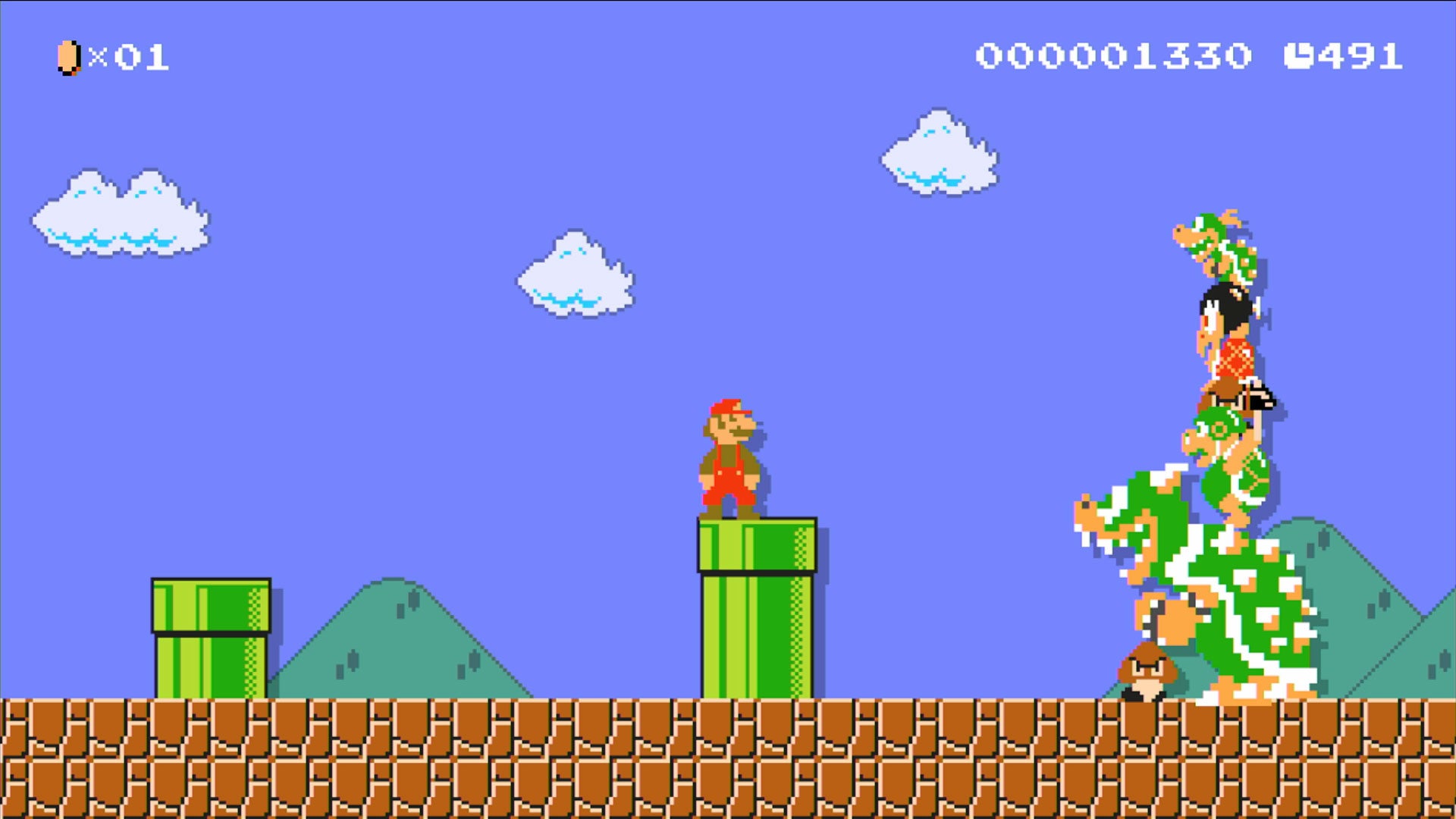 Oh... oh, no...
Super Mario Maker
is a title developed by Nintendo that brings the task of designing levels to you! Select your game and scenery, then drag, drop, and point to make your level! That's all there is to it. It's simple and it's fun!
You can make your course play in the worlds of
Super Mario Bros.
,
Super Mario Bros. 3
,
Super Mario World
, or
New Super Mario Bros. U
. It not only changes the look of your game, but it changes the physics of the level to match that game. For instance, if you were to make a precise jumping level with
NSMBU
and change it to
Mario 3
, you might have to make some adjustments, since
Mario 3
won't have the double and triple jumps like you planned for in the
NSMBU
look.
Changing your level from a newer game into an older one won't necessarily keep you from using all of the items and enemies. More recent enemy sprites have actually been backported from newer games all the way back to the original NES sprites. Thwomps, Boos, and Chain Chomps can be also used in your
SMB1
levels.
They look even scarier now!
Now, you won't have every enemy or every power-up at your disposal, but there's enough of a variety in each that you should be able to make a great level, no matter what style you put on it! You can make the flying turtles from all the way back in SMB1, and you can place them in such a way that you can create precision puzzles or obstacles to avoid. Not dangerous enough? How about floating Thwomps? Chain Chomps attached to tracks?
Homing Bullet Bills?!
QUICK FIRING CANNONS?!?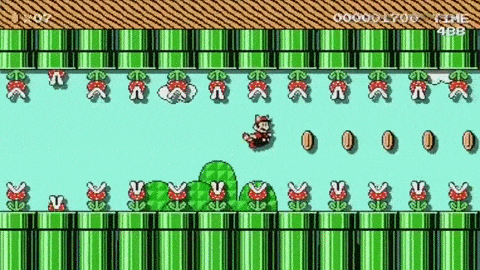 One of the biggest complaints I have about the game is that, despite how much fun it is to play the levels, it takes a bit of time for the tools to unlock. Yes, you have to use the designer tools to be able to unlock other pieces. It doesn't take an excessive amount of time, but if you don't have long to play the game every day or so, it takes quite a bit longer. As a result, you'll end up spending a lot of time with just some basic blocks and Goombas before you get to the saw blades, tracks, and sound/visual effects.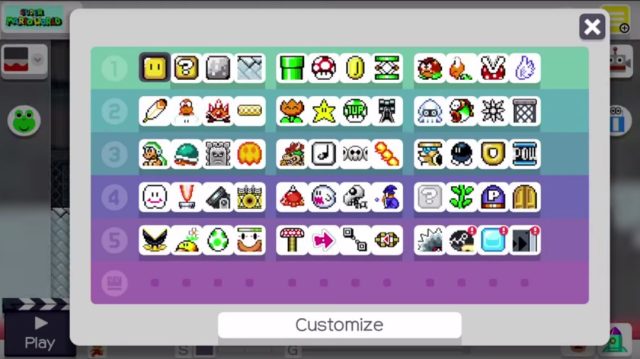 The tools at your disposal.
If you have the time to sit down and design a level, it's a rewarding experience when you fire up the game and see the comments left by people online who have played your stage. Yes, you have the option of uploading your stage to be played by your friends, family, or even complete strangers to enjoy. The only caveat to beating a stage is that you have to clear the level as is before you upload it. As a result, you can't make an impossible level and then upload it, because you have to beat it first!
This game also has amiibo support. While designing a Super Mario Bros (only!) stage, you have a power-up called the Mystery Mushroom at your disposal. It acts like a regular Mushroom, but Mario changes his appearance rather than growing. You can leave it as a "mystery" so that its effect changes each time you collect it, or you can select from the currently 130 different options, which can either be unlocked by playing challenges in the game or by using amiibo figures or cards.
This feature allows you to create a themed level. Want to make an auto-scrolling level that plays the Pokemon theme song while it moves? Throw in a Pikachu Mystery Mushroom so that you look like a character from the series while you listen. Making a maze level with lots of doors and pipes to explore? Turn Mario into Link or Samus to enhance the exploration!
Have the game already? Share your courses in the thread here:
http://www.rfgeneration.c...m/index.php?topic=16321.0
This is currently one of the best games on the Wii U and I highly recommended picking up if you enjoy the Mario platform games and would like to take a crack at developing your own stages. Make it easy, make it fun, make it sadistic... Just make it!