If you've been following the Game Boy Player Land blog then surely you're aware of my recent fascination with Shmups after finding my Hori Gamecube Fighting Stick. There were two previous posts I did about Shmups released for Game Boy Advance, which undoubtedly left some of you wondering when I might get around to the Game Boy Shmups. Well friends, here we are. I also threw in a couple of Game Boy Color titles, as it seems to me there just aren't enough good Shmups on the GBC. Now let's dig in, y'all!
In 1990, Ultra released a little Game Boy cart known as
Nemesis
. If those screens look at all familiar, they should. That's the Vic Viper flying around, shooting shit. And
Nemesis
is the Game Boy port of the Konami classic
Gradius
. Like most early Game Boy versions,
Nemesis
is certainly a lot more stripped down than its NES counterpart. The music is nothing to write home about, and the backgrounds are generally simple. But the game is no less fun.
The controls in
Nemesis
work well, and there are plenty of power-ups to keep the Vic Viper kicking ass. Not to mention the fact that the game is also generally easier than the NES version, compounded by the fact that you can choose which of the five levels to start on or select up to 99 lives. Most likely these helping-hands were put forth to make up for the extra challenge caused by cramping so much within the Game Boy's tiny screen. But if you're playing on the Game Boy Player, then things feel a lot less claustrophobic.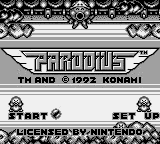 In 1991 Konami brought it's cult-classic
Parodius
to the Game Boy. Sadly, they didn't release it in the US. What's upsetting about that decision is that
Parodius
is easily one of the absolute best Game Boy shooters released.
Parodius
seems to have gotten everything perfect that
Nemesis
was close to getting right. The music is fantastic; The backgrounds are great and even include various scrolling effects; The boss battles include impressive animation; And best of all -- you can choose from multiple ships -- I always go for the Octopus myself. If you can find it, do yourself and add
Parodius
to your collection!
Project S-11
is the only Game Boy Color-exclusive Shmup that I can think of to recommend. The game is bright and colorful as you can see from those screens above. It also features some really great music -- y'know upbeat techno kind of stuff that gels so well with space shooters.
The gameplay mechanics are quite good. Your ship is responsive, and unlike most Shmups
Project S-11
differentiates itself by straying from the one-bullet-kills-you deal. However if I had to pick one element that causes
S-11
to demand replays it would be the power-ups. There are many interesting power-ups that force you to figure out the best way to implement them. For instance some are best left to holding down the shoot button, while others are better off with rapid tapping. Likewise, there's even a weird plasma-laser that works best if you shoot one stream, hold it down for a bit and then let go as it then sucks itself back at you causing more damage to enemies on its way back. Very original.
The first two
R-Type
games were released for the original Game Boy, and I wasn't a huge fan of them. My main plight was that the ship just felt too damn big to maneuver comfortably through such tight quarters. Eventually both games were combined and colorized and released as
R-Type DX
for the Game Boy Color. Now certainly the same complaint can be made about the ship size, but in some way I feel that the enhanced graphics somehow made the ship-handling at least slightly easier.
The sound and graphics are wonderful, feeling like a long-lost NES port that we all wish we had played. Though obviously the GBA port of
R-Type III
would put this version to shame visually, I find
R-Type DX
a far more playable game. Recommended if you're a fan of the series.
Released very early in the Game Boy's lifespan,
Solar Striker
may in fact be the first Shmup released for the system. It's an unassuming little title. Those screens above really don't do it the slightest bit of justice. For all the simplicity in the games' presentation, just a few minutes of playing reveal that
Solar Striker
is one hell of a fun game. The controls are tight, the bosses are generically awesome and the power-ups useful yet rather cliched, and yet somehow that works in the games' favor. It's as if
Solar Striker
is the perfect example of what a simple Shmup should be. It's a game that's both somewhat banal and completely must-own at the same time.
Trax
is actually pretty different than all the other games I outlined in my Shmups posts. For one thing, it doesn't take place in outer space. Instead you man a tank... that's shaped like an egg. Also, the screen doesn't automatically scroll like in so many genre-defining Shmups. This alone gives it an extremely different feel than the other games mentioned. What's even more different is that your gun can move independently of your tank's movement.
Okay, so Cute-Em-Up style graphics? Unconventional controls? That's right! You guessed it! This is a Hal Labs game. All the more reason for you to give it a try. It's definitely
nothing
like the other games I went over, but it's interesting enough to warrant a try. And you know Hal always delivers. This is definitely a game that seems a bit forgotten, which is too damn bad. The game also features a secondary mode that plays out in a melee style and seems to be an homage to the Atari 2600 classic
Combat
. Certainly a bonus.
Okay
so obviously I've given my arcade stick a total workout on Shmups. But just in case I missed something awesome, please let me know. Or if there's a specific Shmup I should keep miles away from, also a warning is appreciated.