Keeping your controllers fully charged is obviously important in today's age of wireless gaming. Of equal importance is having an organized, spot-on display within my Room of Doom. The Energizer Power & Play Charging Station was just what the doctor ordered for this gamer.
I have never been a big fan of the USB method utilized by Sony to charge standard issue controllers and certain peripherals. Though thoroughly effective, it is not the most convenient process known to man. The Energizer Power & Play Charging Station eases this process considerably.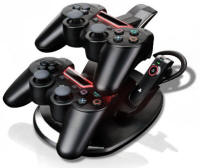 This handy, compact device can simultaneously charge up to four (4) standard DualShock 3 or Sixaxis controllers in around 2.5 hours. Two are easily docked directly into the station while two additional USB ports provide access to charge other peripheral accessories (i.e. microphone). The station alerts you to the charging status or each via the not so subtle lighting display (red = charging; green = complete). The performance is outstanding - I have not experienced any decrease in game play time as compared to controllers charged through conventional means. This excellence is also reflected in its overall design.
The oval, classic black chassis of the Energizer Power & Play Charging Station is nicely accented with a mirrored-silver front nameplate. The lighting indicators are extremely vibrant but not to the point of being offensive. The end result is an extremely clean, modern look that will not only compliment your Playstation 3 system, but will enhance your general display.
Overall the Energizer Power & Play Charging Station truly delivers on all accounts by providing exceptional functionality in a sleek, contemporary presentation.
Pros

Reliably charges up to four (4) USB devices at once

Compact yet stylish design compliments any Room of Doom

Cleans up that mess of mini USB cables hanging off your PS3 like umbilical cords

Cons

Plastic construction feels a little fragile

The base could be a bit heavier to provide better stability when docking a controller

Externally powered by an included AC adaptor, so you will need to free up a spot on that surge protector for this unit