I jumped on the HDTV bandwagon relatively early with the purchase of my Toshiba 52HM84 DLP television set back in 2004. At that time, the war for a standardized digital input was still raging and HDMI was not yet an industry standard. Not willing to sink a great deal of money into a fledgling format, my set came equipped with just one (1) HDMI port. With today's gaming systems (and other HD devices) fully embracing High Definition technology, I am once again begging for more television inputs. The Monoprice 8X1 Enhanced Powered HDMI Switcher (Monoprice 8X1) was the answer I was looking for.
This externally powered device features a robust eight HDMI 1.2 compliant inputs. This easily accommodates my current set up (Xbox 360, PS3, Cable Box), but more importantly allows plenty of room for growth. The unit is self-aware and will automatically switch to the active HDMI device (a definite plus). I have not experienced any freezing of images when switching (manually or device driven) between connected systems, though there is around a 5 second delay for the Monoprice 8X1 to determine/display the correct source. The performance is exceptional - the quality of picture and sound is unaffected by the use of this switcher. A RS-232 serial interface is also provided for controlling this device from your computer. I have not messed around at all with this feature (RS-232) so I can not comment at all on its ease of use or performance in this area.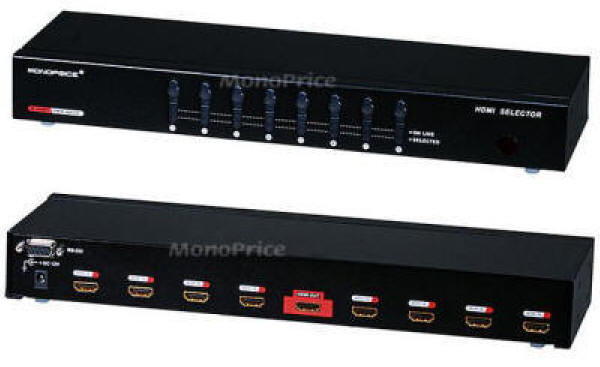 The black matte, solid steel casing of the Monoprice 8X1 is exceptionally sturdy. It is packaged with mounting brackets to easily place this switcher within your existing A/V cabinet. The front facing is elegant and simple, but the red and green LED lights to indicate the active device are truly abrasive. They are so bright that it is rather bothersome when you are in a gaming session. When all HDMI devices are inactive, the LED board is fully alit (pictured below) and so luminous that I could actually read the manual in an otherwise completely dark room. Now if this isn't overkill, I don't know what is.
The Monoprice 8X1 also is accompanied with a bank of various electrical convertors, which enhances this product's attractiveness to those outside North America. The plug itself is mounted on a convenient swiveled pedestal allowing you to customize the electrical connection (a.k.a. squeezing it into your surge protector). Installation and set up is a breeze - plug it in and you are all set to go. This unit does come with a small remote, but I have yet had the need to use it due to the HDMI auto-sensing capabilities of this device.
Prior to purchasing this unit, I did a great deal of research on HDMI Switches. The general consensus was that, as of today, all of these are basically toasters - the brand doesn't really matter for basic HDMI switching. One has to be aware of potential compatibility issues, signal "freezes" and ease of RS-232 support, but price overall is the determining factor in one's purchasing decision. Similar Monoprice products had been rated well by CNET and other independent review sources, especially when evaluating the value quotient. I purchased this unit around four months ago (July, 2010) and have been very pleased thus far with its performance.
Pros

Significantly increased High Def ports on your TV by providing eight HDMI connections for your gaming systems

Auto-sensing capabilities basically eliminates the need for further interaction once you have all of your HD devices connected

Cons

The LED indicator lights are abnormally intense and somewhat distracting when gaming

Externally powered by an included AC adaptor, so you will need to free up a spot on that surge protector for this unit