Hello all. It's been a while. Some of you may not even know me. Let me reintroduce myself. I am David Murnan, and was the former Site Director. Much of what you see is my creation. Ah, memories, but that's not why I am back. No, I am back because I called it. I freaking called it.
In 2011, RF Generation decided for a day that it would be the
in extra special 2D
. We went so far to announce the Nintendo 2DS over two years early!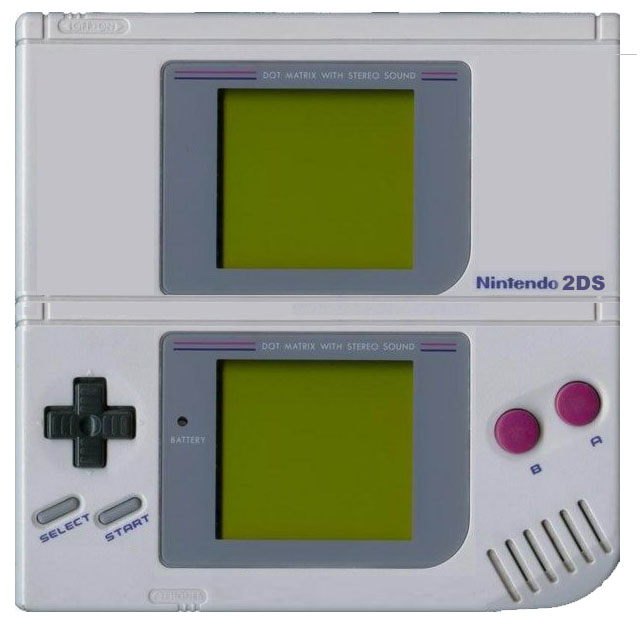 There it is, our concept, created none other than by our resident graphic artist den68. So imagine my surprise yesterday when
Nintendo Officially announced the Nintendo 2DS
. Deja vu, anyone? I mean, we called it in 2011. 3D was just so ahead of its time. Too, out there. Too, headachy. Either way, it appears as though someone at Nintendo saw our mock up and decided to create their own, final version.
The thing is, after Nintendo officially announced the 2DS, the internet
sort of went apeshit
. Some people, including
major gaming
blogs
, noticed our concept, and well, we are flattered. Did Nintendo rip us off? Nah, I simply think they took our concept to the next level, and I thank them for doing that. Thank you internet for also taking interest in den68's concept design. You all truly are the best.
We have since come to our senses and realized that 3D is perfectly okay. But, again, it's nice to see that people are taking notice of
our day in extra special 2D
.
Keep it on channel 3!
Good job on the art den! I immediately thought of this article when I heard the announcement, but had no clue how much people would run with it. Cobra mentioned it was posted on Facebook by Vooks (Australian Nintendo site), but it looks like it went up the chain pretty quickly after Wario64 tweeted about it:
https://twitter.com/Wario64/status/372970005513523200

I thought the whole 2DS thing looked familiar when I saw the commercial for it on YouTube earlier today.

You sure there's no way for you to earn some sort of royalties from this? Maybe you could have copyrighted the name "2DS" and waited for Nintendo to make an offer for it. Then again, why pay for it when they can try to sue your pants off instead? Gotta love our legal system...

Sue him? Looks like Prior Art to me!

That's so awesome, David! I can't believe what you intended as a joke turned out to be so prophetic. Everything from the slab design to the button placement, you nailed it.

It's so cool that the Internet has recognized that you called the 2DS years before it was real.

Many congratulations!

@bickman2k: Sorry, but logic and common sense have no place in the U.S. civil courts.

@Fleach: When I saw a legitimate ad for the 2DS, I said to myself that I most certainly had seen it before, and that it was an April Fools prank. Kinda dumb of me not to remember that I'd seen it on this very site over two years before! Small world...

Eagerly awaiting to see how many sites pick up the article:

http://games.yahoo.com/blogs/plugged-in/nintendo-2ds-two-old-joke-225114831.html


That's funny. I still have the PSD file on my PC here.

I didn't see us on any gaming sites other than the ones already mentioned.... yet.


That is awesome!

awesome...just freakin' awesome! I am buying stock in the next April Fool's console you create!

Does this mean that we are going to have to start paying for this site soon?

@singlebanana: Sometimes, I wish we had ad revenue. The number of visitors from yesterday would've given us a good boost to the server costs.

Great stuff.