| | |
| --- | --- |
| | --- |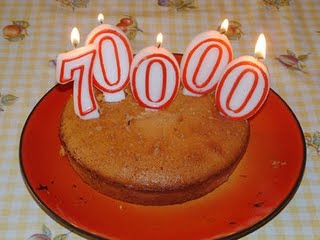 For those of you who don't keep a constant eye on our DB's statistics, we now have over 70,000 games in our little database. I guess it ain't so little any more. Now, if you're like me, you probably want to know what the 70,000th game added to the DB was. Well, I can't tell you. Not because I don't want you to know, but because I wasn't paying close enough attention to the DB stats and let us go 150 games passed 70,000. I'll blame it on you guys though, you're the ones who added 150+ games in the last day, before the stats on the front page could update. So you all better know that I've got my eye on you and your sneaky submitting ways, we're only 78 hardware items away from 5,000 and I'm going to watch it like a hawk, so don't even try and sneak 79 passed me.
Anywho, congratulations to RFGeneration on having 70,000 games. And thank you to every one who has helped to add those 70,000 games.
We're also really close on a few other milestones, let's see how many we can reach by the end of the year!
45,000 screenshots - 151 to go
90,000 scans - 2308 to go
3000 Collectors on our site (the number of people who have something listed in their collection) - 146 to go
5000 members (number of people actively registered on the site/forum) - 49 to go
Recent Entries

Trouble Shooter (5/14/2021)
RFGen's Fool Me Once Games (5/12/2021)
Episode 83 RF Generation Playcast (5/10/2021)
Restoring a Nintendo Playchoice 10 Arcade in 2021 - Russ Restores EP 1 (5/9/2021)
Realizing A Game Collecting Dream (5/6/2021)



Wow, 70,000. Congrats everyone!

Woohoo! Here's to another 70,000! *clink*

Now I better get busy combing through the annals of PC game history for more submissions, mwa-ha-ha!

Truly amazing, thanks to all who have contributed.

Congratulations and more importantly, thanks! The database is phenomenal and has on several occasions shown me that I have an interesting variant of something or had multiple versions listed for differing details such as round seal/oval seal, label variants, etc.

That's exciting. I'm proud to be a part of it.


Did you bake this cake just for this Photo, and if so, are we all going to get a piece all 2854 of us? It looks good

@bombatomba: Oh no! Anything but PC. (Kidding of course, I'll just let Shadow Kisuragi confirm them).

@Tadpole13: Actually, Google baked it for me. I was about to publish this article when I decided it needed a picture, so I just googled "70000" and that came up and seemed to fit perfectly.

If i did my math right the 70k honor goes to Apolloboy.

For adding the Atari 5200 Homebrew Laser Gates
http://www.rfgeneration.com/cgi-bin/getinfo.pl?ID=U-023-S-01260-A

Keep up the great work everyone

@Izret101:
Aww...taking my thunder away. I was going to mention which one it was. Back to the PC mines for me.

I better use my capture device to start uploading some screenshots!

Login or register to comment
It appears as though you are not a member of our site, or are not logged in.
It appears as though you can not comment currently. Becoming able to comment though is easy! All you need to do is register for the site! Not only will you be able to access any other site features including the forum and collection tools. If you are a registered user and just need to login then you can do so here.

Comment! It's easy, thoughtful, and who knows you might just enjoy it!
Database Search
---
Site Statistics
---
Total Games:

138833

Total Hardware:

10278

Total Scans:

176721

Total Screenshots:

93351

[More Stats]
Our Friends
---
Updated Entries
---

(MULTI)
---

(XOne)
---

(N64)
---

(N64)
---

(PS4)
---

(PS4)
---

(PS4)
---

(eShop)
Updated Collections
---
New Forum Topics
---
New on the Blogs
---
Nielsen's Favorite Articles
---