---



I apologize up front to those who come to this site for an escape, but the coincidental timing of my piece this month leaves me in an incredibly difficult position. You see, I wracked my brain the last few days trying to think of a subject, but as I sit here at my computer on Monday evening, none of the topics I came up with feel appropriate. I won't comment here on my thoughts about the past week's worth of news, and I genuinely feel bad about even bringing it up in these digital pages, but with recent headlines so raw in my mind, I've discovered I'm literally incapable of writing an article that suggests I'm oblivious to them. Eventually, one of the podcasts I watch gave me an idea, and I decided that if I couldn't force myself to write as if current events haven't deeply affected my headspace, maybe I could use the opportunity to remember the things about this hobby that has brought people together.


Continue reading What Do You Write When Gaming Isn't On Your Mind?





Nearly half a year later we are finally back! Since everything else is getting a remaster now, why not our show? Check out the new and hopefully improved show. We've got a new vision for the show and renewed passion to keep it going and evolve it into something special. Please enjoy!

Get the show at http://www.collectorcast.com
Follow the Collectorcast on Twitter: https://twitter.com/Collectorcast
Like us on Facebook: http://www.facebook.com/Collectorcast
Stitcher: https://www.stitcher.com/s?fid=25284&refid=stpr
Apple Podcasts: http://itunes.apple.com/u...collectorcast/id524246060
Google Play: https://play.google.com/m..._Generation_Collectorcast
iHeartRadio: https://www.iheart.com/po...ion-Collectorcas-30981252
Spotify: https://open.spotify.com/...ow/6VP51savAVFpTsDo9MdvLb
On YouTube: http://www.youtube.com/c/Collectorcast



I have always referred to H.E.R.O. as my favorite Atari 2600 game. It's a game I had as a child and have often hailed its theme and gameplay as masterful. But one little thing had always bothered me about H.E.R.O. - I had never beaten it! Going back and finally mastering games I played as a kid has become quite the adventure for me. There's something dramatically satisfying about combining the nostalgia driven experience of replaying a game from childhood with the brand new experience of finally beating it. It's like creating a portal between two worlds; like somehow magically connecting my past with the present. And it's a really special thing when there happens to be a game that you tout as your favorite, but still haven't completed yet. The list of games that fall into this category is obviously finite, and I cherish the opportunities that I have to venture into that realm and overcome a challenge that has eluded me for decades. In fact, I cherish them so much that I like to document them. Here is my three part video series where I put on my laser helmet, strap on my Prop-Pack, and attempt to finally save all of the trapped miners in my favorite Atari game of all time.


Continue reading H.E.R.O. A Whirl to Win


Zwei Arten von Bingo-Bonus
Als grundlegende Regel kann man festhalten, dass es zwei Typen von Bonussen gibt. Entweder ist die Rede von einem Willkommensbonus, oder von einem Einzahlungsbonus. Es sind beides ganz gewohnliche Bonusse und Sie konnen sogar so viel Gluck haben, dass Ihnen ein Online Bingo Raum beide Bonusse anbietet. Ausser diesen beiden Typen gibt es noch ein paar spezielle Bonusse die von Bingo Raum zu Bingo Raum variieren. Dies konnen ein Loyalitatsbonus, ein fester Monatsbonus, ein gratis Bonus oder ein Bonus aus einem gewonnenen Wettbewerb oder einem Gewinnspiel sein.

Bingo Willkommensbonus
Der Willkommensbonus ist typischer Weise ein Bonus, den Sie bekommen sobald Sie sich als Spieler registriert haben. Der Betrag variiert dabei von Anbieter zu Anbieter, doch er ist immer so hoch, dass Sie durch den Einsatz Ihres Willkommensbonusses einen Eindruck davon bekommen konnen, ob das Spiel etwas fur Sie ist oder nicht.

Deposit Bonus
Wenn Sie einen Einzahlungsbonus bekommen mcohten, mussen Sie naturlich zuerst etwas auf Ihr Online Bingo Konto einzahlen, doch wenn Sie erstmal etwas eingezahlt haben, dann gibt es viel extra Geld zu holen. Hier finden - https://www.castingshow-n...-gegen-langeweile-117869/ Sie nur Einzahlungsbonusse mit bis zu 100%.D.h., dass Sie den gleichen Betrag oben drauf bekommen, den Sie eingezahlt haben.

Treuebonusse
Einer der exotischeren Bonusse, der es Wert ist, hier Erwahnung zu finden, ist der Loyalitatsbonus. Dieser Bonustyp hangt meistens mit einem Loyalitatsprogramm zusammen, bei dem Sie durch jede Ihrer Aktivitaten, also das Kaufen von Spielfeldern oder die Teilnahme an kleineren Nebenspielen - https://de.wikipedia.org/wiki/Medenspiel im Bingoraum, Punkte sammeln, die Sie dann wiederum als Bonus auf Ihr Konto ausgezahlt bekommen konnen. Dieser Bonustyp ist im Prinzip unbegrenzt, und hangt alleine davon ab, wie viel Sie spielen.

Quiz oder wettbewerblichen Bonus
Viele Online Bingo Raume fuhren auch kleinere Quize oder Wettbewerbe im Chat wahrend der eigentlichen Spiele durch bei denen es auch immer genugen Moglichkeiten gibt, an einen Bonus ranzukommen. Dies ist vom Spieleanbieter abhangig, doch man bekommt es immer fruh genug zu wissen wenn ein Quiz im Anmarsch ist. Es ist also immer eine sehr gute Idee ein Auge auf die Chats zu werfen um dann an den kleinen Nebenspielen teilzunehmen.




---

Posted on May 28th 2020 at 08:00:00 AM by (

MetalFRO

)

Posted under

Steel Vampire

,

Shoot the Corecast

,

podcast

,

Shmup Club

,

Akiragoya

,

Henteko Doujin

,

STG

,

shooting game

,

shooter

,

shoot em up

,

tube shoot

In Episode 023, Addicted and MetalFRO explore the Western release of a game from prolific Japanese doujin developer Akiragoya. Steel Vampire, known originally in Japan as Metal Mosquito, is a unique shooter that does its own thing, while bringing in familiar elements from other games in the genre. But is that mix enough to warrant giving this game a serious look? Have a listen, and find out!

You can download the episode directly, or stream it on the website, right here:
http://rfgeneration.com/podcasts/shmupclub/?name=2020-05-18_stcc_ep_023_steel_v_ire.mp3

Check us out and subscribe (and rate!) on Apple Podcasts!
https://itunes.apple.com/us/podcast/shoot-the-core-cast/id1432819542?mt=2

We're listed on Google Play - subscribe and review the podcast over there!
https://play.google.com/music/listen#/ps/Iih3vrijcro4yno3yrkeawnx6nu

We're on Stitcher Podcasts now, as well, so if you use that service, have a listen to the show from there!
https://www.stitcher.com/podcast/shoot-the-corecast

We also have a presence on SoundCloud now, though it's just the most current episode at this time:
https://soundcloud.com/user-992886896/

We have t-shirts! Help support the podcast, and rep the shmup community by buying a Shoot the Core-cast tee - now with Gaiden design!
https://www.redbubble.com/people/jdieckmann/works/34582606-shoot-the-core-cast-podcast?asc=u&p=t-shirt

Check the original thread, to see the discussion and high scores:
http://www.rfgeneration.com/forum/index.php?topic=19284.0

Thank you for listening!



One aspect of criticizing artistic forms of media that is frequently brought up is the idea of recency bias. The main problem with recency bias is that when a work is new, the fresh coat of paint can sometimes successfully hide the pocks of rust hidden by the frame. This idea is true for all forms of media, books, movies, shows, and perhaps it's strongest for video games. Games are heavily reliant on the technology of the era, and as that technology advances, the inherent weaknesses of previous works comes to light even more powerfully than before. In other cases, it's simply a question of project scope.

Xenogears was once touted as one of the greatest Japanese role playing games ever created, but over time, that opinion has softened and any discussion about it inevitably leads to the game's biggest flaws. Pinpointing the source of this slowly decreasing opinion of this once highly touted classic relies on knowing what the game's major flaws truly are, an understanding of everything that happened during and after its development, and speculation on how the gaming public itself has shifted. Xenogears is over 20 years old by this point, having released on the first Playstation all the way back in 1998, so there has been plenty of time for reflection.


Continue reading Xenogears: A Tale of Two Discs



After hearing much praise for Ori and the Blind Forest over the last few years, it has been on my radar as a game that I should eventually play. Knowing that a sequel was releasing soon and would be freely available to anyone with Xbox Game Pass, I felt like the time was right to finally dive in. After finishing the game, I came away with mixed feelings and had lost interest in playing the sequel. However, after seeing some gameplay for Ori and the Will of the Wisps, I was intrigued to check out the sequel and was pleasantly surprised by how much I enjoyed it.


Continue reading Ori and the Will of the Wisps



I'm fortunate enough to still be at work, but my movie viewing has still had a major uptick since quarantine started. Here are few of the films I've seen with my wife in the past two months or so.

Westworld and Futureworld - I haven't read the novel or seen the recent tv show, but I quite enjoyed this duology from the 1970s, which centers on amusement parks for rich adults where robots play npcs in real life. Both of these films hold up quite well and to this day are recommended by many as sci-fi classics.

Pacific Rim - Yes, I'm a massive Kaiju fan, but I couldn't care less for American Kaiju productions in general. It was my wife who convinced me to watch this movie and I thought it was pretty darned good. Pacific Rim succeeds where the American Godzilla film from 2014 failed: it leans into the action and doesn't hide its main attraction, the monsters and mechs. I wish I had watched this movie sooner. It's the best western interpretation of a giant monster movie that I have ever seen.


Continue reading Quarantine Cinema



We interrupt your regularly scheduled COVID-19 boredom to bring you the May 2020 edition of RF Generation's Site News! In this issue, we announce an awesome June Community Playthrough game for our monthly playthrough group...and our shoot 'em up club??, and of course, thank those members who sent in submissions to our site and registered approvals last month. Thanks for keeping it on Channel 3 and please keep you and your loved ones SAFE!

REMEMBER: If you have any news about upcoming events or topics that you think the site needs to hear about, please PM singlebanana and put "RFG Site News" in the subject line. Who knows, maybe your news will make our front page!


Continue reading All Our News Are Belong To You: May 2020 Edition



The Switch keeps taking my attention. I play other systems, I really do! Yes, there are other fantastic games not on the Switch to play right now, such as Persona 5 Royal, Final Fantasy VII Remake, and Doom Eternal. Our current situation requires a person to sit inside with a lot of free time, and this is a pretty great gaming season to do so! There are some epic (and incredibly time consuming) titles out right now, but personally I've found myself drawn to the Sega properties on Nintendo's excellent machine. As a gamer who fondly remembers the "console wars" between Nintendo and Sega, I still shake my head at being able to both write that sentence and mean it. It didn't even occur to me until this week that most of what I've played lately on my Switch were originally from Sega, but sure enough here we are:


Continue reading Nobody does SEGA like Nintendo



I take the Toony Terrors figures Micahel Myers (Halloween) and Leather face (Teaxs Chainsaw Massacre) Series 2 Toony Terros by NECA and rePaint them to look more like their Atari 2600 counter parts. Both had games on the Atari system, so with the limited graphics of the system, the color palette will also be limited




Nintendo in 3D! Some games took advantage of the new graphic capabilities, many of which you'll find below. Like all systems, it had its clunkers (hello Superman), but it was interesting to put this list together because it was similar to the Super NES; at the top were some mainstays that received near universal praise.

Speaking of the top, the ranks definitely came into play, which you'll see when we hit the top 2...


Continue reading RFGen Top 20 Games- N64 Edition



Rayman is an amazingly bright and beautiful platformer than I remember loving as a kid. Re-playing it now, I'm unsure I ever got very far into the game because once you get past the first world, it is incredibly difficult! In this video I take a look at the best and worst parts of the game.



There are times when we, as collectors, have too much choice. Times when, despite curating a highly respectable library of games, our shelves are full to the brim. One might say too full, in fact. In those moments, we can be struck by choice paralysis. We have so many games, it becomes harder to decide what to play. Last month, I wrote an article about "evergreen games" that I can go back to at any time. Those are my "go to" games to play, when I otherwise can't decide. What do you do when you've either exhausted those, or you pop a couple of them in, and you're just not feeling it?


Continue reading What If I Can't Decide What To Play?


Six years ago, I had this "grand dream" of building my own YouTube channel.

I had my blog over at http://ControlPadBlues.com where I'd recollect various parts of my childhood as they related to games - like the My Retro Life YouTube channel, but less related to *getting* the games and more related to the other memories tied to them - and I thought "hey, I think people would watch if my blog entries were turned into videos". My wife and I had been having a tough time with trying to have a child, and I needed as many distractions away from that as I could get... so I started recording footage.

Footage from around the yard where my grandparents used to live. Footage from around the neighborhood where I grew up. Footage from stores and restaurants and other places I'd go as a kid that reminded me of my childhood with games. And finally, I recorded gameplay footage.

All I had at the time was an old VHS-to-digital recording device with composite video input, and it worked just fine... until the old desktop PC I was using kicked the bucket.

Not to be deterred, I finally bought a decent laptop and an elgato Game Capture HD for Christmas in 2014. It worked great, and I immediately set out to gather enough footage for a whole "season's" worth of potential videos. I had 10 games recorded... and then the craziest thing happened.

We became parents!

After four and a half years of trying unsuccessfully, and being told it probably wouldn't happen, we got pregnant (well, my wife did) at around the same time we had just accepted that life would be just the two of us. To say that from fall 2015 until summer 2016 was a whirlwind would be an understatement. Games were the last thing on my mind, and I didn't really get back into them until a month or so after our son was born.






I was still recording - life was now 250% more insane and I didn't expect to ever get around to doing the YouTube stuff, but I did enjoy the idea of documenting my progress... besides, maybe if I had footage of it, I'd be less likely to play something I had already played through 20 times.

I mean, I love Super Mario Bros. and Mega Man 3, but my other games need love too, right?

My son would come to love Mario as well, and he'd come see me in my "Mario Room" whenever I was in there doing stuff - that's what he came to call my game room, and he still calls it that now. One day in 2018, as I'm sitting there with him on my lap, both of us admiring my collection, I thought, "there are too many of these that I've only played half-way through, or that I've never played at all. That needs to end."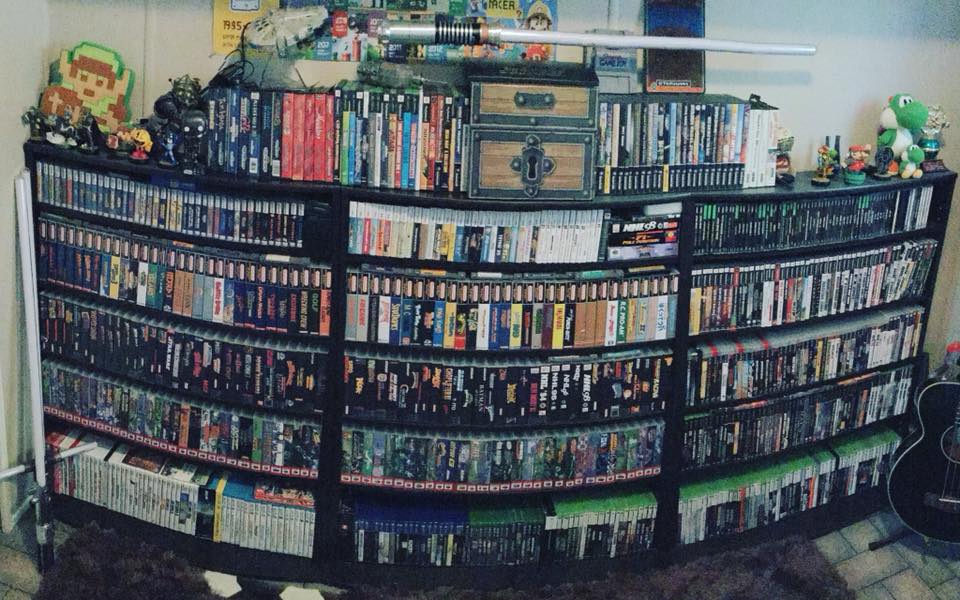 That was that, but how would I decide what order I'd play them in? One "problem" (if you can call it that) about having a collection this size is that I could never make up my mind as to what I wanted to play next. I'd stand in front of my shelves and be completely overwhelmed with the "responsibility" of choosing my next game. Too much pressure! Decidophobia is apparently a very real thing, and I have it when it comes to choosing what game to play next!

Having kept tabs on my collection here at RF Generation, I was able to export the whole shebang into an Excel file. I then color-coded it by console (because why not), split up the compilation games into individual entries (i.e. the "Orange Box" entry became individual Half-Life 2, Episode 1, Episode 2, and Portal entries) and then tried to ensure that every game I owned was in the Excel file.

I cut out the 32 games I had played since starting the recording process in late 2014, because I already had the footage and it was time to move onto other things.





Then, there were a handful of JRPG's I owned as part of compilations that I removed (or, "set aside"), simply because I'm terrible at those games and have no interest in playing them - although I did keep Final Fantasy I and III, as well as Earthbound on my Classic Consoles as a way to see if I'd end up having fun with them after all. If I enjoyed those, I could always add the Phantasy Stars and whatever else I had later.

Speaking of compilations, I took the older arcade games where the goal is just to gather points, and grouped them as best as I could. For example, Atari Anthology on Xbox is comprised of very simple games where there is no end goal other than gathering points, or quick and dirty sports games. For these, I would tackle *all* of the games on the disc at once. That way, I didn't need to bust out my Xbox for a few minutes of playing Asteroids, then put it away to bring out and hook up whatever console I needed next.

I did the same with similar points-focused games on Capcom, Namco, Midway, and other compilation discs, and gave the games with a more hearty campaign their own spot on my list (i.e. Mortal Kombat II became its own entry, whereas A.P.B., Timber and others went under a single entry under Midway Arcade Classics 2).

If you're still reading through this, I commend you for sitting through how nitpicky and OCD I am.

In the end, my number was around 950. Once I had the number, I could go about spreading all the Mario, Star Wars, Zelda, Grand Theft Auto, and all other series of games evenly throughout the list. My hope in doing that was to not get sick of one genre or the other.

I would also make an effort to not look at the next game on my list. Whenever I would complete a game, it would be a complete surprise as to what I played next. That also meant that I wouldn't have to decide what to play - the somewhat randomized list I threw together did it for me!



So, that was almost two years ago.

I'm now on my 82nd game in the list, which is Assassin's Creed on Xbox 360. I've written the dates of each game's playthrough on the spreadsheet, just for fun. 20 years from now, I'll hopefully be able to look at it and say "I remember playing through Super Mario RPG and Excitebike 64 during the COVID-19 lockdown. Weird times, man."

I've added a few newly acquired titles to the collection, and my grand total is now at 960. I've also taken the liberty of adding new games I really want to play as the next game in my list if I choose to do so - as an example, my Mom got my son Super Mario Maker 2 last summer, and really not wanting to wait to experience it, I plunked it down on my list as game #56 (I was on game #54 at the time).

This project is filling me with a weird sense of pride as I go through and actually beat everything - even the games I've already beaten before, but am simply recording for the first time. Depending on how much fun I have with each one, I'll either decide to speed through it (like I did with Injustice: Gods Among Us) or accomplish/collect everything (like I did with Super Mario Galaxy). I'm quite interested to see how long it takes me to finish everything, and as time progresses, I certainly hope my soon-to-be 4 year old son will start helping me with this endeavor.

Here's the first chunk of games I played through a while back, and what my spreadsheet kinda looks like now...






If I had to guess, this will take me about 20 years to complete. I'll be in my mid-50's by then. Whoa.



Blog Navigation
---
Browse Bloggers | My Blog
We are a community of collectors, gamers and the likes, and some of us enjoy to let the world know what is on our mind. For those members, we have the community blogs, a place where they can publish their thoughts and feelings regarding life, universe, and everything. Some of those members might even choose to write about gaming and collecting! Whatever they write about, you can find it on their blog. You can either see the latest community blog entries in the feed you see to the left, or you can browse for your favorite blog using the menu above. Interested in having your own blog hosted on RF Generation? It's rather simple, first be a registered member, and then click the "My Blog" link that you see in the navigation above. Following those two steps will certainly get you on your way to blogging.

Sit back, relax, and enjoy our entries, rantings, and completely unrelated series of thoughts. We write for you to read, so we certainly hope that you enjoy our material.
Hot Community Entries
---
Hot RFG Blog Entries
---