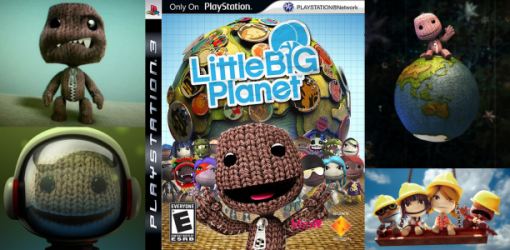 LITTLEBIGPLANET!!!
That's the only thing of any importance coming out this week. So, I'll see you all next time, provided I'm not playing LittleBigPlanet.
So, you think I'm a lazy asshole for not doing the list this week? *SIGH* I'll take some time out from LittleBigPlanet just to please you...
Playstation 3
Xbox 360
Nintendo Wii
•Baja 1000: Score International
•Guitar Hero World Tour
•Fallout 3 (Also available as a collector's editon)
•LittleBigPlanet
•Moto GP '08
•MotorStorm: Pacific Rift
•SingStar Vol 2

•Baja 1000: Score International
•Guitar Hero World Tour
•Fallout 3 (Also available as a collector's editon)
•High School Musical 3: Senior Year DANCE
•Moto GP '08
•Scene It? Box Office Smash
•All Star Cheer Squad
•Baja 1000: Score International
•Ben 10: Alien Force
•Dora the Explorer: Dora Saves the Snow Princess
•FIFA Soccer 2009
•Go Diego Go!: Great Dinosaur Rescue
•Goosebumps HorrorLand
•Guitar Hero World Tour
•Monster Jam: Urban Assault
•My Sims Kingdom
•Nerf N-Strike
•Petz Horsez Club
•Pro Bull Riders: Out of the Chute
•Shrek's Carnival Craze
•Six Flags Fun Park
•TV Show King Party
•Twin Strike: Operation Thunder
•Ultimate I Spy
PSP
Nintendo DS
Playstation 2
•Ben 10: Alien Force
•King of Fighters Orochi Saga
•Monster Jam: Urban Assault
•Neverland Card Battles

PC

•Backyard Football 2009
•Bella Sara
•Command & Conquer: Red Alert 3 (Also available as a premier edition)
•Combat Wings: Battle of Britain
•Europa Universalis III Collection
•Fallout 3 (Also available as a collector's editon)
•High School Musical 3: Senior Year DANCE
•Hired Guns: The Jagged Edge
•Moto GP '08
•MySims
•Officers
•Operation Mania
•Poker for Dummies
•Spider-Man: Web of Shadows
•Bella Sara
•Ben 10: Alien Force
•Go Diego Go!: Great Dinosaur Rescue
•Master of the Monster Lair
•Monster Jam: Urban Assault
•My Sims Kingdom
•Ninjatown
•Petz Rescue Ocean Patrol
•Petz Rescue Wildlife Vet
•Rubik's World
•Shrek's Carnival Craze
•Theresia
•Tornado
•Travel Games for Dummies
•The Wonder Pets: Save the Animals
•Zenses - Oceans
•Zenses - Rainforest
•Baja 1000: Score International
•Ben 10: Alien Force
•Dora the Explorer: Dora Saves the Snow Princess
•Go Diego Go!: Great Dinosaur Rescue
•Goosebumps HorrorLand
•Guitar Hero World Tour
•High School Musical 3: Senior Year DANCE
•King of Fighters Orochi Saga
•Mana Khemia: Alchemist of Al-Revis
•Monster Jam: Urban Assault
•Moto GP '08
•Onimusha: The Essentials (I bet this gets delayed yet again. This is the 4th time it's been on the list.)
•Pro Bull Riders: Out of the Chute
•SingStar Country
•SingStar Legends
•Shrek's Carnival Craze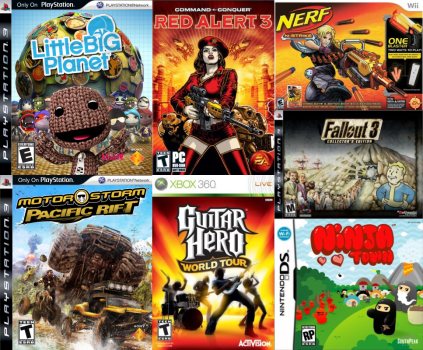 First up this week is Guitar Hero World Tour (aka: the inferior version of Rock Band 2) for all home platforms. I only highlighted it because Guitar Hero is popular and this is the latest installment, but we all know Rock Band 2 is the better deal with
20 free downloadable songs
, cheaper DLC, and backwards compatiblity with all your old DLC and disc-based Rock Band 1 tracks. Why anyone would want to buy World Tour for reasons other than the create a song mode is beyond me, but suit yourself.
Next is Command and Conquer: Red Alert 3 for Windows. As you may now, Red Alert is a side series to the popular Command and Conquer real time strategy games. This new installment features a fully co-op playable campaign along with the signature Red Alert style fans have come to know and love (yes, it still has cheesy FMV cutscenes). Never play Red Alert before? Then
check out TraderJake's article from two months ago
which will point you to EA's website where you can download the first game for free, legally. Not a PC gamer? Wait a few weeks for the release of Red Alert 3 on the Xbox 360.
A game flying low on the radar for most folks is NinjaTown for the Nintendo DS. What the hell is NinjaTown? It's a tower defense game in which you place different types of ninjas around a city to stop the waves of attacking enemies. It's a pretty simple concept, but like other games of the genre, such as
PixelJunk Monsters
on the PS3, I'm sure it will get insanely difficulty to manage all the towers at once. Want to find out more about the game? Check out this
interview from the 1UP Show
.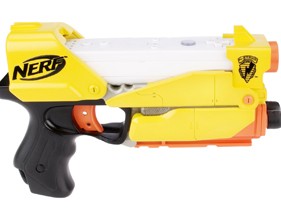 Looking through the release list you may have noticed I highlighted Nerf N-Strike for the Wii. Yes, at first glance this may be another shovelware game, but it truly is not. The game itself looks quite fun, but the cool part here is that it comes with the greatest Wii Remote attachment
EVER
! What you see on the right is the Nerf N-Strike gun. Not only is it a Wiimote attachment, it's also a fully-functional Nerf gun! I don't know if it's worth the $60 asking price, but it's definitely one to keep an eye out for in the future when the price drops down to $30 or $20. Head over to MTV Multplayer to
see the trailer
(video not viewable in all countries) and
read an interview
with EA's Jon Dean about the game.
One of the big titles this week is the follow-up to the fantastic off-road racer Motorstorm, entitled Motorstorm: Pacific Rift. The new installment brings a new island locale along with 16 tracks, 7 vehicle classes, 4 player offline, 16 player online, and, of course, trophy support. Already the game has way more content than the barebones first entry. Based on the demo, Evolution Studios has surpassed the first game in track design, graphics, and controls. In addition, it doesn't feel rushed like the first game was. As you may remember, the original was slated to come out as a launch title but got delayed a few months. However, I'm still not sold on the game being worth $60 when you can get Burnout Paradise, which will be supported by Criterion/EA with free DLC well into next year, for only $30.
(Arguably) the biggest game this week is Fallout 3, a shooter/RPG from Bethesda. Many people are looking forward to it,
while others
are not
appreciative of the FPS direction the Bethesda is taking the series. Decide for yourself Midnight Monday night/Tuesday morning when Fallout 3 is released worldwide. In the mean time, school yourself with
GameTrailers' retrospective
and
play the first game for free on GameTap
.
But, shining like a bright, happy sun over the entire gaming industry is my pick for game of the year, LittleBigPlanet, exclusively on PlayStation 3. In case you've been living under a rock, LBP is a platformer unlike any other game you've ever played before. The game's motto is Play. Create. Share. You can play the included story mode levels and levels created by other "happy gadders", all of which are made using the tools available to you in Create mode. Create will allow you to build anything you can dream of and Share it with the entire world. Some examples of levels I've seen in the recent Beta are traditional platformer style levels, levels that play a song, shooters, races, fun vehicles to mess around with, puzzles, remakes of other games, and even a calculator. As a concept, it's very ambitious, but the game itself is actually blast to play alone and with others. I guarantee that this will be a game you will be playing for a very long time to come, especially if the community becomes as tight-knit as I think it will be. So, congratulations to Alex Evans, Mark Healey, and the rest of the team at Media Molecule on the completion of your first game, and we will all be looking forward to what you decide to do next.
Now if you'll excuse me, I have an appointment with Sackboy!

No write up for Bella Sara? What's this site coming to?

@BadEnoughDude: It's being bought out NERF. RFG, for all your NERF needs.

@Wolfman Walt: It's amazing how forgetting the word "by" makes a sentence so much more retarded. This is why I'm not allowed to post before bed time anymore. That and the time I turned RFG into an internet hate machine, but we don't talk about that.

Best RFG Release list write-up ever, Tondog!



Oh and it's shovelmania on the Wii and PS2!

I can't believe the PS2 is seeing so many releases...

Atleast the PS3 and 360 are spared from those games, probably because it is too expensive to develop a shovelgame for those platforms.

I read that Fallout article underneath "while others" and I guess they're right. But what can you expect, when people decide to revive such an old series?


Didn't Mana Khemia come out months ago for the PS2?


I think that you made a typo Tondog. You said that Rock Band 2 is better than Guitar Hero

. JK, but I think that GH's setlist on the disc is superior to Rock Band's

@BadEnoughDude: It did, I'm looking at my copy right now. I think it came out on PSP instead of PS2.

Red Alert 3, woot! Go warbears!
Fallout 3, um... yay.. I guess....

Am I the only one that doesn't get the hype of Little Big Planet?


@Tynstar: Pretty much.

@Tynstar:

Nope, I am on the same wavelength as you Scott.


But you both are Xbots, you Xbots.

Sorry Tony, this type of game just doesn't appeal to me. Now that new SOCOM title coming out on the PS3 looks sweet!


It was a joke.



The thing about LBP and why it has so much buzz around it is that nothing like it has ever really been attempted before. It's really the first game to make a YouTube like social network into a game and provide all the tools necessary to build the same levels the developers made. Sure, there's been level editors before, but none with this much power and ease of use.

Also, you mean Confrontation? I was in the Beta for that...and it seemed good. I'm not huge into that kind of game, but it seemed like it would be good if you like that kind of thing. However, I do know that the game's servers have been awful.

@Tynstar: I am not really hyped about LBP either. After reading the article and comments it sounds more interesting, but still not much more. The way I understand it, it's an easy-to-use game engine to build whatever you want. That sounds too generic.
Also: remember how Spore was overhyped, and what it turned out to be?

LBP is so amazing. I am in love and cannot put it down.