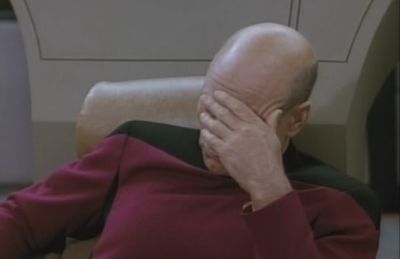 Well look at that, Nintendo isn't going to the Tokyo Game Show, but it turns out they are going to have a press conference of their own. This conference is going to be on October 2, which is actually before the start of TGS. What are they going to announce and talk about? Who the hell knows! Nintendo certainly does not, as
confirmed by Edge
. Well, that's just
peachy
. Chances are that it's a malicious lie, and they know exactly what they are going to be talking about, but they just don't want
you
to know. It's okay, we know how you feel, and so does Jean Luc Picard.
Who the hell cares? Nintendo clearly doesn't care about you much, so why should you care about them? After the riveting hardcore gamer announcement of Animal Crossing: City Folk, I have little excitement in what Nintendo is to announce. But, if this was a Sega Announcement regarding upcoming titles from Platinum Games, then, hell yes I'd be interested. I think the only thing that would remotely interest me would be an announcement that Captain Rainbow was being released in the US. The impact on Nintendo's image would be as beneficial to them as the Lehman Brother's Bankruptcy was to the Dow Jones. Certainly, it would be amazing.
So, do you care that Nintendo has a press conference in 2 weeks? Should you care? I don't think so, and I wholly expect Nintendo to announce some "casual gamer" nongames that will not interest me. Perhaps they'll interest you.
Ahahha... Nice analogy with the Dow Jones and such...


Boldly going where the mainstream Nintendo gamers are reluctant to go.

I wouldn't mind some DS love for a change. It feels like 1st party titles have all but dried up. Good thing the DS at least has that important 3rd party support for normal mainstream games like Sonic, Castlevania etc.

What's the point of not going to TGS yet having a press conference some time before? I'm not that excited about it because I doubt alot of things will be announced that will interest me.


Just reading about it makes me want to fall asleep.

I don't care what Nintendo says of does anymore. I haven't in about a year.


I demand storage solution and a Wii iteration of chibi robo (possibly chibi robo toys as well).


@djbeatmongrel:
The fridge not good enough for you?!


I... I still believe.

SOMETHING AMAZING WILL HAPPEN
ZELDA 4EVER


dang it.
The rest of my post was cut off. What WAS going to be in the above post was that I give a small chance of something totally awesome, although perhaps with the recent "oh snaps, uh, they didn't like our press conference. Like, at all" stuff, maybe they'll really deliver?

Or maybe they'll be Nintendo and ignore us?


Thank god theres nothing to get right.

I can now start working on my back log.

DS is pretty much the only system I play. I should uh, check out this conference I guess.

Turns out they actually announced a few awesome titles. Punch-Out, Sin & Punishment 2, Trace Memory, and a Street Fighter cross-over. Im psyched for those ones in particular but they did announce a whole bunch of other stuff and a new DS model.