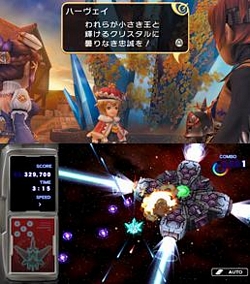 While Americans get news that they have to wait until
May 12
, Nintendo of Japan is priming up their audience for upcoming Wii Ware releases later this month. Recently, Nintendo launched a page listing some of the titles announced along with some screenshots. A fair amount of second and third-party support is a welcome sight to continue Nintendo's diverse download offerings.
The current titles announced include:
Final Fantasy Crystal Chronicles: My Life as a King
StarSoldierR
Word Puzzle Mojipittan Wii
Everyone's Pokémon Ranch
Dr. Mario's Virus Buster
Marubou Shikaku
Magnetica (Puzzloop)
Bomberman
Okiraku Ping-Pong Wii
Angel's Solitaire
Joysound Wii
There are a notable amount of previously announced titles missing from the current list, but it is expected that we'll see those as well as others on the Wii Ware service in the future. Judging by the screenshots we can expect to see a mix of single player and multiplayer games that appeal to a diverse audience.
Official web page: [
Wii Ware
]
Source: [
Wii Fanboy
]
I read somewhere $15 for the FF game. A bit much if it's true. StarSoldier and Dr. Mario may be interesting though.


StarSoldierR. I'm in!

I am totally interested in Eternity's Child, which is not on that list. By far the most interesting game to come out on the service. I only hope that it lives up to my expectations.


Eternity's Child will be the best one by far. Unless Telltale totally knocks it out of the park, which I could see happening.


Now if they would wake up and give us sufficient storage for this stuff that would be great.

FF game does interest me though.