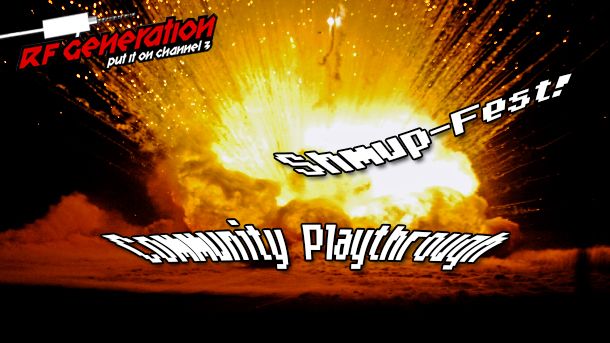 Have a long year's worth of platforming, adventure, strategy, RPG, and FPS titles got you worn down? Well kick back this December and enjoy some short, fast-paced shmups across a variety of platforms. This shmup month shouldn't be a surprise to most of you on the site, since this September, participants were asked which retro and modern titles they would most like to play in December. Retro participants even voted on these suggestions. Now it's time to put your money where your
mouth
vote was, grab the sticks, and show off those trusty *pew* *pew* skills.
As we did last December with the
Streets of Rage
series, we will be holding a competition to see who is the Top RFGen Shmuper. Participants will play two titles each week, one on each side (1 retro/1 modern), and will be required to post a photo of their best score during that week. The participant with the highest point total for each game per week will earn 10 points, second place earns 9 points, and so on down to 5 points (everyone who participates each week will earn at least 5 points). This process will continue for each of the four weeks of December and the last 3 days of the month will consist of a Battle Royale where participants will have an opportunity to improve their overall standing for each game played during the month. At the end of the month, each participant's lowest score on the retro and modern side will be dropped (this means you can miss one game on each side and still be in the running). The participant with the most overall points for his/her six games will be crowned Top Shmuper. More rules for this event and descriptions of prizes....YES, PRIZES!!!.... will be posted on the
discussion thread
, so please check there first for clarification. Further questions should be directed to December's hosts, Fleach (modern) or singlebanana (retro).
So without further adieu, here is a list of the games for December. Please note that these games are not necessarily listed in the order that they will be played:
On the Retro side, we will be playing:
Gradius
(NES),
U.N. Squadron
(SNES),
Lightening Force
(Genesis) &
Raycrisis
(PSX). And on the Modern side, we will be playing:
R-Type Final
(PS2),
Xyanide
(XBox),
Sin & Punishment: Star Successor
(Wii) &
Otomedius Excellent
(360).
Retro and Modern shmup competition, sign-up, rules, and discussion thread:
http://www.rfgeneration.c...x.php?topic=14759.new#new