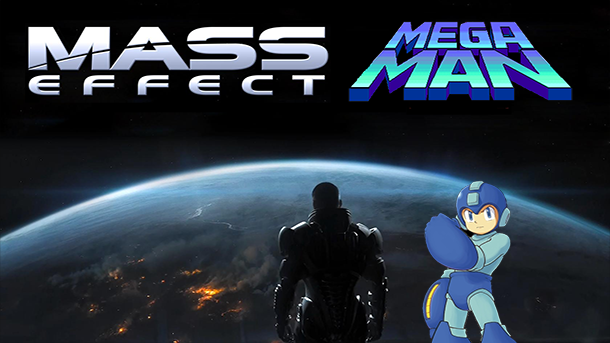 In May, we continue to rack our brains with some early RPG tactical warfare in
Shining Force
and we're still cutely platforming our way through Dreamland strand-by-strand in
Kirby's Epic Yarn
. This June, join Disposed Hero and singlebanana as we ratchet up the action with the Capcom classics,
Mega Man 2 & 3
(NES/3DSVC & the
Mega Man Anniversary Collection
for GC/PS2/XBox) for the retro playthrough. On the modern side, fill your hands for an all out assault to save the galaxy in the original
Mass Effect
(360/PS3/PSN/Steam/PC) with your hosts Fleach and GrayGhost81.
On the Retro side, join us as we dust off our old carts and play arguably the two best entries of one of the most beloved series on the Nintendo Entertainment System:
Mega Man 2 & 3
! Run, jump, and shoot your way through hordes of robot enemies, treacherous environments, and tough-as-nails platforming. Do you have what it takes to stop Dr. Wily not once, but twice this month? Come join us and weigh in on the age old debate as to which of these two titles is the best.
Disclaimer: We are not responsible for any damage caused by thrown controllers
.
On the Modern side, we tackle another grand, 3rd person shooter RPG. This time we're venturing into the vast unknown, going boldly where no one has gone before. No, we're not playing a Star Trek game, but this description is also quite appropriate for the adventures we're going to embark on in the universe of
Mass Effect
(available on the Xbox 360, PC, and PS3 [in the Trilogy box set]). Choose to follow the path of benevolence, or become a rebel and play by your own rules. Will you forge alliances or betray your superiors? The choice is yours in this epic from BioWare.
Just as we did in February, we are announcing our playthrough choices for the next 3 months. We understand from our participants that giving them time to locate these games is important and since our primary goal is to increase participation, we are happy to oblige. The retro and modern playthrough titles for July through September are as follows:
Retro:
July -
Golden Axe 1, 2 & 3
(Genesis/Genesis collections on multiple platforms) [hosts: singlebanana & Fokakis79*]
August - Player's Choice (community vote) -
Star Tropics
(NES/NVC) or
Little Nemo: The Dream Master
(NES) [host: Fleach] - VOTE HERE:
http://www.rfgeneration.c...x.php?topic=15640.new#new
September -
Metal Gear Solid
(PSX/PSN/PS2/PS3/360/PC) [host: GrayGhost81]
Modern:
July -
Warhammer 40K: Space Marine
(360/PS3/Steam/PC) [host: Grayghost81]
August -
Spec Ops: The Line
(360/PS3/PC) [host: Disposed Hero]
September -
Indigo Prophecy
(PS2/XBox/Steam) [host: singlebanana]
Please join us on the Community Playthrough forum and let us know what you think about these picks. As always, we appreciate your feedback and game suggestions.
*Fokakis79 was the winner of the Playthrough prize lot during RF Generation's most recent fundraiser. He has selected the games for this month and will be co-hosting on the forums and joining us in our Playcast.

almost every month I say "I should play along" and then don't. But ironically after beating Dragon Age Origins I had been thinking I should give Mass Effect a whirl. So, "I should play along."

Worth noting that Indigo Prophecy is known as Fahrenheit outside of North America.


Might have to sign up for both of these if I can manage it. Ive always wanted to conquer mega man, and I've really wanted to play through mass effect for a while now. I've pretty much beat mega man 2 but never number 3. Played a little mass effect and really thought it was a good game just set it down and never came back to it for some reason....I seem to do that a lot. That's why I'm enjoying the playthroughs so much. Gives me that extra motivation to NOT put the game down and finish it. Gotta love it.

The Mass Effect Trilogy is $5 on the PSN Store until May 18.

Crabby mentioned playing the megaman games with me. Somehow, I think this will turn into, me watching Crabby beat megaman games, with some minor assistance on my part.

@EngineerMike: By assistance, you mean toweling off his brow right?

Looks like I'll be going all in for June, with Mass Effect and the Mega Man games, then scaling back to retro-only for July and August, but ramping back up again in September. I never finished MGS, so that will be a good excuse to go back to it, and I recently acquired Indigo Prophecy for Xbox, and have heard/read good things, so look forward to playing that as well.


I wish I had time to play, its been crazy busy. and just plain bad luck for me in the last 2 months



@douglie007: Sorry man, hope you can find time to play with us...but I know how adult life can be. Maybe something will work out for you and you can find some time. Hope so man.


@Fleach: Wow! The whole trilogy only 5 bucks! That's a good buy.

aah , always excellent choices!

Mass Effect 360, Spec Ops the Line for 360, and MGS for PSX will be put in my calendar/schedule.

Looking Forward


I fumbled the ball on the Beyond Oasis Playthrough, but I'm looking forward to June and July! Shall I play Mega Man 2 & 3 on the Famicom, NES, or PS2? Decisions, decisions. Also, this gave me a good excuse to finally pick up a Mega Drive copy of Golden Axe 3, easily my favorite game in the series. Fun Fact: I even played it on Sega Channel once upon a time.