Join RF Generation Playcast hosts, Rich (singlebanana), Shawn (GrayGhost81), Floyd (Fleach) and Steven (Disposed Hero), as we discuss our July playthrough, Uncharted, a third-person shooter originally released on the PS3. In this episode, we discuss this early duck and cover, action experience that is mixed with climbing and puzzle elements. With the most recent release of Uncharted 4, we compare the original to it's sequels and offer a verdict on whether Drake's Fortune offers enough quality gameplay for new players or those considering a revisit. Also, be sure to stick around for an important announcement at the end of the podcast. As always, we are happy to hear your thoughts on this games on our discussion page (linked below). We will respond to your comments and are always happy to discuss the game more.

We hope you enjoy our show. Please be sure to rate and write a review of the show on iTunes to help us increase our listenership. Thanks for the listen!

Episode 28 discussion thread: http://www.rfgeneration.c...m/index.php?topic=17295.0

Get the show on Podbean: http://rfgenplaycast.podbean.com/
On iTunes: https://itunes.apple.com/...ion-playcast/id1038953364
On YouTube:
On Stitcher: http://www.stitcher.com/p...ation-playcast?refid=stpr
And follow us on Facebook: https://www.facebook.com/rfgenplaythroughs
And Twitter: https://twitter.com/RFGPlayCast


Continue reading Episode 28 - RF Generation Playcast



Image shamelessly linked from the official Brothers website.
This game is available digitally on PS3 and Xbox 360, as well as on Steam,
Android, and IOS. Retail versions are only on either the PS4 or Xbox One.


Once in a while, you play a video game that affects you emotionally. People my age usually cite Role Playing Games like Final Fantasy VII and the death of an important character, Earthbound, with its weighty "coming of age" story, or perhaps Lunar: Silver Star Story (from my own experience) when Luna gets captured, or worse, when she becomes the Dark Goddess. Others point to the rise of the survival horror genre, with games like Resident Evil or Dino Crisis, where the chills, thrills, and spills evoke reactions of fear and horror that we may not have previously experienced, save for perhaps with Doom. These moments helped many of us realize that games could be about more than pointlessly gunning down baddies or butt-stomping walking mushrooms. These games tapped into a place that early games weren't capable of doing, due to hardware limitations, and forever altered the landscape of what games could communicate with the audience.


Continue reading Brothers: A Tale Of Two Sons Review


Being a little kid means having lots of free time and an unrealistic understanding of how the world works. Especially when it comes to money, economics, and practicality.

Since I was a little kid, I had an ambitious goal.


Not pictured; me or my panicked mom. Pic from timpickens.com


And once I realized how terrible an idea it was to attach rocket boosters to my bicycle, I got another bicycle and a new goal; the ability to play any video game my nerdy heart desired, be it an arcade machine, home console game, or PC title.

Fast-forward many decades and hoping my back doesn't go out due to whiplash, and I still can't shake that little-kid voice. Especially after sharing so many games with so many people over the years. If I see a game for a few bucks that we don't own, my natural inclination is to pick it up for our collection or run through a list of folks I think may appreciate it.


Continue reading Thoughts And Suggestions About Collecting On Modern Systems




Next month, we hope that some of you will join us in playing in the first episodic, adventure game of the RF Generation Community Playthrough. In March, we will tackle Life is Strange, a game developed by Dontnod Entertainment and published by Square Enix. Life is Strange features five episodes that chronicle the turbulent teenage years of Max Caulfield who has the mysterious ability to rewind time after witnessing an unexpected tornado. Guide Max through this modern, coming of age story and help her learn how to use her time-shifting powers to prevent this natural disaster from demolishing her town.

Life is Strange has been praised for its fantastic character development and effort to tackle certain subjects considered taboo for video games. It has won several awards including Develop Industry Excellence Awards (New Games IP - PC/console & Use of Narrative), Golden Joystick Award (Performance of the Year [Ashly Burch]), Global Game Awards (Best Adventure & Best Original Game), The Game Awards (Games for Change), Playstation Official Magazine (Best Episodic Adventure & Best Moment), New Statesman's (Best Game of 2015), and received countless other nominations and runner-ups awards. Life is Strange is available for PlayStation 4, Xbox One, Steam/PC, and PlayStation 3 and Xbox 360 (both via download). We hope that this pick interests you and that you'll take the time to join us in March!

Join the Life is Strange discussion thread here: http://www.rfgeneration.c...m/index.php?topic=16286.0




It's amazing for me to think that I don't like indie games as much as I "should." When I was growing up, I tended to restrict myself to listening only to bands who were on a short list of only the most exalted independent record labels. Everything else was "sold out" or "too trendy." Yeah, I was one of those kids in high school.

You might think given that kind of holier than thou upbringing I'd be heralding the current indie boom in video gaming, but quite frankly, I'm not really feeling it. Don't get me wrong. I am certainly cheering on smaller teams making games that are touching a select amount of players with whom their work resonates. After all, month after month on the RFGPlaycast it seemed I would try to break down the "problems" with modern triple-A video game design, and the indie movement is providing so many answers to my pleas for innovation. Having said that though, every time I try an indie game, I rarely get into it enough to bother finishing it, despite the fact that they tend to be shorter than mainstream titles. There have been a few exceptions like Limbo, but I haven't gotten deep into an indie game in a while.

I recently sat down with The Unfinished Swan and although I can't say I have changed my tune on indie games, I did enjoy it more than most others.


Continue reading The Unfinished Swan




Everyone has something to hide. Sometimes it is just more obvious than others...
Enter Octodad!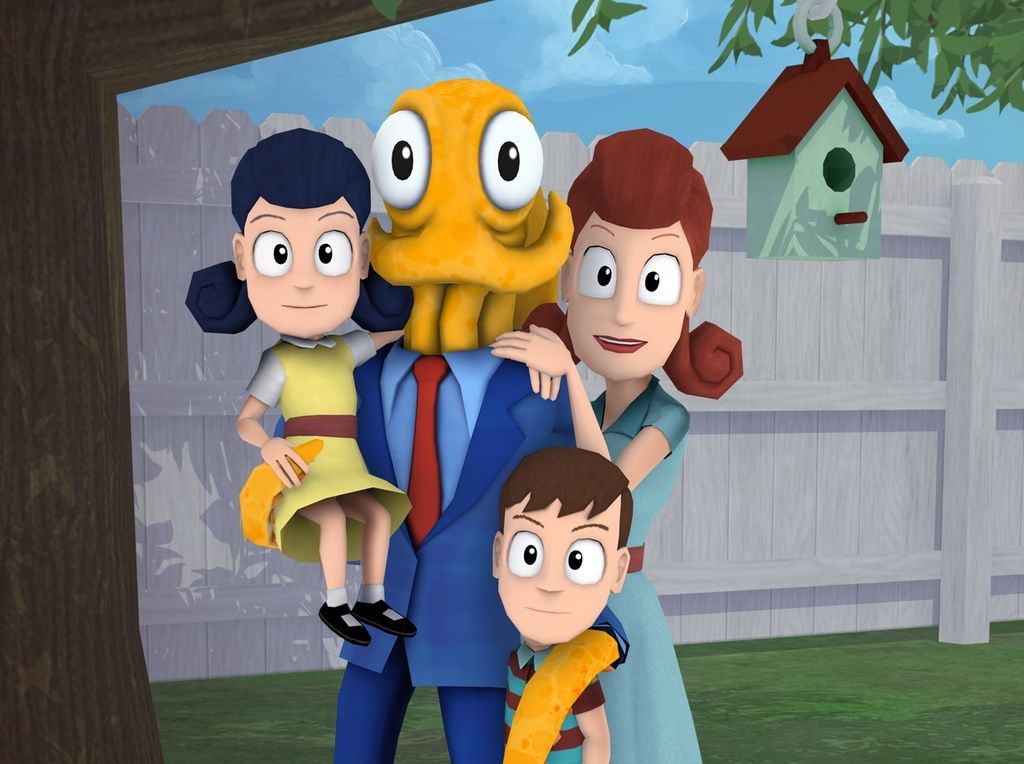 Octodad is pretty straight forward game. You are a husband/father who goes about his day completing tasks like any other husband/father would. Such activities include grilling, grocery shopping, taking care of yard work, and spending time with your kids. These simple tasks turn into a comedic struggle when you have no bones.... For example, imagine flailing about the house and sloshing milk everywhere while pouring your daughter a glass.


Continue reading Octodad: Dadliest Catch Xbox One Review



Database Search
---
Site Statistics
---
Total Games:

129168

Total Hardware:

9299

Total Scans:

162622

Total Screenshots:

91882

[More Stats]
Our Friends
---
Updated Entries
---

(Pong)
---

(XOne)
---

(XOne)
---

(XOne)
---

(XOne)
---

(XOne)
---

(WiiU)
---

(WiiU)
Updated Collections
---
New Forum Topics
---
New on the Blogs
---
Nielsen's Favorite Articles
---