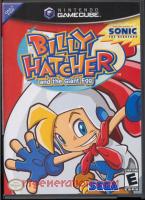 Well, believe or not...I am not making this up...It is National Egg Salad Week. I hope you like eggs, because you're going to get a healthy dose of it in this week's features! First off, we have the featured game, Billy Hatcher and the Giant Egg for Nintendo Gamecube. It's a very interesting game in which you roll eggs and play with eggs...you get the point. Secondly, we have our featured image. The image is for a not very well known egg-cellent game by the name of Eggomania. Just look at that image. Wow. Our featured hardware is the Pro Controller for the Atari Jaguar. Look at all of those buttons. Geez! Finally, our featured collection goes to one of our resident pack rats, Ghost Soldier.



Buy some eggs, cook some eggs, eat some eggs, enjoy some eggs. Don't throw some eggs, you'll get in trouble! And always, keep it tuned to channel 3 here at RFG!

Recent Entries

Thoughts On Games As Service, Anger, And Modern Gaming (3/18/2019)
The People of RF Generation - GrayGhost81 (3/16/2019)
Shoot the Core-Cast Episode 009 - Zanac (3/14/2019)
JVC X'Eye and my Sega CD Game Collection (3/12/2019)
All Our News Are Belong To You: March 2019 Edition (3/10/2019)




No one has yet added any comments to this entry. Why not be the first? Of course, you must be a registered user of RF Generation to comment, and if you are and are also logged in you will see the comment box below. If you see that, then comment til your heart is content! Not logged in? this login page will get you logged in!




Login or register to comment

It appears as though you are not a member of our site, or are not logged in.

It appears as though you can not comment currently. Becoming able to comment though is easy! All you need to do is register for the site! Not only will you be able to access any other site features including the forum and collection tools. If you are a registered user and just need to login then you can do so here.

Comment! It's easy, thoughtful, and who knows you might just enjoy it!
Database Search
---
Site Statistics
---
Total Games:

129928

Total Hardware:

9341

Total Scans:

164558

Total Screenshots:

91888

[More Stats]
Our Friends
---
Updated Entries
---

(PS3)
---

(PS3)
---

(eShop)
---

(eShop)
---

(PS4)
---

(PS3)
---

(PS3)
---

(PS3)
Updated Collections
---
New Forum Topics
---
New on the Blogs
---
Nielsen's Favorite Articles
---