In 2005, Capcom released Dead Rising for the Xbox 360. Capcom made their entry into the world of High Definition gaming a memorable one, as Dead Rising was like no other game before it. There were a few years around and following the release of Dead Rising where zombies would rule the roost, as games from both large developers like Capcom themselves, Valve, and Activision, had games or popular game modes that had a heavy emphasis on zombies. This popularity also coincided with the rise of indie games on the PC market, and zombie games thrived there for a few years until fatigue inevitably set in. Most of the biggest zombie games and modes were first person shooters, whether it was Nazi Zombies from Treyarch's Call of Duty games, Left 4 Dead, or Killing Floor, running around and shooting zombies made quite a bit of sense.

Capcom is not known for first person shooters, and instead designed Dead Rising in a completely different manner based around what it did know and had recently experimented with. Dead Rising has a third person perspective where combat is more focused around melee weapons. Guns do exist, but they are clumsy to aim and not particularly powerful until the player has completed one of the most difficult challenges in the game, which unlocks the most powerful gun, and overall weapon, in Dead Rising.


Continue reading Spooky Plays: Dead Rising



We interrupt your regularly scheduled program to bring you this month's edition of RF Generation's Site News! In this issue, we announce a very special August community playthrough game and event (....we're not alone), remind you about our ongoing annual Pain Yourself With Submissions contest, and of course, thank those members who sent in submissions to our site and registered approvals during the month of June. Once again, we will be implementing a new submission "focus" for this month, so stay tuned to the end of our broadcast to find out what it is. Thanks for tuning in!

REMEMBER: If you have any news about upcoming events or topics that you think the site needs to hear about, please PM singlebanana and put "RFG Site News" in the subject line. Who knows, maybe your news will make our front page!


Continue reading All Our News Are Belong To You: July 2017 Edition



Once in a while, you play a video game that affects you emotionally. People my age usually cite Role Playing Games like Final Fantasy VII and the death of an important character, Earthbound, with its weighty "coming of age" story, or perhaps Lunar: Silver Star Story (from my own experience) when Luna gets captured, or worse, when she becomes the Dark Goddess. Others point to the rise of the survival horror genre, with games like Resident Evil or Dino Crisis, where the chills, thrills, and spills evoke reactions of fear and horror that we may not have previously experienced, save for perhaps with Doom. These moments helped many of us realize that games could be about more than pointlessly gunning down baddies or butt-stomping walking mushrooms. These games tapped into a place that early games weren't capable of doing, due to hardware limitations, and forever altered the landscape of what games could communicate with the audience.


Continue reading Brothers: A Tale Of Two Sons Review



As a fan of story based games, I have to say that I love a game that takes you on a ride. Catherine is the kind of game that you can sit back with, relax, and watch an incredibly compelling social dilemma unfold before the protagonist's eyes. Lately, I've been thinking about companies from Japan. So many people have been crying out about the doom and gloom of the market and how Japanese development has been lagging behind while the Western world advances. This couldn't be further from the truth, as Atlus is one of Japanese gaming's oldest surviving names, but fastest risers in the global market. Persona 3 got the name out, Persona 4 kicked the door open, and Catherine broke the door's frame. Persona 5 is currently one of the most anticipated Japanese developed games since Atlus presented its masterfully crafted initial trailer.

Catherine was released in Japan and North American in 2011, with Europe and Australia getting a release in early 2012. The plot revolves around infidelity and is one that many of us have likely heard about, if not experienced first hand. Vincent, the games protagonist, gets caught up with a blonde-haired, blue-eyed young beauty named Catherine one night after all of his friends leave him alone at the bar. From here, the player chooses whether he wants to court her for the long run or remain faithful to his girlfriend, Katherine. The girls represent the ideologies of "Law" and "Chaos." Law is doing the right thing no matter how much it might hurt; Katherine is a structured being in complete charge of her life and represents Law. On the other hand, Catherine is more of a loose cannon that Vincent can't seem to get rid of no matter what decisions you make; she represents Chaos. Which one of these ladies will you choose, or will you choose the single life?


Continue reading Psychotic Reviews: Catherine






The Orange Box
Valve Corporation, 2007
Xbox 360


I was pretty late to the party as far as 'modern' First Person Shooters go. I think this had to do with the fact that the rise of Halo and similar games seemed to happen during a time when I was paying a lot less attention to gaming. However once I did finally get exposed to Half-Life a year or so ago, I was very surprised at how much I enjoyed it. A few months back I played through Half-Life in its entirety for the first time ever and that only led me to start delving deeper into more of Valve's output. So what better place to do that than The Orange Box - a single disc with three full games as well as two add-on episodes?

The first game I decided to play was Portal. Although I had started it (and enjoyed it immensely) a year or two ago, I had never managed to finish it. So I figured I'd just start it over again from scratch. Although I knew the good old 'cake' meme, what I didn't know was how long the game was. This created a really cool experience, always wondering how close I was to the end. And although it only took me two sittings to play through, I had an absolute blast.


I've just realized that I'm writing this with the assumption that everybody in the world got around to playing Portal before I did. Just in case that's not the case, you should know that Portal is basically an FPS without the 'S.' Or to be more accurate, the shooting you do is not a gun filled with bullets that are taking out aliens, zombies and soldiers. Instead you've got the ingenius Portal-gun which shoots - you guessed it - portals. Enter one and exit there other. Simple, right?

This is the sort of game that offers up puzzles that you might breeze right through, or then sit there for fifteen minutes trying to make sense of everything and then feel like the smartest person alive for doing so. It's also full of hilarious personality. And although deaths can happen in Portal, for the most part it's a first person game with very little action. It's a game that encourages you to move around slowly and explore and think. And although it's a short game, I can honestly say that the last level alone is just as much fun as everything leading up to it.




Arguably, the star of The Orange Box would be Half-Life 2 which is included here with its Episode 1 and 2 expansions as well. This was my first experience with the game. The original Half-Life I had played a year or so ago for the first time, and only actually beat it earlier this year. But in that time I grew to really love the game, and consider it one of my favorite FPS games of all time. With that in mind, I was certainly looking forward to playing the sequel.

I've yet to actually beat Half-Life 2 (which means I've also not played the expansions yet either), but the solid time I have spent with it has been great. I will say however that I'm not yet convinced that I like it better than the first game. Although HL2 definitely improves upon its predecessor in many ways, it's also hard for me to shake the excitement of experiencing the world of Black Mesa for the first time. I also think I lean towards liking the claustrophobia of the research facility more than the more open-world given to you in the sequel. I've also noticed that Half-Life 2 feels a lot more "survival horror" than the first game. Ammo seems a bit more limited here for instance.

But all that aside, Half-Life 2 is an incredible game as I said. It looks glorious and runs smooth on the 360. And of course this is just personal preference, but the 360 pad is definitely now my preferred way of playing FPS games. Sorry keyboard & mouse purists. One thing that really stands out in the second game is the writing. The characters definitely have a lot more personality than in the first game. Oh, and the barnacles still creep me out.

Interestingly enough I had recently started playing Halo for the first time ever (seriously). And one thing that really stuck out to me about Halo was just how bad the driving sections were. I just could not grasp them and constantly found myself crashing when I should have been cruising. As it happens I hit the driving (a boat) part of Half-Life 2 around the same time and it was night and day compared to Halo. Thankfully the driving section there was actually really fun, even if a bit longer than need be.

One addition to the sequel that's really nice is the Gravity Gun. This thing lets you pick up and shoot objects that would otherwise be far too heavy or too far away for you to do so. In that regard, Valve successfully incorporated puzzles into a true FPS similar to what would be come the standalone game of Portal. It definitely makes you think about how to approach certain sections. For instance in one area I was low on bullets, but there were saw blades all over the place stuck in walls. Turns out you can suck up a saw blade with the Gravity Gun and send it violently shredding through a zombie (these are zombies, right?).



As a bit of a diversion I figured I should at least see what this Team Fortress 2 game was all about. So I hopped on the XBLA server one weekend morning and to my surprise, there were several games going on. What started as a simple capture-the-flag game with a red team and a blue team quickly turned into a pretty decent time-suck. A half hour or so later I realized the appeal to such a game. And now that I was feeling at least somewhat comfortable controlling an FPS, I could even enjoy such a game! Of course I was only playing with strangers, and I'm sure that a much bigger bit of enjoyment would come from playing with a group of friends. Something I'll have to look into in the future.

And speaking of the future - not only does this mean that The Orange Box has this online game that I can enjoy indefinitely (or until the servers are shut down), but I've still got Half-Life 2 to beat and the expansion episodes to delve into. When you look at the number of quality hours of gaming that are on this single disc, it becomes quickly apparent that The Orange Box is one of the finest compilations you get on the 360.







There's been a lot of talk this year about Aliens: Colonial Marines. Like Duke Nukem in 2011, it's been the game to hate. In fact this unanimous disgust for this game was so intense that it only amplified my desire to actually play it. And what I found was a game that was so enjoyable to me, I'm not even sure why I'd need to defend it. But then again I'm going by nothing but base reaction. Meaning I'm looking at this just as 'a game' rather than 'a highly anticipated game based on a license with rabid fans.'

Let me start by pointing out a few things that might make more sense out of my enjoyment for this game. First of we should discuss the First Person Shooter genre. Though I'm slowly learning to enjoy FPS games far more than I ever did in the past, I'm still far from seasoned. I've played very few of the modern staples. So in reality, I don't have all that much to compare this to that's been critically acclaimed (save for perhaps Borderlands).

I should also point out that while I am a huge horror fan, the Alien films have always been a bit closer to sci-fi (mixed with horror) to me. This means that while I am a fan, I'm not an obsessive fan. I don't rush out to see each film. I haven't even seen them all yet. And so the story here - supposedly cannon - really doesn't matter to me as far as how well it gels with the film series.

And lastly, I didn't follow this game's hype leading up to its release. I didn't pay much attention to the overly long production schedule. I didn't see the demos shown prior to release, so had no anticipations. Add to this that while the game was released this year, I didn't pay $60 for it on day-one, but instead picked up for $10 when GameFly was having a sale.




Now that we got those disclaimers out of the way I can start to tell you about my own experience playing. I delved in blindly, and to my surprise I found that the game was actually very linear. Whereas this might turn off other, more-seasoned FPS'ers, it was just fine for me. Earlier this year I played through Half-Life for the very first time. And while I fell deeply in love with that game and everything new it showed me about the genre, it was really nice to now play through a modern FPS where I didn't have to constantly resort to checking a walkthrough to figure out what my next move was.

Graphically, I thought the game looked excellent on 360. It was well detailed, ran smoothly (save for some glitches I'll get to later) and had excellent lighting. Of course I've since watched videos on Youtube comparing some of the demo footage shown before the game's release compared to the finished product, and certainly the final release has been compromised. But that said, the atmosphere always seemed to work really well for me.




As far as the aforementioned glitches, well they were around. As seen above is a screen shot I took on my phone camera. At one point I was being fired upon by turrets and wondering where my cover, O'Neil was. He should have been right behind me, but wasn't. I decided to backtrack a bit and found him two rooms earlier... stuck in a wall.

These NPC AI glitches were by far the ones I encountered the most. Sometimes one of your partners would seemingly forget he was even alive and would just stand frozen doing nothing for five minutes or so. Other times he would shake violently as if hopped up on uppers. At least twice I ran out in front of my squad only to find them suddenly waiting for me two rooms ahead. And once O'Neil even materialized in front of me out of thin air. So yeah, in that sense Colonial Marines feels a lot more like a budget title. And who knows, had it been released as such maybe we'd all think of it more akin to Earth Defense Force and wink-wink-nudge-nudge at these sorts of shortcomings.




But despite all that, I still found the game compelling enough to find time for it consistently over the last two weeks until it was beaten. And there were plenty of moments that really stood out to me. For example there's one section where you must escape from a rather large Xeno and find yourself sneaking around under his floor. At various moments he angrily bursts through your ceiling attempting to grab you, and the scare was effective enough to genuinely make me yell out startled. (My wife later took it upon herself to burst in to the game room screaming to shake me up a second time).

At another point you come across these aliens who can only see movement, so you must stay still when they get to close. And right as I got to an exit three of them came extremely close to me and I swore I was detected. It was actually tense enough of a moment that I caught myself holding my breath in real life.




The truth is that the game's eleven missions were actually quite well peppered with such moments that really made me enjoy every hour of gameplay. Although I'm still baffled at the ball-drop that was the final boss fight against the Queen. I genuinely have no idea why my squad of marines would think it was cool to let me handle her on my own. And I'm further baffled by the decision to make the boss encounter in a room so filled with barricades to keep her away from me, and so obvious as to how to defeat her. It did seem pretty anti-climatic considering how many more difficult sections had come before it.

But at the end of the day I'm glad I played this game. I don't regret purchasing it, and in fact I'm even bummed at the reception it got which would pretty clearly say "no sequels dudes." Considering its sunken price tag, I'd at least suggest some of you out there with some interest and open minds give it a shot. I'm certainly not saying it's the best game out there, but it's certainly not the worst either - no matter what it is you've heard elsewhere.







Its been a while guys, sorry about that. Life sometimes interferes, but there is lots more horror goodness I haven't yet shared that needs to be played, both retro and not. And in this case, this games not...though admittedly it might as well be due to its release date.

Condemned: Criminal Origins was developed by Monolith Productions and published by Sega, releasing to the masses as a Microsoft Xbox 360 launch title. Actually, that is not entirely accurate. Condemned actually preceded the 360s release, coming out on Nov. 15, 2005, which means its older than the oldest console in this generation (the 360s official launch date was Nov. 22, 2005, in the US). Of all the 360 launch titles, this was the one that generated the biggest personal interest and was my first game purchase on the console, though admittedly I bought the machine specifically for Dead Rising. I'm glad I picked up Condemned by itself, as I managed to give it the time it truly deserved.

Condemned is an interesting approach to the traditional survival horror. While it visits the same dark locales and features what is effectively a supercop as the main protagonist a la Resident Evil, this guys a little different. Ethan Thomas is tough, has highly 'acute senses, and goes after a particularly disturbing type of criminal: serial killers. Ethans disturbingly good at this, but it seems it comes with a price that Ethan doesn't even know must be paid, and his life is not exactly as it appears. Early on in the game he finds himself up against a similar individual on the other side of the law, a super serial killer labeled only Serial Killer X who hunts his own kind and kills them based upon their own methods. Unfortunately for Ethan, X gets the drop on him, steals his gun, kills two cops with it, and knocks Ethan out a window before escaping. Ethan wakes up in his apartment with family friend Malcolm Vanhorn, who warns Ethan that hes now wanted for the murder of those policemen.




So Ethan must now evade the police, take down X, and prove his innocence. To do that, he'll have to crawl through every nasty back alley and condemned building in the city while hunting for evidence. Sounds simple, right? But there are a couple of problems: it seems the city's homeless are becoming increasingly violent while creatures and events are beginning to appear around him which are twisted enough to make Ethan question his sanity.

While the plot gives a reason for all of the bizarre occurrences and gives a reason for the hordes of angry and freakish individuals you'll find literally bludgeoning each other to death with whatever they can find, its unfortunately not very coherent. Ethan has some similar qualities with the character Will Graham from Thomas Harris book Red Dragon. In Red Dragon, its hinted that Graham might easily have become the same type of monster that he hunts so easily; Ethan suffers a similar problem. The issue comes in presentation: much of the story goes unexplained unless the player bothers to read the loading screens between levels and manages to piece them all together. And even then there are several important points which the game never quite gets out, such as exactly what the character known only as The Hate actually is or where it came from. It takes the sequel to really find out whats happening, and the sequel, well, that's a discussion for another day. There are scenes where Ethan has to use his police equipment to investigate crime scenes, but as per the norm with television forensics units, it happens absurdly quick and relatively easily. Its a nice little touch that helps break up the action, but its not very realistic, so if this happens to be a pet peeve of yours about police dramas, you've been warned.

Anyway, Condemned: Criminal Origins features a very different perspective from most survival horror titles; its entirely first person, though not a true FPS. While you do find guns, they're few and far between, are limited to the amount of ammunition you find in them, but are also realistically powerful. Some enemies also carry guns, which are subject to the same rules. Fight an enemy with a revolver who fires off two shots, and the gun will come with only 4 rounds. Ethan does have a handy rechargeable taser, but its primarily for stunning and does little damage. Still, its great for thinning a crowd. Most combat revolves around melee, and Ethan's quite resourceful, so he makes a point of arming himself with just about anything he can find: locker doors, old signs, sledgehammers, mannequin arms, metal pipes, fire axes, loose boards, paper cutter blades (a particular favorite of mine), electric conduits, if it can be pried off the wall and used to bash in someones skull, Ethan is willing to use it.




But then again, so will the hordes of enemies between him and the truth. Enemies will break off a fight long enough to pry a board or rip off a street sign to beat down you or each other with. The AIs actually not bad, with enemies taunting you, breaking off to run away when hurt, and hiding in corners or behind doorways while they wait for you to pass so they can ambush you. In one particularly fun but scripted scene, a bum charges you from behind with a monkey wrench, and you only see him coming because you're looking at a bathroom mirror at the time.

To add to the combat, while there's no combo system, there is an execution system, which involves grabbing an opponent who has fallen to his knees and using whatever you have to smash in his face, snap his neck, or whatever else you happen to do. It even zooms in on their faces so you have to look them in the eyes before you curb stomp them. Its not a pleasant feeling.

Condemned is also very dark and dreary. There really aren't very many clean locales you'll visit, instead hitting up subways and sewers, a dilapidated school, an old house out in the country, or even my particularly favorite level, an abandoned shopping mall that's been overrun by squatters which dress like mannequins so they can get the drop on you from store displays. Its a terrifying feeling to walk into a display room and see one obviously bating you at the far end, because you can't be sure which mannequins in the room are real, and which ones are murderers pretending so they can lash out at you from behind.




There are also unlockables, based on messing with TV sets and collecting bird corpses and metal plates stuck to the wall and surrounded by charcoal drawings of eyes starring at you. It adds replayability to the game, which is good as its not too terribly long.

I had a lot of fun with Condemned: Criminal Origins, and when I am asked about modern survival horror, its always a title I heartily recommend. The controls are excellent, the combat felt quite good once I got the hang of it, and the environments were solidly put together and delightfully creepy. But it is not easy to get through at times, with its convoluted and mishandled plot, unrealistic forensics, and its overemphasis of violence. The game was actually so violent, it has since been banned in Germany, with all copies confiscated. Seriously, its illegal to possess or sell it, similar to Manhunt 2 in New Zealand. For the rest of us, its thankfully pretty cheap, generally going for less than $10 on eBay.




For those interested, here's a taste, the intro video from the level Bart's Department Store:




Your Blog Editor / Site Director sometimes misses cool articles that should be promoted. Sorry about that. Enjoy this article, over a month after it was originally published. It's a good one. -TJ

Viking: Battle for Asgard was released on March 25th, 2008 on both the Xbox 360 and Playstation 3. Though it received mostly favorable reviews, it was greeted with little fanfare by the gaming populace. It slipped under my radar as well, but after hearing positive word-of-mouth, I decided to give it a go. This review is specifically for the Xbox 360 version, though from what I gather the Playstation 3 version is nearly, if not completely identical.

You take up the hefty axe and sword of a Viking warrior named Skarin, a hulking brute renowned for his ability to smash skulls and cleave spines. The story kicks off with a fatally wounded Skarin falling on the battlefield, only to be spared and given new life by the Norse God Freya, daughter of Odin. In return, she demands Skarin fight for her against the legion of Hel, the Queen of the Underworld, daughter of Loki. Hel has been cast out of the immortal plane of Asgard for disobeying Odin, and has vowed revenge by way of releasing Fenrir. Unshackling the wolf god will initiate Ragnarok, resulting in the ultimate demise of all the Norse Gods. Skarin is charged with hacking and slashing his way through Hel's forces across Midgard, the mortal realm, before her plan comes to fruition.

Continue reading Review - Viking: Battle for Asgard


There's a reason why I haven't done this in three weeks, you'll see why. Here's the release list for the last three weeks.


Playstation 3
Xbox 360
Nintendo Wii
• Lord of the Rings: Conquest
• Lord of the Rings: Conquest
• Deal Or No Deal
• Fishing Master World Tour
• Hotel for Dogs
• Neighborhood Games
• Paws and Claws Pet Resort
PSP
Nintendo DS
Playstation 2
NOTHING

PC
• Cartoon Network Universe: Fusion Fall
• Delta Force 10th Anniversary Collection
• Lord of the Rings: Conquest
• Mirror's Edge
• Bigfoot: Collision Course
• Elebits: The Adventures of Kai & Zero
• Hotel for Dogs
• Inkheart
• Jumble Madness
• Lord of the Rings: Conquest
• Moon
• Paws and Claws Pampered Pets
• Personal Trainer: Math
NOTHING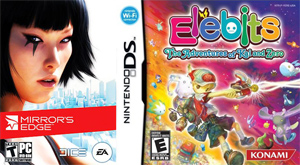 Very exciting for not doing it in such a long time, I know. First thing worth mentioning is Mirror's Edge on the PC. If you have a good gaming PC and haven't experienced the game yet, please do so. Mirror's Edge is easily one of the five best games of last year. Yeah, the game is technically "short", but it never feels short. The pacing and length feels perfect. After you beat the game, there's plenty more to do, such as speedruns on all the game's levels and trying to beat your friend's scores on the online leaderboards. Please, don't skip this game. Give EA your support by buying the game. Let them know that they are truly headed down the right direction with innovative, original titles like Mirror's Edge.

The other title worth talking about is Elebits: The Adventures of Kai and Zero for the DS. In case you don't know, I'm like one of two people that actually bought and enjoyed the first Elebits game on the Wii, so I was intrigued when I heard there was a DS version coming. A few weeks ago, I downloaded the demo to my DS from the Nintendo Channel on the Wii and played through it. I thought it was pretty fun, but repetitive and nowhere near as good as the original. What's different about the DS version is that it's structured more like an RPG/Adventure rather than a puzzle game. I'm not really sure what else to say about it. It's merely a decent game that's kinda fun. I certainly wouldn't rush out and buy it right now, but maybe when it hits $10 or so in a few months.

Check back very soon for this week's releases!





Random Review: Dead Rising



My last review was a Famicom game, this one is 20 years newer and a totally different experience, but still a blast. Dead Rising was released August 8th 2006 for the Xbox 360 and at the time, was an exclusive for that system. It has since been announced that it will be coming to the Wii as "Dead Rising: Chop 'til You Drop". This game is huge and as my reviewing skills are not top notch yet, I probably will be excluding portions, but I'm trying more for a overall experience review anyway.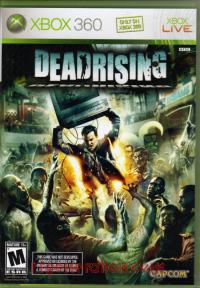 The Plot:
The plot of the game is essentially: you (an independent photojournalist, Frank West) come to a small isolated town via helicopter and after the US military forces your pilot to drop you off on the roof of the mall, you soon realize the town is infested with zombies. All you know is that you want to cover the story and the helicopter will return in 3 days. Through the game, you will uncover the mystery of the zombie outbreak if you do everything correctly, but if you don't finish a mission in time, the facts will be lost to you (and the rest of the world) forever. But, you can still finish the game and get a sub-par ending that inevitably ends in the destruction of the world. In addition to the regular missions, you can embark on numerous "side quests" rescuing survivors and killing psychopaths.

Gameplay:
The gameplay is simple; finish the missions and kill as many of the seemingly infinite zombies as you can before your 72 hours is up. But, there are a few aspects of the game that make it unique. The first is the RPG elements the game uses. As you gain "Prestige Points" in the game (by killing zombies, taking photos, killing psychopaths, rescuing survivors, or the other numerous ways) you gain abilities like increased health capacity, increased storage capacity and new fighting moves. These gained abilities are kept once you finish the game and start again, so you can go through the 72 hour mode as many times as you need to get the abilities to finish with the best ending.
The second feature that sets Dead Rising apart, is the weapons. Of course, there is the standard handgun, rifle and shotgun of any good zombie game, but there are also items like Molotov cocktails, katanas, swords and battle axes. But, that's not all, basically anything you can pick up is a weapon, whether it's a trash can, potted plant, 2' x 4', lead pipe or one of the other 250 items in the mall. Using everyday items to kill zombies is a blast, there's nothing like slicing a zombie down the middle with one fell swoop of your Katana or using a hole digger to skewer and zombie and use his spinning body to kill more zombies. This is definitely the best part of the game for me, on my first playthrough I didn't bother with the missions, I was having too much fun slamming faucets into zombies and watching them bleed out through it and cutting up hoards of them with chainsaws and lawn mowers.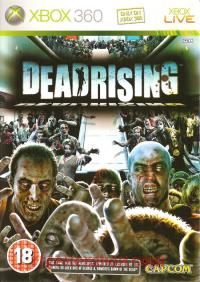 Sound and Graphics:
The sound effects of the game are top notch. Zombies groans and moans seem to be all around you and the screams of distant survivors make it seem more real. The weapons all have their own sounds and they all sound pretty realistic.

This was my first Xbox 360 game, so the graphics blew me away at first, but after playing more games on the system, the graphics are pretty standard. Nothing super awesome, but everything is smooth and I didn't notice any kind of glitches in the game. There are numerous zombies which is nice (especially if you compare it to a game like RE4 where it seems there are only 5 different "zombies") and at first you may think they are all unique, but after a few hours into the game you'll start recognizing zombies by their appearance.

In conclusion, this is a very, very fun game and is definitely worth a pick up. I got my copy for $20 and it was well worth it. For me, it got a little boring and redundant after my 2nd playthrough, but I can see myself coming back to the game after a while.
I'm giving this game a 95% as it really is worth the money and if you've got a 360, you really do need this game. It's not a game you'll devote your life to playing, but it's good for many hours of play time.


I'm not dead, I just took a week off to do my final exams and stuff like that. Plus, this time of year is dead anyways, so I figured it could wait. So, here's what came out last week and what's out this week.


Playstation 3
Xbox 360
Nintendo Wii
• Rise of the Argonauts
• Sonic Unleashed (get the Wii/PS2 version instead)
• Rise of the Argonauts

• Calvin Tucker's Redneck Jamboree
• Neopets Puzzle Adventure
• Rock Band 2
• Summer Sports 2: Island Sports Party
• The Tale of Despereaux
• Word Jong Party

PSP
Nintendo DS
Playstation 2
• Dungeon Maker II: The Hidden War

PC
• Band Manager
• Lost Secrets: Bermuda Triangle
• Hidden Expedition: Amazon
• Hired Guns: The Jagged Edge
• Prince of Persia
• Rise of the Argonauts
• RPG Fantasy Action Pack
• The Tale of Despereaux
• Zoo Tycoon 2 Ultimate Collection
• Animal Boxing
• Australia Zoo Quest
• Build-a-Lot
• Candace Kane's Candy Factory
• Cate West The Vanishing Files
• Driver's Ed Portable
• Dreamer: Horse Trainer
• Dreamer: Puppy Trainer
• Learn Math
• Left Brain Right Brain 2
• Mystery P.I.: Portrait of a Thief
• Slingo Quest
• The Tale of Despereaux
• Rock Band 2
• Shin Megami Tensei: Persona 4
• The Tale of Despereaux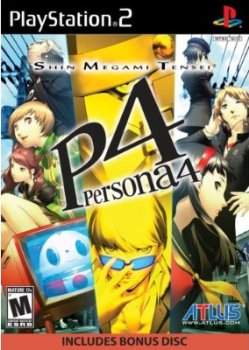 Very boring, am I right? Get used to it. That's what the next few weeks are going to be like.

The only highlight here is Persona 4 for the PS2. I don't know much about it other than it's a weeaboo JRPG with an even more weeaboo translation that keeps all the honorifics and stuff on there. Also, you commit suicide to gain powers. Apparently it's good if you're into that kind of thing, but I'll stick to Fallout 3 thank you very much.

So, next week, I don't think anything is coming out. Literally, nothing.


Sorry for being so late with this, but this is the last week of the semester for me before finals, so the professors have been dumping all sorts of homework on me. Yippie. So, I need to keep it short and sweet this week.


Playstation 3
Xbox 360
Nintendo Wii
• Prince of Persia
• SingStar ABBA
• Destroy All Humans 3: Path of Furon
• Prince of Persia
• Bigfoot: Collision Course
• Family Party: 30 Great Games
• King of Fighters Orochi Saga
• Mushroom Men: Spore Wars
• My Fitness Coach
• Nancy Drew: The White Wolf
• Safecracker
• Ski & Shoot
• SPRay
• The Tale of Despereaux
PSP
Nintendo DS
Playstation 2
NOTHING

PC
• Disney's Bolt
• Grand Theft Auto IV
• Neopets Puzzle Adventure
• The Tale of Despereaux
• A Vampyre Story
• Zoo Tycoon 2 Ultimate
• Animal Boxing
• Dreamer: Puppy Trainer
• Emma at the Farm
• Emma in the Mountains
• Happy Cooking
• Mushroom Men: Rise of the Fungi
• My Fun Facts Coach
• Prince of Persia: The Fallen King
• Slingo Quest
• The Tale of Despereaux
• Wordfish
• Kingdom Hearts Re: Chain of Memories
• SingStar ABBA
• The Tale of Despereaux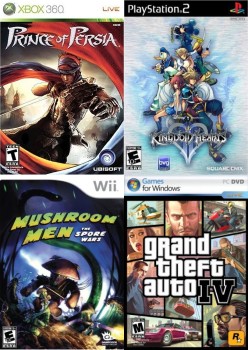 Yet another slow week, but there's some good stuff. Such as Prince of Persia. This installment in the long-running series has UbiSoft trying to reinvent the game with a new cel-shaded Okamiesque art style and open world gameplay...and apparently the results are good if early reviews are to be believed.

The other big game I'm interested in this week is Mushroom Men for the Wii. Why is this shovelware sounding game so intriguing? First of all, the game's music was composed and performed by none other than Primus bassist, Les Claypool. However, what makes the game really interesting is that the entire game is synced to a metronome that runs at 120 beats per minute. The result is a very unique look and sound that I've never seen in a video game before. It really must be seen to be fully understood, so take a look at this trailer from GameVideos about the metronome system. IGN also has a great article about the system. Oh, I supposed I should probably mention what the gameplay is like. Well, it's basically your standard platformer, but with some neat MDK2/Fallout 3 like weapon creation elements. I just hope the gameplay is as brilliant as the metronome system, but even if it isn't, I know I'll like the game since it's a bold experiment in sound design. Unfortunately, I can't afford to buy this game right away.

If anyone gets this game or hears anything about it, leave a comment, because I'm dying to know how this game turned out.

Oh yeah, there's some new Kingdom Hearts game out this week on the good ol PS2. It's a 3D remake of the GBA game, Chain of Memories entitled Re:Chain of Memories (clever). Since I don't know anything about Kingdom Hearts other than a lot of weeabos that don't normally like Disney love this game...probably for "kawaii" artwork and stuff. Never understood the appeal of this game.

If you missed out on the consoles, GTA IV will hit Windows this week in all it's SecuROM-protected "glory" (if you can call it that). Hooray DRM!

Anyways, check back next week when I'll be burned out by final exams.

But then I'm done with school for a month.




Here's the post that makes the weekly release list look like child's play. The black friday deals! For those of you in Euroland or where ever and don't know what Black Friday is, it is the day after Thanksgiving here in the US in which all the stores try to get people to come in and buy stuff for Christmas by offering insane deals. Of course, many stores entice gamers to come in and get stuff, so here's what's being offered this year. Before I get into it, I want to give props to cheapassgamer.com, bfads.net, and blackfriday.info for all the information found in this post.

Please note that the deals in bold are the ones I recommend most of all.

To get started, choose a store below to see what they have to offer.

External Link: Amazon.com deals from Cheap Ass Gamer

Best Buy
Circuit City
Costco
Game Crazy
GameStop
KB Toys
K-Mart
Meijer
Sam's Club
Target
Toys R Us
Wal-Mart


Continue reading 2008 Black Friday Deals


Gaming has changed. It's no longer about top-notch AAA blockbusters and quality games, it's an endless series of shovelware developed by guys in business suits and programmed by machines that follow their every command. Gaming has changed. ID tagged consumers carry ID tagged weapons, use ID tagged gear. Nanomachines inside their bodies enhance and regulate their tastes. Hannah Montana. High School Musical. Imagine. The letter Z. Everything is monitored and kept under control. Gaming has changed. The age of innovation has become the age of shovelware. All in the name of making of quick buck from unsuspecting consumers. And he who controls the gaming battlefield...controls history. Gaming has changed. When the battlefield is under total control... shovelware becomes routine.


Playstation 3
Xbox 360
Nintendo Wii
NOTHING!
• NPPL Championship Paintball 2009
• AMF Bowling World Lanes
• Calvin Tucker's Redneck Jamboree
• Cake Mania: In the Mix!
• Championship Foosball
• Iron Chef America: Supreme Cuisine
• King of Fighters Orochi Saga
• Safecracker
• Skate City Heroes
• Ski & Shoot
• Winter Sports 2: The Next Challenge
PSP
Nintendo DS
Playstation 2
NOTHING!

PC
• Band Manager
• Disney's Bolt
• Gothic 3 Collector's Edition
• Neopets
• Zoo Tycoon 2 Ultimate
• Age of Empire: Mythologies
• All Star Cheer Squad
• Chrono Trigger
• Club Penguin: Elite Penguin Force
• Cradle of Rome
• Emma in the Mountains
• Neopets Puzzle Adventure
• Personal Trainer: Cooking
• Syberia

NOTHING!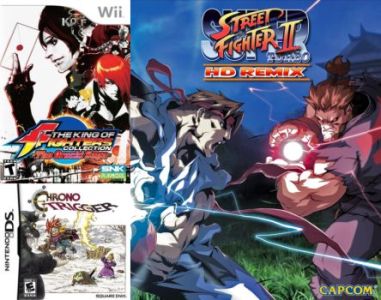 Looking through the ashes of the holiday season, I observe three beacons of hope for this week, even if they are all rereleases of things have have been out for at least ten years.

First among them is King of Fighters: Orochi Saga for the Wii. It's a compilation including the following games: King of Fighters '94, '95, '96, '97, '98, and '99. I don't have much experience with any of those games, but I know they're well liked by many people, so I thought I'd highlight it.

The next "good" game to come out this week is a DS remake of one of the most appreciated (and expensive to track down) games ever, Chrono Trigger. Originally released for the SNES in 1995, Chrono Trigger is yet another RPG from Square, and yet another game I've never had any desire to play. This new DS edition of the game has several all-new features including a couple of new dungeons, a new final boss with his own dungeon and ending that is unlocked after getting the original ending, two modes of play (DS and Classic), wireless play for 2-4 people, and arena mode, changes to the English script to more closely reelect the original Japanese game, no load times for the anime cutscenes (the same ones from the PS1 version included with Final Fantasy Chronicles), and improved sprites/music. But I honestly don't care. I've NEVER played Chrono Trigger, nor do I have much desire to since it looks like yet another generic JRPG grindfest. OH NO! I have sinned and tarnished the name of one of the "greatest games ever". So, RPG fans, why should I care about this game? What makes it different from other JRPGs? How does it innovate? Tell me why the hell I should play this game, and maybe I will.

However, the absolute highlight of the week is the long-awaited Super Street Fighter II Turbo HD Remix (aka: Super Street Fighter II Turbo HD Dub Edition Remix Gaiden: The Director's Cut: Deluxe Edition). In addition to being the newest member of the ridiculously long name club (along with Supersonic Acrobatic Rocket-Powered Battle-Cars), it's a member of the awesome downloadable games from Capcom club. What makes this remake so great and worth getting? First off, the sprites have been upgraded, BIG TIME! Just check out this comparison of Ryu, this one of Ken, and this one of Akuma. Quite the difference if I must say so myself. These awesome sprites will be rendered in 1080p HD goodness along with plenty of new features including an optional "rebalanced" mode that changes around the balance of the characters, training mode, both widescreen and standard 4:3 aspect ratios, a remixed soundtrack created by people at OverClocked Remix (the original soundtrack is there too if you prefer to hear that, the ability to use either the new sprites or the old ones from the original, and, of course, online play with voice chat, matchmaking, stat tracking, and leaderboards. The best part is that this whole package is going to be selling for only $15 on both Xbox Live Arcade (out Wednesday) and Playstation Network (out Tuesday). In addition, PSN people will be getting a free Street Fighter Underground soundtrack with original songs by hip-hop artists like Redman, DJ Qbert, and Heiroglyphics. I don't know about you, but I am ultra pumped for this game because I haven't played Street Fighter II (or any fighter) in quite some time, and I really want to get back into the groove of things. In addition, the online modes sound awesome as well. So, anyone getting it for PS3? Wanna set up some matches? I bet I know the answer to that: no. Whatever. Hope you like not having fun.



That's all for this week. Hopefully you all enjoyed my pretentious as hell intro.



Three years for the 360! On November 22, 2005 the Xbox 360 was released in North America to a gaming mass waiting for the next iteration of Microsoft's gaming console. Unlike its predecessor, the 360 was a stylish system that when it wasn't greeting players with a red ring was rather sexy when compared to the black paperweight known as the Xbox. Surely, Microsoft was off to a better start from a design point with its system, and there were plenty of other things for 360 fans to be excited about.

I'd be lying if I told you I owned a 360 or desired one. The truth is that I have no desire for a 360. That said, the 360 does have several things that go great for the masses. If you were to ask me which system appeals most to true gamers right now, it sure as hell would not be the Wii. It depends on the avenue, but if you're looking for games for adults that will make you say wow then the 360 is the system to have. From Halo to Dead Rising to Bioshock to GTA IV, there have been some heavy hitters for the 360 that would make the most hardcore gamers squeal with delight.

Of course, that's not the only thing that appeals to true gamers. Of the three console manufacturers, Microsoft really does know how to best do an online product. Sony's working on creating a good online product and Nintendo is being Nintendo, and while the bar has been set rather low by the competitors Microsoft has delivered a product that quite frankly trounces the competition. It's really quite amazing and I give Microsoft kudos for their online platform. Their competitors could learn a thing or two from Live... they really could… especially Nintendo.



Of course, Microsoft is not the market leader anymore this generation. While they were in the beginning, the behemoth known as the Wii has taken the title and ran with it. Is Microsoft going to sit there and just watch that happen? No! They decided they were going to revamp their dashboard and create a new experience that is enjoyable for all. It just launched, and as someone on the outside looking in I have to say that the avatars do look really cool. They offer customization that I only wish Nintendo had for their Miis. Did Rare rip off the Mii concept? Who the hell cares! Rare has created something with much more depth than the Miis of Nintendo, and I give them full credit for creating something much more interesting than the Mii Channel. Good job Microsoft and keep pushing along with the new experience.

Every console has its fair share of issues, and the same can definitely be said for the 360. Probably the most notable of these issues was the Curse of the Red Ring. Chances are you know someone who has suffered from the Red Ring of Death. In fact, you might know someone who has suffered from it multiple times. Truth be told, the initial batches of the 360 had some design issues. No one really knows what is it, but rather than screwing over consumers, Microsoft did a noble thing and extended everyone's warranties. That's pretty nice, and it suggests that perhaps Microsoft is not the cold hearted bastard that its Windows operation suggests that it is (and it is).

So sales have been down in recent history for the 360, and one has to wonder what the future holds for the console. I honestly don't know if the console will see a rebound in sales, but I don't know if that is necessarily a bad thing. 360 owners like to buy third party titles, so it's an enticing console for those developers and publishers. So for developers, I don't see as much as a risk for releasing games on the 360 that I do for releasing non casual games on the Wii. While casual gaming dominates the Wii, real games dominate the 360, and that's a great selling point for the console. Why not capitalize on that, Microsoft? Push your strengths, and it might help you in the long run.

Three years for the 360. What do you think has been the good, the bad, and the ugly? What do you think the future holds for the 360? Does the four year lifespan still hold true for Microsoft? Well, in a year we might just know. What do you think?



Database Search
---
Site Statistics
---
Total Games:

145835

Total Hardware:

10627

Total Scans:

182388

Total Screenshots:

83255

[More Stats]
Our Friends
---
Updated Entries
---

(PS4)
---

(PS4)
---

(PS4)
---

(PS4)
---

(PS4)
---

(PS4)
---

(PS4)
---

(PS4)
Updated Collections
---
New Forum Topics
---
New on the Blogs
---
Nielsen's Favorite Articles
---