---


With all the hype around Mass Effect still in full swing we decided to very slightly branch off and discuss our favorite Sci-Fi games from across all genres and generations

Get the show at http://www.collectorcast.com
Follow the Collectorcast on Twitter:
https://twitter.com/Collectorcast
Like us on Facebook: http://www.facebook.com/Collectorcast
Stitcher:
https://www.stitcher.com/...?fid=25284&refid=stpr
Apple Podcasts: http://itunes.apple.com/u...collectorcast/id524246060
Google Play:
https://play.google.com/m..._Generation_Collectorcast
iHeartRadio:
https://www.iheart.com/po...ion-Collectorcas-30981252
Spotify:
https://open.spotify.com/...ow/6VP51savAVFpTsDo9MdvLb
On YouTube: http://www.youtube.com/c/Collectorcast

Support the show at:
https://www.patreon.com/collectorcast

Intro song by:
Steven Davis - Twitter = @TheDisposedHero, Youtube = DisposedHeroVGM


Yet again Kelsy dives deep into a franchise that his friends could care less about as we talk through each and every Twisted Metal game!! And for you DC fans Chris and Kelsy give their thoughts on the Snyder Cut of the new version of Justice League.

Get the show at http://www.collectorcast.com
Follow the Collectorcast on Twitter:
https://twitter.com/Collectorcast
Like us on Facebook: http://www.facebook.com/Collectorcast
Stitcher:
https://www.stitcher.com/...?fid=25284&refid=stpr
Apple Podcasts: http://itunes.apple.com/u...collectorcast/id524246060
Google Play:
https://play.google.com/m..._Generation_Collectorcast
iHeartRadio:
https://www.iheart.com/po...ion-Collectorcas-30981252
Spotify:
https://open.spotify.com/...ow/6VP51savAVFpTsDo9MdvLb
On YouTube: http://www.youtube.com/c/Collectorcast

Support the show at:
https://www.patreon.com/collectorcast

Intro song by:
Steven Davis - Twitter = @TheDisposedHero, Youtube = DisposedHeroVGM



---

Posted on Dec 18th 2020 at 08:00:00 AM by (

MetalFRO

)

Posted under

Jamestown Plus

,

Shoot the Corecast

,

podcast

,

Shmup Club

,

Final Form Games

,

shooter

,

STG

,

shmup

,

shooting game

,

shoot em up

,

indie game

In Episode 029, Addicted and MetalFRO explore an alternate take on the British colony of Roanoke, but this time, set on Mars! Jamestown+ was developed by Final Form Games, and is the full realization of the original release from 2011, with extra content and tweaks. Does it warrant your time this holiday season? Hopefully, we can shed some light on that for you!

Get the podcast from on your device via your favorite service:
https://linktr.ee/shootthecorecast

Or stream/download the episode right here on RF Generation!
http://www.rfgeneration.com/podcasts/shmupclub/?name=2020-12-17_stcc_ep_029_jamestown_plus.mp3

Check out the original discussion thread for the game here:
http://www.rfgeneration.com/forum/index.php?topic=19444.0



Everybody is back for this episode so we talk about our favorite Mario games, why he's so important to each of us and why Chris is wrong for not liking any of the 3D Mario games.

Get the show at http://www.collectorcast.com
Follow the Collectorcast on Twitter:
https://twitter.com/Collectorcast
Like us on Facebook: http://www.facebook.com/Collectorcast
Stitcher:
https://www.stitcher.com/...?fid=25284&refid=stpr
Apple Podcasts: http://itunes.apple.com/u...collectorcast/id524246060
Google Play:
https://play.google.com/m..._Generation_Collectorcast
iHeartRadio:
https://www.iheart.com/po...ion-Collectorcas-30981252
Spotify:
https://open.spotify.com/...ow/6VP51savAVFpTsDo9MdvLb
On YouTube: http://www.youtube.com/c/Collectorcast

Intro song by:
Steven Davis - Twitter = @TheDisposedHero, Youtube = DisposedHeroVGM






Collectorcast Episode 58: Our Song Swong

Bil and Kelsy both couldn't make it for this one so Chris recruited fellow Chris (Roberts) to join him and talk actually talk about collecting for the first time in quite a while!

Get the show at http://www.collectorcast.com
Follow the Collectorcast on Twitter:
https://twitter.com/Collectorcast
Like us on Facebook: http://www.facebook.com/Collectorcast
Stitcher:
https://www.stitcher.com/...?fid=25284&refid=stpr
Apple Podcasts: http://itunes.apple.com/u...collectorcast/id524246060
Google Play:
https://play.google.com/m..._Generation_Collectorcast
iHeartRadio:
https://www.iheart.com/po...ion-Collectorcas-30981252
Spotify:
https://open.spotify.com/...ow/6VP51savAVFpTsDo9MdvLb
On YouTube: http://www.youtube.com/c/Collectorcast



Continue reading Collectorcast 58: Our Song Swong





Bil is handling grown-up reality, so Kelsy and Chris take a bit to catch up and dig into the looming next gen transition. Listen to how our wallets will empty soon!

Get the show at http://www.collectorcast.com
Follow the Collectorcast on Twitter:
https://twitter.com/Collectorcast
Like us on Facebook: http://www.facebook.com/Collectorcast
Stitcher:
https://www.stitcher.com/s?fid=25284&refid=stpr
Apple Podcasts: http://itunes.apple.com/u...collectorcast/id524246060
Google Podcasts:
https://podcasts.google.c...xlY3RvcmNhc3QvZmVlZC54bWw
iHeartRadio:
https://www.iheart.com/po...ion-Collectorcas-30981252
Spotify:
https://open.spotify.com/...ow/6VP51savAVFpTsDo9MdvLb
On YouTube: http://www.youtube.com/c/Collectorcast


Continue reading Collectorcast Episode 54: Sony WiFi Router 5 vs. Microsoft Refrigerator Series X





Collectorcast Episode 53: We choose to debate difficulty not because it is easy, but because it is hard

Our first gaming debate on the topic "All games should have difficulty settings."

It's a debate! Kelsy and Bil face off to the issue of difficulty settings in games. Who wins? You decide!

Get the show at http://www.collectorcast.com
Follow the Collectorcast on Twitter:
https://twitter.com/Collectorcast
Like us on Facebook: http://www.facebook.com/Collectorcast
Stitcher:
https://www.stitcher.com/...?fid=25284&refid=stpr
Apple Podcasts: http://itunes.apple.com/u...collectorcast/id524246060
Google Play:
https://play.google.com/m..._Generation_Collectorcast
iHeartRadio:
https://www.iheart.com/po...ion-Collectorcas-30981252
Spotify:
https://open.spotify.com/...ow/6VP51savAVFpTsDo9MdvLb
On YouTube: http://www.youtube.com/c/Collectorcast


Continue reading Collectorcast Episode 53: We choose to debate difficulty not because it is easy, but because it is h





Nearly half a year later we are finally back! Since everything else is getting a remaster now, why not our show? Check out the new and hopefully improved show. We've got a new vision for the show and renewed passion to keep it going and evolve it into something special. Please enjoy!

Get the show at http://www.collectorcast.com
Follow the Collectorcast on Twitter: https://twitter.com/Collectorcast
Like us on Facebook: http://www.facebook.com/Collectorcast
Stitcher: https://www.stitcher.com/s?fid=25284&refid=stpr
Apple Podcasts: http://itunes.apple.com/u...collectorcast/id524246060
Google Play: https://play.google.com/m..._Generation_Collectorcast
iHeartRadio: https://www.iheart.com/po...ion-Collectorcas-30981252
Spotify: https://open.spotify.com/...ow/6VP51savAVFpTsDo9MdvLb
On YouTube: http://www.youtube.com/c/Collectorcast


Episode 50 discussion thread: http://www.rfgeneration.c...rum/index.php?topic=19232

50 episodes already? Yeah, we couldn't believe it either. We tackle your burning questions, and recap Retroworld Expo 2019!

Get the show at http://www.collectorcast.com
Follow the Collectorcast on Twitter: https://twitter.com/Collectorcast
Like us on Facebook: http://www.facebook.com/Collectorcast
Stitcher: https://www.stitcher.com/s?fid=25284&refid=stpr
Apple Podcasts: http://itunes.apple.com/u...collectorcast/id524246060
Google Play: https://play.google.com/m..._Generation_Collectorcast
iHeartRadio: https://www.iheart.com/po...ion-Collectorcas-30981252
Spotify: https://open.spotify.com/...ow/6VP51savAVFpTsDo9MdvLb
On YouTube: http://www.youtube.com/c/Collectorcast

Show Notes
00:00:00 - Into/Questions
01:05:29 - Retroworld Expo 2019 Recap
01:38:40 - Outro



---

Posted on Nov 19th 2019 at 08:00:00 AM by (

MetalFRO

)

Posted under

N2O

,

Shoot the Corecast

,

podcast

,

Shmup Club

,

Gremlin Interactive

,

Nitrous Oxide

,

STG

,

shooting game

,

shooter

,

shoot em up

,

t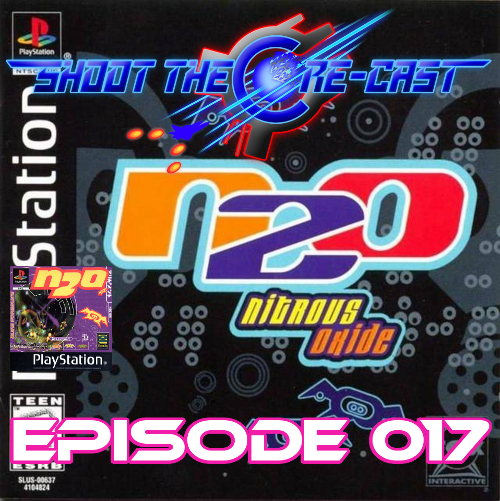 In Episode 017, MetalFRO and Addicted talk about a Western-developed game that is largely forgotten today among shooting games, despite being heavily inspired by one of the genre's early hits, Tempest. N2O: Nitrous Oxide takes the Tempest formula to new, psychedelic places, and we give you an in-depth look at the game! What makes this tube shooter different than its predecessors? We discuss that and more!

Here's the direct link to listen to the podcast on the site, or download the MP3 for later:
http://rfgeneration.com/podcasts/shmupclub/?name=2019-11-17_shoot_the_core-cast_ep_017_n2o_nitrous_oxide.mp3

Check us out and subscribe (and rate!) on Apple Podcasts!
https://itunes.apple.com/us/podcast/shoot-the-core-cast/id1432819542?mt=2

We're listed on Google Play - subscribe and review the podcast over there!
https://play.google.com/music/listen#/ps/Iih3vrijcro4yno3yrkeawnx6nu

We're on Stitcher Podcasts now, as well, so if you use that service, have a listen to the show from there!
https://www.stitcher.com/podcast/shoot-the-corecast

We also have a presence on SoundCloud now, though it's just the most current episode at this time:
https://soundcloud.com/user-992886896/

We have t-shirts! Help support the podcast, and rep the shmup community by buying a Shoot the Core-cast tee - now with Gaiden design!
https://www.redbubble.com/people/jdieckmann/works/34582606-shoot-the-core-cast-podcast?asc=u&p=t-shirt

Check out the original discussion about the game:
http://www.rfgeneration.com/forum/index.php?topic=19181.0




Guess who's back? Back again? Bil is back. Tell a friend. We're here to discuss the whole limited release situation that has been growing over the last few years. Love 'em, hate 'em? Let's chat!

Get the show at http://www.collectorcast.com
Follow the Collectorcast on Twitter: https://twitter.com/Collectorcast
Like us on Facebook: http://www.facebook.com/Collectorcast
Stitcher: https://www.stitcher.com/s?fid=25284&refid=stpr
Apple Podcasts: http://itunes.apple.com/u...collectorcast/id524246060
Google Play: https://play.google.com/m..._Generation_Collectorcast
iHeartRadio: https://www.iheart.com/po...ion-Collectorcas-30981252
Spotify: https://open.spotify.com/...ow/6VP51savAVFpTsDo9MdvLb
On YouTube: http://www.youtube.com/c/Collectorcast

Show Notes
00:00 - Into/Arcade talk/Coke Machine Hacks
29:10 - Main Topic Limited Run Game Companies
1:54:56 - Outro




Episode 48 discussion thread: http://www.rfgeneration.c...rum/index.php?topic=19172

Our extended hiatus is over, and we're back and ready to talk games! For those that may not have listened before, Crabby and Duke take a moment to reintroduce themselves, and for returning listeners we take a little time to catch you up on what we have been up to. Of course, listener questions return to get your input. Thanks for all the encouragement on restarting the show, and we hope you enjoy!

Get the show at http://www.collectorcast.com
Follow the Collectorcast on Twitter: https://twitter.com/Collectorcast
Like us on Facebook: http://www.facebook.com/Collectorcast
On Stitcher: https://www.stitcher.com/s?fid=25284&refid=stpr
On iTunes: http://itunes.apple.com/u...collectorcast/id524246060
Google Play: https://play.google.com/m..._Generation_Collectorcast
On YouTube: http://www.youtube.com/c/Collectorcast

Show Notes

Q&A - 00:11:10
Topic - 1:35:15
Outro - 01:50:00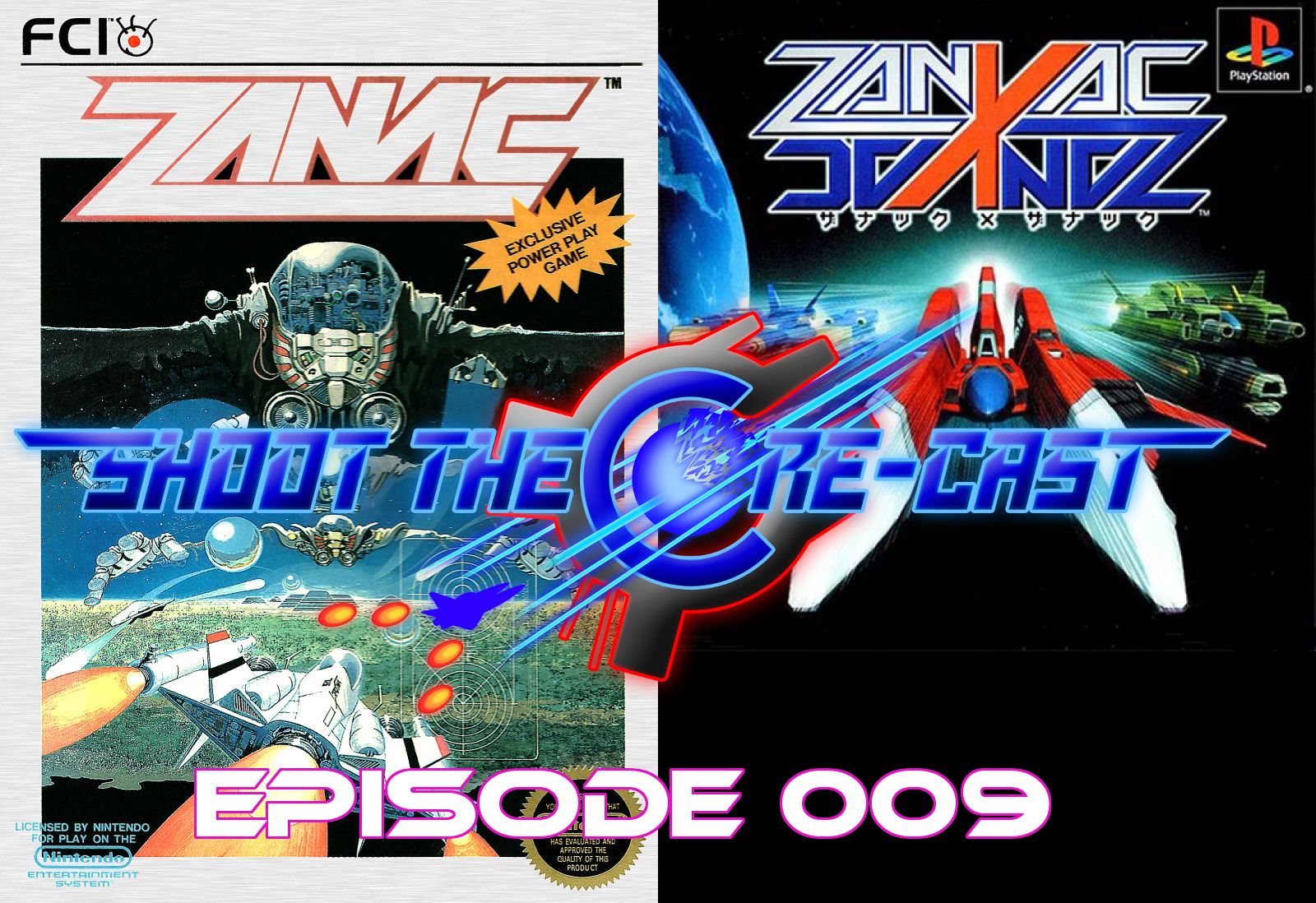 This is Episode 009 of Shoot the Core-cast! In this edition, MetalFRO and Addicted look at Zanac, the classic NES shooter that most of us played as kids. Does it hold up? What's good about it? Why is it so well loved? To help us answer these questions, we called upon Collectorcast members Duke.Togo and Crabmaster2000, to weigh in on the game. We hope you enjoy it!

Direct episode link:
http://rfgeneration.com/podcasts/shmupclub/?name=2019-03-12_shoot_the_core-cast_episode_009_-_zanac.mp3

Check us out and subscribe (and rate!) on Apple Podcasts!
https://itunes.apple.com/us/podcast/shoot-the-core-cast/id1432819542?mt=2

We're listed on Google Play - subscribe and review the podcast over there!
https://play.google.com/music/listen#/ps/Iih3vrijcro4yno3yrkeawnx6nu

We're on Stitcher Podcasts now, as well, so if you use that service, have a listen to the show from there!
https://www.stitcher.com/podcast/shoot-the-corecast

We have t-shirts! Help support the podcast, and rep the shmup community by buying a Shoot the Core-cast tee!
https://www.redbubble.com/people/jdieckmann/works/34582606-shoot-the-core-cast-podcast?asc=u&p=t-shirt

Here's the thread from the play-through:
http://www.rfgeneration.com/forum/index.php?topic=18934.0

Thanks for listening, and any feedback would be greatly appreciated!




Ladies and gentlemen, the RF Generation Shmup Club now has its own official companion podcast! Shoot the Core-cast is your destination to hear all about the games we're playing each month in the RF Generation Shmup Club. Hosted by MetalFRO and Addicted, each episode will be a recap of the month's shooter game, with discussion about the game, commentary, shout-outs to forum member discussion, and highlighting scores and strategies. Couldn't join in during a month? Listen to the episode and see what you missed! Episodes 01 and 02 are now online, and you can listen to them here:

http://rfgeneration.com/podcasts/shmupclub/

https://itunes.apple.com/...re-cast/id1432819542?mt=2

Come hear Addicted and I wax intellectual about R-Type, including its design concepts, HR Giger-inspired art, its many ports, ominous music, and its lasting impact on the genre. In our second episode, we discuss the mighty Gradius and its huge influence on horizontal shoot-em-ups, and the genre in general. We have plenty to say about these bona fide classics, so please, have a listen!

We're already listed on Google Podcasts, and will be submitting to other services in the coming weeks, so if you have a favorite service you use, stay tuned for more announcements about other platforms!

Google Podcast page:
https://play.google.com/m...h3vrijcro4yno3yrkeawnx6nu

Episode 03 will be coming very soon, where we discuss a modern take on a classic shmup series with Raiden V. Until then, keep those lasers blasting!



**photo by THE Russlyman**



Episode 45 discussion thread: http://www.rfgeneration.c...rum/index.php?topic=18380

Bil, Duke, and Rich get together for a live panel at Retro World Expo 2017!

Get the show at http://www.collectorcast.com
Follow the Collectorcast on Twitter: https://twitter.com/Collectorcast
Like us on Facebook: http://www.facebook.com/Collectorcast
On Stitcher (enter Promo Code RFGeneration): http://www.stitcher.com/RFGeneration
On iTunes: http://itunes.apple.com/u...collectorcast/id524246060
Google Play: https://play.google.com/m..._Generation_Collectorcast
On YouTube: http://www.youtube.com/c/Collectorcast



Blog Navigation
---
Browse Bloggers | My Blog
We are a community of collectors, gamers and the likes, and some of us enjoy to let the world know what is on our mind. For those members, we have the community blogs, a place where they can publish their thoughts and feelings regarding life, universe, and everything. Some of those members might even choose to write about gaming and collecting! Whatever they write about, you can find it on their blog. You can either see the latest community blog entries in the feed you see to the left, or you can browse for your favorite blog using the menu above. Interested in having your own blog hosted on RF Generation? It's rather simple, first be a registered member, and then click the "My Blog" link that you see in the navigation above. Following those two steps will certainly get you on your way to blogging.

Sit back, relax, and enjoy our entries, rantings, and completely unrelated series of thoughts. We write for you to read, so we certainly hope that you enjoy our material.
Hot Community Entries
---
Hot RFG Blog Entries
---