You know, I'm playing through Metroid Fusion for the first time in years and it just hit me-- this is a survival/horror game.

That's right I said it. I don't really know how I didn't realize this. Perhaps it was because that strays so far from people's perception of what Metroid games are 'supposed to be' that they are blinded from seeing what the individual games attempt to be. Take Metroid 2 for example. It is constantly panned for not being like Metroid or Super Metroid. It does it's own thing and people say it doesn't have the Metroid feel. It's kind of funny considering that belief has existed wayyyy before the release of Prime/Fusion etc. Was there ever a set pattern for what the Metroid games are supposed to be?

Not really. The main reason I can think of that people call Metroid 2 and Fusion radical is because they aren't like Super Metroid which is in many peoples' opinion one of the best game ever. Therefore people expect the newer releases to follow suit and attempt to emulate it's success.

And here is where Fusion comes in. It doesn't emulate Super Metroid, and like Metroid 2 it is it's own breed. Because people wanted it to be like Super Metroid or because they had this false perception of what the series 'should be' (me included), they missed what the game really was-- it was a freaking survival horror game.

Am I going mad? Not at all. The story starts out with Samus investigating an explosion on a space station after nearly dying due to a parasite attack which has rendered her extremely weak and without any weapons. From there she must stop the X parasites from inhabiting the other sectors of the research station and overrunning the place.

But then it becomes known that the X parasites are smart and out to kill her. One has mimicked her at full power (the SA-X) while the others begin destroying the download stations so she can't become more powerful to fight them. Pretty much the game turns into Samus fighting for her survival while avoiding the SA-X which is actively hunting her. ADAM (the computer) constantly informs her of her chance of survival (consistently low) and is doing as much in his power to help her survive as he can, all the while trying to have her save the station from destruction.

But really... the majority of the game is Samus running from the SA-X in an attempt to survive and become powerful enough to confront the thing. There are instances where Samus might encounter it and have to run otherwise she'd die instantly. There are instances when the X parasites infiltrate other sectors in an attempt to stop Samus from obtaining upgrades. Often times you have to disobey ADAM in order to avoid being killed by the SA-X.

The game is linear, but this is because Samus only has so many options as to where to go. The download stations available for her upgrades are the ones which the X haven't destroyed, the paths she takes throughout the station are intended to help her flee from her pursuers, and pretty much as ADAM says himself 'survival is your main goal'.

I can't really do justice to this aspect of the game as much as I'd like to. I'm sure if you played the game again and really stopped to think about what is occurring story wise and even gameplay wise (such as where you are exploring and why), you'd realize that the majority of the game focuses on Samus' survival. The other major aspects are slowly unfolded through her attempts at surviving, similar to the way the story in any other survival horror game unfolds.

Comments, criticisms, and flaming all welcome.




[youtube=425,350]4wkr8samEBQ[/youtube]


Check it out, it's Metroid. Looks nice, doesn't it? I sure think so, but then I am a die hard Metroid fan. What we have here is a remake of Metroid II, the game in the series where they kill all the Metroids on the Metroid Homeworld except one, allowing the events of Super Metroid to unfold. It came out for the Game Boy, back in the day. Game Boy... wow, how the mighty has fallen. Cannibalized by its own relative. But, I digress. This remake is pretty damn cool, and what makes it better is that it is fan made. Truly amazing, and better yet, there is a demo.

As Destructoid said, Nintendo would be wise to see this game on Wii Ware, in the form that this fine sir is doing. Even if it doesn't end up anywhere but just a fan service by a talented individual, it will still be one heck of a product.

Project AM2R - Another Metroid 2 Remake [via Destructoid]




So yeah, some homebrew is too damn cool to ignore. Take for instance Extra Mario Bros. I only hope that it is real. Someone thought it would be pretty neat to take Mario and place him in a Metroid Type Universe, complete with remixed Metroid Music. All I can say is -- Pure Awesome. Check for yourself:

[youtube=425,350]AbPbvl6g4rc[/youtube]

Again, damn, DO WANT!. Awesomeness of Mario... awesomeness of Super Metroid... combined, wow. Someone find me that game.

[via Dtoid]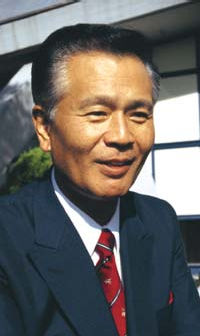 On this day ten years ago, Gunpei Yokoi, one of the most important and influential figures in gaming, passed away. For those of you who do not know, Gunpei is the creator of the Game Boy, the system that revolutionized portable gaming, and paved the way for every handheld system to follow.

Game Boy is not the first thing that Mr. Yokoi created. One day, he was riding home on a bullet train from his job at Nintendo. He noticed that the man seated next to him on the train was messing around with an LCD calculator. This event gave birth to Game & Watch, a series of stand alone LCD games. The Game & Watch was very influential on Nintendo's future, especially in modern times. In fact, for Nintendo DS, they pretty much took a two screen Game & Watch game (such as Mario Bros. or Donkey Kong), added modern LCD screens, and turned the bottom part into a touch screen. Also, if you ever play Super Smash Bros. Melee on GameCube, you'll notice that one of the characters you can play as is Mr. Game & Watch, who was the protagonist of many of the Game & Watch games, such as Ball.

After creating Game & Watch, Nintendo appointed him to the head of Nintendo R&D1. While heading up R&D1, he was instrumental in the creation of Kid Icarus, Metroid, and of course R.O.B. for the NES. However, R&D1's most famous creation was to come...

In 1989, Gunpei and his R&D1 team revolutionized the portable gaming market with the original Game Boy, which combined the cartridge based gaming of the NES with the portability of Game & Watch. The Game Boy inspired many of Nintendo's competitors to enter the handheld gaming ring: Sega with the Game Gear, and Atari with the Lynx. While both of them were technically superior and featured a color screen, each of them completely failed in comparison to the Game Boy, due to its very long battery life, small size, and excellent game selection. These factors caused Game Boy held onto the gaming market with an iron grip for 13 years through many variations and revisions, including a color version.

Gunpei's most ambitious project, Virtual Boy, was released in 1995. Virtual Boy was an attempt to create a "portable" system capable of displaying true 3D graphics. However, this system went down as one of the biggest failures in gaming history. Some of the reasons it failed were because it was only able to display red, caused eye strain in most users, ate up 6 AA batteries rather quickly, was not very portable, was fragile, and it cost $180 at launch. The system was discontinued a year later.

The failure of Virtual Boy really brought Gunpei down. He felt horrible, and Nintendo placed the blame on the Virtual Boy failure on him. This pressure led to his resignation from Nintendo on August 15, 1996, mere days after Game Boy Pocket game out in Japan.

After leaving Nintendo, he went to form his own company, Koto Laboratories. They started working on the Wonderswan for Bandai, however, Gunpei would never see the final product...

On October 4, 1997, Gunpei was riding in a car driven by Etsuo Kiso from Nintendo. Kiso's car accidentally rear-ended a truck driving in front of them the Hokuriku Expressway. Gunpei and Kiso got out of the car to examine the situation. While surveying the damage, another vehicle collided with the Kiso's car, killing Gunpei Yokoi.

Fast forward ten years, we can still find Yokoi's legacy still alive. Be it in Nintendo DS's Game & Watch inspired design, the continuation of Metroid, Mr. Game & Watch's appearance in Super Smash Bros, or in the game Gunpey for Wonderswan, PSP, and Nintendo DS. Gunpei Yokoi is an undisputed legend in the industry, and he is missed by all of us.

Check out this article from The Escapist for even more information.



Database Search
---
Site Statistics
---
Total Games:

138791

Total Hardware:

10274

Total Scans:

176675

Total Screenshots:

93351

[More Stats]
Our Friends
---
Updated Entries
---

(SW)
---

(SW)
---

(PS5)
---

(PS5)
---

(Vita)
---

(SW)
---

(PS4)
---

(SW)
Updated Collections
---
New Forum Topics
---
New on the Blogs
---
Nielsen's Favorite Articles
---