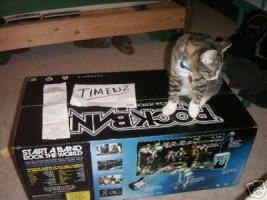 Some lucky guy in Marina, California managed to snag Rock Band early from the local Best Buy there. Instead of setting the game up as a demo, the Best Buy accidentally put it out for sale. This guy, "timenz", spotted it, bought it, and
put it up on eBay
. Needless to say, EA was not very pleased by this at all and gave the man a call asking him to return the game to the store. However, he did not do that. Then he got a call from Best Buy saying that if he returned it, he would receive a full refund and a $100 gift card, but he still refused to do it. He kept the eBay listing up, and now it is going for $326 (as of the time this article was posted).
So, fellow gamer nerds, what would you do in this situation? Auction it or return it for $100?
I'd auction it. He's doing quite well for himself if I must say so myself.
Source:
Engadget
.

lols

btw, its only the demo disc with a limited playlist

EDIT:

double LOL

http://kotaku.com/gaming/rock-band/quit-buying-rock-band-demos-you-mugs-318051.php

It is still awesome.

Those demo kits kick ass.
I love the GH2 one i have.

It is even cooler that this guy is getting massive money for this demo he purchased. And the best buy he purchased it from is probably going to get in some trouble...

Demo or not why the hell did Best Buy sell it? Wouldn't they know the release date? Hmmm. Anyways, I guess I would probably auction it off. It is only a demo version but it is cool none the less.


I wonder if he can get hit with the fine for selling a game before street date... that would suck (the fine is pretty big)

Back in the 'olden days when I worked at a game store, one of our stores sold Mortal Kombat early and got in HUGE trouble and the company (Babbage's) had to pay a huge fine...I think this whole story is hillarious! I would have kept it, though.

That's pretty funny they'd sell a demo set, though it's odd so many bids are being placed on it as if to support of the idea of selling an early release. I wouldn't have purchased it, there will be other demos out there and I prefer a complete game.

I'd take it back. Get the refund plus the $100 gift card. Less hassle.

I would take everything out of the box, throw in some junk, tape the box back up, return, and enjoy......

If Best Buy calls you back, just say you it was all in there when you returned it....one of the employees must have stolen it....