**photo by THE Russlyman**



Episode 45 discussion thread: http://www.rfgeneration.c...rum/index.php?topic=18380

Bil, Duke, and Rich get together for a live panel at Retro World Expo 2017!

Get the show at http://www.collectorcast.com
Follow the Collectorcast on Twitter: https://twitter.com/Collectorcast
Like us on Facebook: http://www.facebook.com/Collectorcast
On Stitcher (enter Promo Code RFGeneration): http://www.stitcher.com/RFGeneration
On iTunes: http://itunes.apple.com/u...collectorcast/id524246060
Google Play: https://play.google.com/m..._Generation_Collectorcast
On YouTube: http://www.youtube.com/c/Collectorcast


Episode 37 discussion thread: http://www.rfgeneration.c...rum/index.php?topic=16131

Crabby is busy raising money for charity, so this episode Rich from the RFG PlayCast drops in to help us dig through your amazing questions. To prepare for the holidays, we discuss great couch co-op games to share with your loved ones!

Get the show at http://www.collectorcast.com
Follow the Collectorcast on Twitter: https://twitter.com/Collectorcast
Like us on Facebook: http://www.facebook.com/Collectorcast
On Stitcher (enter Promo Code RFGeneration): http://www.stitcher.com/RFGeneration
On iTunes: http://itunes.apple.com/u...collectorcast/id524246060
On YouTube: http://www.youtube.com/c/Collectorcast



Show Notes


Music: Magical Chase (TurboGrafx-16)
Q & A - 9:55
Topic - 1:14:14
Outro - 2:36:50




Well well, it has been too long since we have done one of these, and honestly, too long for me to be away. This summer was really busy working on our house & my job and family. With winter coming soon, and more time being laid off due to the freezing temps and piles of snow, I will have more time to be active on the site. So i figured we could pick up where we left off, with a new interview! Also look for new reviews, interviews and other content. As well as a ton of updates in the DB. This time I ask singlebanana a few questions. He joined in summer of last year and has been a great contributor of articles and is currently on staff as a blog writer. READ HIS BLOG!


Rich aka singlebanana

Preview



Location:

Summerfield, North Carolina



Where does your screen name come from?

The name actually comes from my frustration with the game MarioKart 64. My friend and I played the game when we would unwind during grad school. We noticed that every time you were in the lead and ran over a box, the majority of the time all you got was a dreaded single banana.



MarioKart has wasted many hours, How did you find RFG?

A guy I went to high school with, DevIancE on RFG, knew I was a collector and directed me to the site.



What made you stay and become part of RFG?

I enjoyed the articles, blog posts, and the ease and thorough nature of the database. Plus, I've met some great people to trade games with.

Have you ever met or personally know anyone at RFG?Just DevIance.



Basics

Number of Games Owned (at time of printing):1,605 (a mere infant compared to some on here)

Number of Games on Wishlist (at time of printing):140



Number of Systems:

Around 25



When did you start collecting?I guess I've been "collecting" since I was five (1982 to be exact), but I just realized I was an addict this year when the volume of games I was buying really started to increase.

What was your first system you owned?Sadly, the notorious Atari 5200. Asked for an "Atari" for Christmas expecting to get a 2600, which all my friends/family had. Neither I, or my parents knew that a new system had just been released. It was an awkward Christmas morning. Ironically, I'm looking to purchase one now...go figure.

What was your first game?Got a few games all at once that fateful Xmas morning, so here goes: Congo Bongo, Galaxian, Pac-Man, and Popeye.

Man, Santa didn't like you much, What was your first game you bought yourself (if different from above)?T & C Surf Designs for the NES, had that sucker on layaway for 6 months...enter disappointment.

6 months of waiting for that? What made you decide to buy that particular game?I was into skateboarding at the time, guess I thought it would be "gnarly."



First game you ever beat?

Contra for the NES. I actually beat it the first time I played it over at a soccer team sleepover at a local rec center. 30 men code of course.

I was gonna say, first time, holy crap. Have you ever broken anything due to frustration from a game?I kicked a folding chair once that just happened to fold up and topple directly toward my bedroom window in slow motion. Luckily, only one pane of the window broke. My parents still don't know about this, so I'd like to keep this information hush hush. I believe the game was Kid Icarus, which yes, I finally beat.

Kid Icarus was really fun, hard but fun, and I can see why you broke a chair with that haha! But we will keep that on the down low.

Interview

Are you collecting now, if so what anything specific?I'm a cartridge guy. I primarily collect for the Atari 2600 and NES that I grew up on, but I'll grab a few of the more popular/recommend games for SNES, Genesis, SMS, and N64 when I can. I also have a Vectrex fetish that stems from spending summers at my great grandparent's lake house and a convenience store within walking distance that had a Tempest cabinet.

When did you feel a tipping point from gamer to both gamer and game collector?Earlier this year when I found myself going to flea markets every weekend to "hunt."

More of this flea market hunting, we never have them around me, sucks

What are your goals as a game collector, how have you developed them, and how do you feel about your progress toward them?I'd like to put together a complete collection of loose NES games and grab as many 2600 titles as possible, though I know the impossibility of doing so. I feel like I have a pretty good start on the former.



Big goals are good to have, how many games, systems, etc. are "enough"?

enough? - "does not compute"

What's your proudest moment as a game collector?Finding a prototype of Gremlins for the Atari 2600, which I bought at a local thrift shop in NC for $2.16.

What's your least proud moment as a game collector?Passing up on a complete boxed 5200 system and about 8 games for $40. In my defense, the controllers were beat up and missing grips. I felt that if someone had treated the controllers that bad, then the system was probably shot as well. The flea market where I saw it was a few hours out of town and when I returned a few weeks later, it was gone. It still haunts me.

I know we all have those stories, don't worry, they happen to us all! If you had to give part of your collection away for a worthy cause what part would it be, and why?Definitely the N64, I converted from Nintendo to Playstation in college and never had one until this year. Wow, giving up a fairly cheap system...upon reflection, this answer is pretty selfish.

Wow really the N64? Where/how do you store it all?I just moved into a new home in April of this year. Luckily, it has a third floor with a playroom for my kids and a small office for myself. My wife has been kind enough to let me turn it into my gameroom.



Nice, I need to add on to our house for that! What's your favorite part of your collection?Right now it's my Vectrex, but I suppose that's subject to change. I get pretty geeked over the vector graphics and the overlays.

What about a favorite series?Big fan of the Bust-A-Move puzzle games.

What is your guilty pleasure when it comes to gaming?The kids games on the 2600, especially Cookie Monster Munch and Big Bird's Egg Catch. Ironically, I don't have the latter yet, but I remember the bouncing hens on their nests well.

I am seeing a trend here in these interviews, always going back to the kids games. What is the most valuable part of your collection(Value or sentimental)?There is nothing too valuable in my collection, but I'll go with my Vectrex.

What game do you have the most nostalgia for?Probably Grand Prix on the 2600. My grandmother use to play it with my cousin and I when we were very young. I distinctly remember the electrocution sound of running into other cars in the game and my grandmother's high pitched scream when she would crash.

A grandma that plays is cool in my book. What would you like to improve in your collection?I'd like to beef up my 2600 collection, which is currently around 336 games.

What do you think was your best deal while game buying?Snagging Aero Fighters (SNES) from a flea market vendor for $5.

What item in your collection do you feel you overpaid for?Pole Position and Polar Rescue (CIB) for the Vectrex.

Good spending is crucial in collection. What do you feel is the strangest or weirdest item in your collection?Several months ago, I purchased a Panther light gun that looks like a semi-automatic handgun for .99. From the research I've done, I have only been able to find one online that is similar and plugs into a PS1. This one has an Atari/Genesis plug on the end. I'm sure it's for a bootleg system, but I think it's cool.

What item(s) do you not have in your collection that people are surprised to hear you don't have?Probably an XBox 360 or a PS3. I'm not adverse to having newer consoles and do own a Wii, but I honestly wouldn't even know what to buy if I ever considered purchasing one. I'm just the kind of person who is not in a hurry to get his hands on a new system or game. Even with Wii titles, I tend to wait to buy used copies or new ones that have dropped in price considerably.

Not to surprising, I don't have any of the new age systems at the moment! Is there any way you'd ever stop collecting? Maybe if my wife put her foot down. She's not a gamer (though she can be tempted by the occasional game of Warlords), but she's very cool and supportive of my collecting.

Nice, sounds very similar to mine. She did ask me to get rid of a few things that weren't my favorite and I was fine with that. Do you have a funny story about your collection?My friends and I will call in for a mental health day about once a year to game. We fittingly refer to as "Nintenday." There have been songs written about our exploits. Is that too weird?

That is awesome, I would do the same but I get the entire winter off to play!

Have you ever had to move your collection to another house? What was it like? Yeah, I recently moved my collection in April. At the time, I had just under 1000 games. Our old house was very small, so I had everything in our guest room and boxed up to keep it out of site. Since everything was already boxed, the move was quite easy....except for hauling everything up two full flights of stairs at the new place. We used movers for the larger stuff, but of course I did the games myself and wouldn't let anyone else touch them.

If your significant other told you no more games, what would you do? I'd probably have to concede. If she told me I'd have to sell the ones that I already have, then there would be an issue.

What percentage of your games are still sealed?less than 1%

What percentage of your game have you actually played? Completed?probably about 50% played; as far as completed, probably well under 5%. Can you ever really "complete" Atari games though? I could totally score some Activision patches if they would still let me send off for them.

Do you own any complete collections (every game for a certain system)? No, but I'm working toward a complete NES collection at the moment and am very close to completing an originally released Vectrex collection.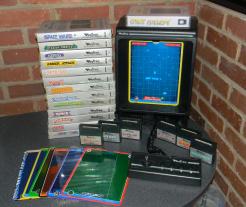 I am the evil interviewer with these questions....

What is your favorite game of all time?Missile Command is my favorite. I'm not sure why, but I've always loved this game and pick up copies for various systems whenever I can and Warlords would be my multiplayer selection

Least Favorite?Since E.T. is too generic, I'll go with the Swordquest series on the 2600. What a bunch of nonsense!

Others

Do you collect anything else besides games?Vinyl, a few G.I. Joe action figures (1982-1987 exclusively) when I find them, DVDs, and many books which I'll probably never read.

What do you outside of games? Work, spend time with my wife, wrestle with my 2 year-old daughter and newborn son, drink with friends, listen to indie music and attend shows.

What other features would you like to see more of at RFG (Example: Reviews, Articles, Interviews, Previews, etc)?I'd like to see more pre-NES game and console reviews.

Agree, if I played more Pre-Nes games I would love to review, I just don't get into to many. Do you have a question for the next interview?What is your favorite gaming cabinet of all time?

Sweet look for that question coming up in the new interview. Thanks for your time!

Click the banner below to check out more of singlebanana's, collection, RFG Profile and many more picture of his awesome collection.


Database Search
---
Site Statistics
---
Total Games:

139119

Total Hardware:

10303

Total Scans:

176841

Total Screenshots:

93354

[More Stats]
Our Friends
---
Updated Entries
---

(O2)
---

(SW)
---

(PS3)
---

(PS3)
---

(PS3)
---

(PS3)
---

(CV)
---

(CV)
Updated Collections
---
New Forum Topics
---
New on the Blogs
---
Nielsen's Favorite Articles
---