As many of you already know, I dislike eBay, in fact one might say I hate it with a passion. In fact, I refuse to buy any type of gaming device from the site. So, I was extremely pleased when in January of 2008 I read a post on the Digital Press forums from Dragon Warrior Jasen, that he was fed up with eBay and toying with the idea of making his own auction site dedicated to video games with minimal fees. When he came up with a name and made the site public a couple months later, I made sure I was one of the first to join GameGavel.com. I listed numerous auctions but had very little success, but I believed in the theory behind the site of no fees whatsoever and stuck with it. Later on in 2008 I came across another site, ChaseTheChuckwagon.com, with a similar philosophy of only charging a modest final selling fee. I quickly joined that site and have been listing auctions on there since.



However, a couple days ago, I got the email that every other GameGavel member got from Jasen, stating that the site will be closing. Jasen blamed the closure on himself, but I do not believe that it was any one person's fault. I think the failure was the combined result of people not believing that a free auction site could work and sellers were charging the average eBay price instead of taking into account the fact that they're not paying 8%+ fees on their sale as they would with eBay.



Anyway, yesterday I got an email from GameGavel's Jasen Hicks and one from ChaseTheChuckwagon's Mike Kennedy, about half an hour apart stating that CTCW will be purchasing GameGavel's domain name and will be taking over operations.

Mike's plan is to co-brand both names, keeping the ChaseTheChuckwagon.comn name that some 2,000+ member knows and love and combining it with the more universal name of GameGavel.


So what this means for us, the gamers and collectors of the world, is a bigger and better site than has very modest final selling fees, that was built by gamers/collectors for gamers/collectors.



Chrono Trigger. What an amazing game. The pinnacle of SNES RPGs, possibly even the best RPG ever made. Seriously, what a treasure. Turns out that this game is up for grabs on eBay. Even more so, the game is factory sealed. Such things, shall we say, are expensive.

So, who wouldn't want to fork over $400 for a copy of Chrono Trigger, sealed? If you are crazy, and would like to bid on this rare item, then go ahead. But, isn't the purpose of games to be played? What would you do with it? Place it in protective casing? Worship it nightly? Play it? That's for you to decide, I only will provide you with the link.

Better hurry up. Bidding ends tomorrow at 3:14 PM PST. Get your bids on, if you dare.

[via Kotaku]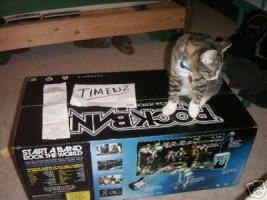 Some lucky guy in Marina, California managed to snag Rock Band early from the local Best Buy there. Instead of setting the game up as a demo, the Best Buy accidentally put it out for sale. This guy, "timenz", spotted it, bought it, and put it up on eBay. Needless to say, EA was not very pleased by this at all and gave the man a call asking him to return the game to the store. However, he did not do that. Then he got a call from Best Buy saying that if he returned it, he would receive a full refund and a $100 gift card, but he still refused to do it. He kept the eBay listing up, and now it is going for $326 (as of the time this article was posted).

So, fellow gamer nerds, what would you do in this situation? Auction it or return it for $100?

I'd auction it. He's doing quite well for himself if I must say so myself.

Source: Engadget.