Twas the night before Christmas, when all through the house,
all the gamers were stirring, with a click of the mouse.
The Pylons were constructed, by the Protos with care,
in the hopes that a Zerg rush soon wouldn't be there.
Continue reading A Visit from Mario
Join RFGeneration Playcast hosts, Rich (singlebanana), Shawn (GrayGhost81), Floyd (Fleach), Steven (Disposed Hero), and special guest, Doug (nupoile), as we discuss the ever so popular, and participation-breaking, January playthroughs,
Super Mario Bros. 3
(NES) and
Super Mario World
(SNES). You might be surprised at some of our takes on these classics, so you really don't want to miss this episode. Again, we hope you enjoy our show, and please join our discussion on the thread linked below. Also, be sure to rate and write a review of the show on iTunes to help us increase our listenership. Thanks for the listen!
Episode 22 discussion thread:
http://www.rfgeneration.c...m/index.php?topic=16261.0
Get the show on Podbean:
http://rfgenplaycast.podbean.com/
On iTunes:
https://itunes.apple.com/...ion-playcast/id1038953364
On YouTube:
https://youtu.be/L8qZeIf1Y_U
On Stitcher:
http://www.stitcher.com/p...ation-playcast?refid=stpr
And follow us on Facebook:
https://www.facebook.com/rfgenplaythroughs
And Twitter:
https://twitter.com/RFGPlayCast
Continue reading Episode 22 - RF Generation Playcast
It's hard to believe that another year of awesome retro and modern playthroughs are in the books. Myself, Grayghost81, Fleach, and Disposed Hero would like to thank all of you who participated in the playthroughs this year for your time, effort, and wonderful comments in the threads. In 2016, we hope to increase participation for our playthroughs and offer the community many more exciting games to play along with us. If you have listened to the newest episode of the RF Generation Playcast, you already know about the upcoming changes to the playthroughs. However, for those of you who have not, we'd like to take this time to let you know about the new direction in which we are headed.
This upcoming year, we plan to do away with the retro and modern playthroughs and instead focus on one playthrough a month. This decision was made because (1) we felt like members were having to choose between the two games each month and it was spreading participation very thin, and (2) the four of us really missed playing games together and talking about them on the podcast. We think that this change will bring a better product to the community by increasing dialogue about these games in our thread, and make for a more enjoyable, in-depth, and shorter listen for our podcast followers. Going forward, we will also only announce one game at a time at the beginning of each prior month, instead of three games in advance. This should give members plenty of time to locate games if needed, prevent them from forgetting about upcoming playthroughs over time, and provide something for participants to look forward to each month. We are looking forward to these changes and we hope that all of you will continue to be a big part of it.
Now............what you're all here to read about, the January game announcement!
In January, we want to start things off BIG by playing two "blockbuster" games from a very familiar series. Next months playthrough includes what many consider the best and most iconic game on the Nintendo Entertainment System,
Super Mario Bros. 3
. We will also be playing the follow-up game in the series,
Super Mario World
on the Super Nintendo Entertainment System; this title is hands down, one of the Top 10 games released on the SNES and at the time, was successful in transitioning the series onto the modern system. Which game do you like better? Which one will we like better? Will time and nostalgia prevail, or will this playthrough open our minds to other possibilities? Join us as we foil the plans of and take down the sinister King Bowser, and rescue the beloved Princess Peach in these Super Mario classics!!
Super Mario Discussion Thread:
http://www.rfgeneration.c...m/index.php?topic=16136.0
---

Posted on Aug 27th 2015 at 08:00:00 AM by (

SirPsycho

)

Posted under

music

,

tri ace

,

tri crescendo

,

monolith soft

,

star ocean

,

nintendo

,

mario

,

golf

,

tennis

,

golden sun

,

eternal sonata

,

valkyrie p
Early in tri-Crescendo's existence, the company looked to expand its portfolio beyond audio work for tri-Ace games. These plans included Sakuraba being the main composer. The company struck a deal with another young development house called Monolith Soft, and the two worked to co-develop
Baten Kaitos: Eternal Wings and the Lost Ocean
for Nintendo's Gamecube in 2003. A prequel followed,
Baten Kaitos Origins
, in 2006.
Eternal Sonata
came the following year for the Xbox 360, and also to Playstation 3 a year later. tri-Ace also developed and released an all new game,
Infinite Undiscovery
for Xbox 360.
Continue reading Composer Compendium: Motoi Sakuraba Part 3: All Over Japan
Some things defy explanation. This video is one of those things. Did you ever think you'd see a pixelated Mario urinating behind a pipe? No? Well, it gets stranger, much stranger. I could explain all the wonderful / weird things that occur in the video, but perhaps it's just better for you to take a gander yourself. You'll find it in its relatively NSFW glory, after the jump.
Continue reading RFG Aside: One of the Weirder Things of the Internet
Music is a lovely thing. It really, truly is. Even after four long years of marching band, I still hold a love of music. Music is embodied human emotions, and can be quite moving.
There are some fantastic themes and songs within the Super Mario Universe, and a lot of them are pretty damn good. You're free to disagree, but if you do, pfft I say to you. Nah, I kid, I love all of you. Platonic, of course, but yes, MUSIC!
Here's something to enjoy tonight, Mario songs played by the James Madison University String Quartet. Enjoy!
Now, I like game music, and Super Mario Galaxy had some damn good music. Of that music, I probably like the Buoy Base Galaxy theme the best. It's certainly one of the better pieces of music of this current game generation.
Now, music is great and all, but wouldn't it be greater if it could be manifested through Mario Paint? Well, thank god it can, thank god that it can.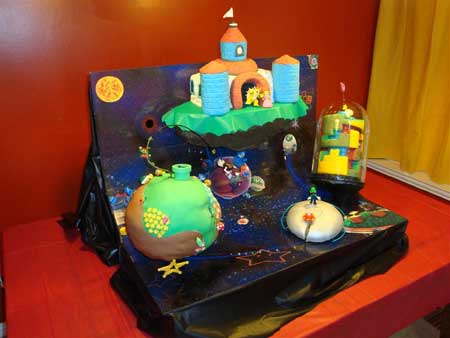 You know, normally we'd let other fine establishments waste your time with posts on game cakes. But, sometimes exceptional cakes deserve exceptional credit.
In this case, this Super Mario Galaxy cake was made for a daughter's 4 year old birthday party. As you can tell from the photo, it looks pretty damn awesome. I personally like the glass pill from the Good Egg galaxy or whatever special Galaxy it was from. Well, I know the Good Egg Galaxy had a pill, but it might not have been that exact pill, but still it's pretty damn cool.
Either way, this is a cake for the ages, and any game geek should be giddy with glee from the sight of this game cake. What? You say you aren't? Well aren't you a heathen? Well, perhaps a video of the cake might change your mind, as seen after the jump.
Continue reading An RFG Aside: Cake of Pure Awesome
So, Seth MacFarlane does this show called Family Guy. It's quite popular, and you might have heard of it. Turns out that he also does another show called American Dad, which is also quite humorous. Well, Seth MacFarlane has also started a lovely new thing on Youtube called Seth MacFarlane's Cavalcade of Cartoon Comedy, completely sponsored by Burger King. Hail the King.
Anyways, this week marks what appears to be the beginning or close to the beginning of the show, and well, this week, Seth tackles what really happened after Mario saved Peach. Enjoy the show!