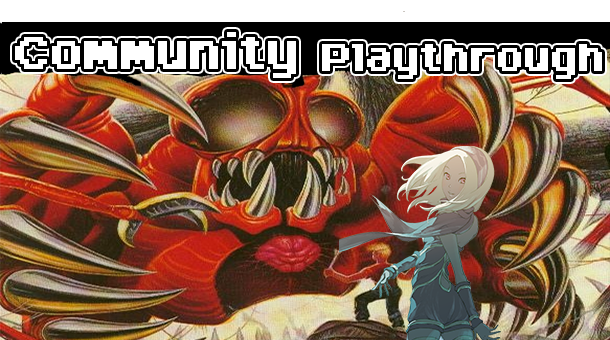 November is the month to give thanks (unless you're one of those weirdos in Canadia

), and what better way to show your thanks to RF Generation then to join our monthly playthroughs. We've got some exciting games lined up for you next month, so don't be a turkey and dine with us on a healthy portion of video game goodness. On the retro side, join singlebanana and Disposed Hero in the pet-friendly, SNES RPG,
Secret of Evermore
. On the modern side, Grayghost81 and Fleach host our playthrough of the action-packed title,
Gravity Rush
released on the Playstation Vita in 2012.
*********************************
Before we get into a brief description of our November playthrough games, we would like to take a moment to announce the games we have selected for our December 2015 Run 'n Gun Competition. These games include:
Contra
(NES)
Rolling Thunder 2
(Genesis)
Metal Slug 3
(Neo Geo/XBox/various MS anthologies)
Please be sure to check our sign-up and rules thread, which will be linked on the front page game announcement in mid-November. This year's event will include a trophy hand-crafted by RF Gen's own singlebanana. If you saw the shump wrestling belt from last year, you don't want to miss out on this sweet prize! We're looking forward to another fun event and hope you'll join in.
Now back to your regularly schedule program already in progress....
**********************************
In
Secret of Evermore
, you and your dog are accidentally transported to the fantasy world Evermore. With the help of your "best friend," you must navigate four extraordinary worlds in order to make your way home. However, things in Evermore aren't what they seem and you soon uncover a secret plot that threatens the world's inhabitants. Armed with various melee weapons and alchemy (magic created by fusing local ingredients), you conduct real-time battles with enemies and extraterrestrial bosses. Though many of the game elements from
Secret of Mana
are mimicked in
Secret of Evermore
, the games are not related, and may be the reason that the latter initially got mixed reviews. Does Square's 1995 release stand on its own as a classic SNES RPG? Let's find out together!
Secret of Evermore Discussion Thread:
http://www.rfgeneration.c...15992.msg229996#msg229996
Over on the modern side, we'll be going down the seldom-traveled handheld route, to play a game on Sony's under-appreciated, portable powerhouse, the Vita.
Gravity Rush
is a third-person, open world, superhero action game with a twist. Our main character Kat can manipulate gravity in many fun and creative ways to explore the world of Hekseville and dispatch her foes, the Nevi. Fans of the
Spider-Man
movie games or the
Infamous
series will be right at home with this title, and fans of cel-shaded graphics will love the beautiful environments and characters models.
Gravity Rush Discussion Thread:
http://www.rfgeneration.c...m/index.php?topic=15991.0
Is probotector elegible too?

@Schlibby: I don't see why not. It's basically just a reskin right? And FYI, NO 30 man codes.

From what im lead to belive yes it is just a reskin. Never actually played it though :-0

Time to change that in December

Sweet! Metal Slug 3!! I've got that in the store so I can jump on during slow times and play along with you guys!!

@Crabmaster2000: From the research I did, a lot of gamers seem to think that this is the best game in the series released so far. Plus, it was available on more platforms than many of the other MS games.

I'm in for Contra on the PC-10 and Metal Slug on the Hyperspin Cabinet

Oh god, Metal Slug 3... Is it a bad time to say that I did a research project on it to create a mod?

For Probotector - it's actually a "different" game, as the AI patterns are a little different, but it's essentially the same gameplay. I don't think it's enough to warrant ruling it out.

@wildbil52: hipster.....

@wildbil52:@singlebanana: Well, screw you two. I'll play it on my MVS cabinet.


@wildbil52:@Shadow Kisuragi:seriously...you guys have some ridiculous hardware, a Playchoice and an MVS? I dream of having such things (didn't even know the Playchoice even existed until reading your post) and of course on top of that Wildbil has to have an emulator cabinet too...

I will play Contra on my NES as I don't have fancy arcade cabinets....yet

@Gamer4Lyfe: I hope you'll join us for the other two games as well. If you like the original Rolling Thunder, the sequel has the same gameplay, but with some great additions and should not be missed. Also, you can't go wrong with Metal Slug.


Gravity Rush is a great game!

@Gamer4Lyfe: Actually, I got my MVS for $250, and it came with a multi-cart. A co-worker of my wife's was moving and didn't have room for it. It's survived a move from a 3rd-story apartment and is sitting in my game room on the 2nd floor. I need to re-wire the joystick though, as it came loose during the move.

I'm pretty sure I know where Contra is so i should be in for that. I love Rolling Thunder, never played the sequel. Metal Slug I have never played but have heard wonderful things about it.


@Link41: It sure is! Join us!


@singlebanana:I will definitely get into some Metal Slug, I don't have Rolling Thunder or Rolling Thunder 2, sort of on a game purchasing hiatus at the moment (except for my pre-orders, they still are going through)

@Shadow Kisuragi:That is awesome! You lucked out and got a great deal, I'm happy for you about that. I have had some great donations over the few years I've been collecting, but nothing like an arcade cabinet for short money of any sort. Kudos to you for seizing the opportunity to own a fantastic piece!

I've never been great a Contra, I don't have RT2 for Genesis yet, and I suck at the Metal Slug games, but it sounds like fun, so I think I'm going to jump in on this.


I'll give both Rolling Thunder 2 and Metal Slug 3 a go.