The original Playstation is one of the most important video game consoles in the history of electronics. Many changes to the way video game development was conducted took place during these years. While big budget 3D blockbusters were marketed to the sky and back, some other companies realized they could target lower price points. Before the Playstation, most lower priced games were re-releases of older, successful games, but the cheaper manufacturing and shipping costs of CDs and jewel cases persuaded some companies to just develop and release lower priced games, which would come to be known as a budget title. The PC gaming market had been doing this since its inception, but consoles could finally get in on the small priced release train. Lower the scope of the game, don't add too many features, and focus like a laser on what will be in the game, and these developers and publishers could release a rather competent game for $20. BursTrick Wake Boarding!! is one such game.


Continue reading BursTrick Wake Boarding!!




During the early years of Sony's first Playstation console the company was throwing all kinds of money around to get exclusive development deals. In order to make sure the Japanese launch era and early years went well they invested heavily into the development of role playing games. Sony's investment would lead to three early RPGs for the Playstation, Arc the Lad, PoPoLoCrois Monogatari, and Wild ARMs. Wild ARMs was developed by Media.Vision and would release in Japan in 1996, followed by a North American release in 1997, and Europe in 1998. Much later this first Wild ARMs game would be remade for the Playstation 2 in 2005. It has many changes compared to the original, however this review will focus solely on the original release.


Continue reading Wild ARMs




By now the Mana series is one of the longest running, actively developed series in video gaming. This series has a few threads that bind each game together, but for the most part each game is its own, separate entity from the rest of them. However, like most works of media the series has had its ups, and then mostly downs. The first three games in the series, Sword of Mana, Secret of Mana, and Trials of Mana, all pushed the series further upwards in both quality and scope with each game release, with Trials adding multiple character points of view for a nonlinear narrative. In 1999 Squaresoft released the fourth game in the Mana series for the Playstation, Legend of Mana. A North American release would come the following year. Its not immediately obvious, but Legend of Mana is easily a candidate for the best game in this series, and it tends to be woefully overlooked.


Continue reading Legend of Mana




One aspect of criticizing artistic forms of media that is frequently brought up is the idea of recency bias. The main problem with recency bias is that when a work is new, the fresh coat of paint can sometimes successfully hide the pocks of rust hidden by the frame. This idea is true for all forms of media, books, movies, shows, and perhaps it's strongest for video games. Games are heavily reliant on the technology of the era, and as that technology advances, the inherent weaknesses of previous works comes to light even more powerfully than before. In other cases, it's simply a question of project scope.

Xenogears was once touted as one of the greatest Japanese role playing games ever created, but over time, that opinion has softened and any discussion about it inevitably leads to the game's biggest flaws. Pinpointing the source of this slowly decreasing opinion of this once highly touted classic relies on knowing what the game's major flaws truly are, an understanding of everything that happened during and after its development, and speculation on how the gaming public itself has shifted. Xenogears is over 20 years old by this point, having released on the first Playstation all the way back in 1998, so there has been plenty of time for reflection.


Continue reading Xenogears: A Tale of Two Discs




In 1996 a legendary game designer left Capcom to form his own game development company. Tokuro Fujiwara founded Whoopee Camp after an insane career as a video game director and producer that spanned over a decade at Capcom. Fujiwara's credits listings while working at Capcom easily rank him amongst the greatest game designers of the 8 and 16 bit arcade and console era. He is credited with creating Ghosts 'n Goblins, directing and producing multiple games including Sweet Home, Breath of Fire, DuckTales and many other Capcom licensed games from the era, Final Fight 2 and Final Fight 3, and multiple Mega Man games. What would be Fujiwara and Whoopee Camp's first game after Fujiwara left this legacy behind and forged his own path?



Continue reading Tomba!



2B holding 9S with a 3rd character you don't need to know about yet.


The year is 2003. The PlayStation 2 is lighting up sales charts the likes of which no console had ever seen before. It was now a few years into the console's lifecycle, so games were starting to really flood the market. Square Enix released a game called Drakengard, the first game directed by a now well known eccentric, Yoko Taro. One of the design elements of the game included multiple endings, one of which seems rather nonsensical at first. (The following will include heavy spoilers to one of Drakengard's endings, and the reason for this detailed description will follow soon after.)


Continue reading NieR: Automata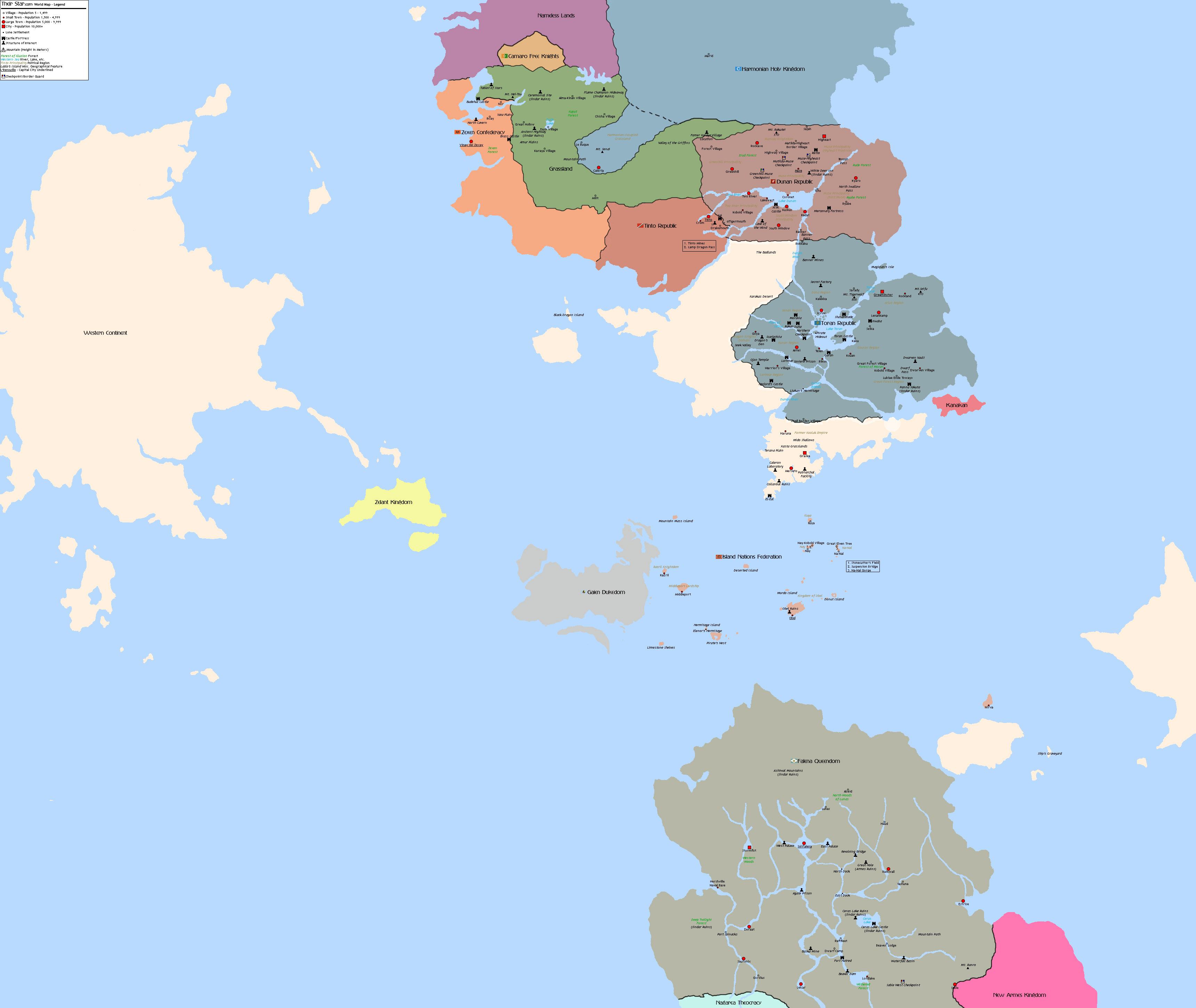 Since the beginning of role playing games, many details have been taken into account by everyone from the top tier game designers down to the dungeon or game master building their first campaign. However, few details are thought about as much as the design of the world the players inhabit. For most gamers, it is nothing more than passing scenery made to make you stop and enjoy the beauty before you move two steps forward and completely forget about it.

In modern video gaming, there are a few different kinds of world designs at play. Most Japanese developed RPGs, from the beginning to this day, are the world spanning epics. No stone is left unturned on these worlds as many are developed without the idea of direct sequels in mind. The juggernauts of Final Fantasy and Dragon Quest almost always take place in a completely new world with linearity in mind. Dragon Quest I and II are notable exceptions to this, where the world of the first game is revealed to be just one small part of the full world that is revealed to the player in Dragon Quest II. This is the idea that Suikoden takes, as it will likely never will reveal the full world in one game.


Continue reading Summer of Suikoden: A Treatise on World Design




Galerians is considered a bit of a hidden game for Sony's first Playstation. The game was released in 1999 in Japan, and the following year in Western markets. It was developed by Polygon Magic, published by ASCII Entertainment, and carries the Crave logo for distribution. It seems to have been hidden as a result of the game's late timing on the system, coming just as the hype for Playstation 2 was in full gear. It's also a game that does little to advance the survival horror design formula, other than giving you a different story and weapons that fit the story.


Continue reading Spooky Plays: Galerians




I have been excited about the release of Tales of Xillia 2 since I played and reviewed the first one a few months ago (http://www.rfgeneration.c...-Tales-of-Xillia-2755.php). I greatly enjoyed the main characters and writing of the original game and thought that the plot took plenty of nice turns that were not as predictable as an RPG veteran would expect.


Continue reading Psychotic Reviews: Tales of Xillia 2




Welcome back to a world of horror and fright. You may remember last year when I did a review of a game (Thief: The Dark Project [http://www.rfgeneration.c...The-Dark-Project-2639.php]) that many would not consider when pondering their options to step into a good atmosphere that sends chills down your spine and squeals up your throat. The real "horror" came from the masterpiece's years spent in "Development Hell" where its focus was changed about a half dozen times. In contrast to a jumbled mess of juxtaposed design and experimentation that somehow worked brilliantly, this year I bring you D. Just "D." The letter "D." No more. No less. "D."


Continue reading Spooky Plays: D




The international success of the first Crash Bandicoot allowed Naughty Dog to get started on a sequel, and most of the team members remained intact for this transition. This let them build on the ideas from the first game and polish up problems, while adding new ideas. Sadly this created quite a few new problems. Despite all these new issues, Crash 2 was more successful than the first game, making it the best selling Western developed game in Japan when it was released. However, its international sales caused the game to fall a bit short of its predecessor in total sales.



Continue reading Psychotic Reviews: Crash Bandicoot 2: Cortex Strikes Back





Many remember Crash Bandicoot being an unofficial Playstation mascot after his release until the launch of the Playstation 2. The first trilogy of his games are fondly remembered as early 3D platformers done right. The series was created by Andy Gavin and Jason Rubin of Naughty Dog, who went on to develop it for Universal Interactive Studios. Sony Computer Entertainment joined for publishing and marketing after the game's E3 showing in 1996, making these early games exclusive to the Playstation. One of the reasons why Crash was chosen as an international mascot by Sony was due to its success. At the time it released Crash Bandicoot became the most successful Western developed game in Japan, mix that with the overwhelming sales in the Western markets and Sony had a killer app on its hands.

What about the game helped it become such a success though? Crash was instilled with tight art and design philosophies. While it can be said to be a 3D platformer it is not a full roaming 3D platformer like its peers at the time Super Mario 64 and Croc. Those games and many other games using the 3D perspective up to this day would suffer from camera issues. Crash avoided this by having linear paths to follow, while also mixing up the gameplay with areas based on 2D platformers, with side scrolling action. This helped keep the game from having a crippling camera that could quite literally be your lifeline. How many of us remember making leaps of faith because the camera sucked? Crash avoids this by keeping the path straight and keeping the camera in front of, behind, or beside our bandicoot hero.



The controls in this game feel a bit stiff. The game controls quite well overall, but there is a bit of a pause in starting the running, as well as jumping control. Just holding the button down while you're jumping feels fine, but having to make precise, short jumps can be rather annoying at times. There are a few levels which are almost sadistically designed to exploit this issue with the controls. Most of the levels are quite tight, and there is variety between the themes and worlds on top of the perspective. The game is anything but boring and predictible for your first playthrough. Boss battles are easy. They are spread throughout the worlds though, so the big boss fight is not always at the end of a land.

The music fits the game quite well. Crash is set in a chain of Pacific islands, so the Tiki styled theme is quite strong with it. The music and the levels fit in with this design quite well. The final world is mostly machine based though, and that has to do with Dr. Neo Cortex and him being a mad scientist and all that jazz.

Its quite easy to see why Crash would be the sensation it was, and why the once wombat, now bandicoot became the face of a system. Naughty Dog would develop two more Crash platformers, and a racing game, before moving onto another series for the Playstation 2, Jak. These three early Crash games are still considered the best in the series, and after playing the first one now and with nostalgic memories of Crash Bandicoot: Warped, I do remember why this is believed. These games are not too expensive, and are quite common. This first game can sell in the $20-30 range, but 2 and Warped can be bought in the $10-15 range and have that extra polish. I found all three of them at a thrift store run for $4 each, so deals can still be had for them with local hunting.


Bane of my existence.


Noriyuki Iwadare: Chapter 2

When we last left off with Iwadare's career we just stopped at Der Langrisser, and covered the big Lunar games and one remake, now its time for a new series to rise, and Lunar to continue with its remake train.

In 1996 Iwadare and Pack-In-Video worked together to make Monstania, a short tactical RPG for the Super Famicom that you guessed it, was never localized anywhere. It was quite late in the Super's lifecycle by then and Japan already had the Nintendo 64 to play with. Also, Pack-In-Video almost never localized their games anyway.



In the same year Iwadare and Game Arts released the Playstation remake of the first Lunar, adding Story to the end of the title for some reason. Anyway, this is more than just a simple remake, since the Playstation has more power than a Sega CD the developers were able to upgrade graphics, sound, music, everything, and with the upgrades came new songs.



A year later saw the Japanese exclusive release of Langrisser IV for the Sega Saturn, Iwadare worked with a couple of others to produce the music for the game. The aforementioned remake of Lunar Walking School, Magic School Lunar, also released for the Saturn and only for Japan in 1997.

What the rest of us got from the wonderful year of 1997 is another work from Iwadare and Game Arts, a new project, one that's not Lunar. Grandia. Grandia originally came out in 1997 for the Sega Saturn (for Japan only of course), but it was ported to the Playstation and released internationally in 1999 (2000 for the Euros out there). Because of its similarity to Xenogears in appearance and camera control it is the cause for some finger pointing ire amongst RPG fanboys, or did back when people cared.



1998 would see a couple more big projects from Iwadare. Langrisser V would release for the Saturn and Playstation (what geographical area do you think it was released in?) This is currently the latest game of the Langrisser series until Schwarz releases. Iwadare is credited as the composer for this upcoming game as well. But, the big news, at least internationally, was the remake of Lunar 2, getting the full Playstation treatment just like the first game got.



The next year was fairly quiet for the international Iwadare fan. None of the games would release outside of Japan but one did start a brand new series. Well, it is a new game in a way. Growlanser released in Japan only in 1999, but we would get some of the later games in the series.

In 2000 the world of role playing would be shaken to its core, or it should have been if it didn't, because Game Arts and Iwadare came out with an all new Grandia for the new at the time Sega Dreamcast! I consider this game to be in the Holy Trinity of Dreamcast RPGs alongside Skies of Arcadia and Phantasy Star Online. Just ignore the PS2 port and get the DC version!



Let us start the 21st century by saying that the next couple games had no chance of releasing outside of Japan. Mercurius Pretty is a remake of an old Japanese PC-98 game, there was no exposure when it was originally released and most likely not going to attract even a niche fanbase at the time. True Love Story 3 is a dating sim, that's about it for that one.

So the next music the international crowd was introduced to is a Grandia spin off, Grandia Xtreme. I have not played this game yet as I have never owned it and did not rent it back in the day, it is on my hunting list though as I have been digging the music.



Another True Love Story would come out along with an... 'adult' visual novel called Wind: A Breath of Heart. All the good stuff is in the PC version as it was cut for the console market. 2003 would see Iwadare work on that timeless PS2 classic Mega Man X7 with an entire music crew. Counting him, there are 9 credited composers for that game. Yikes!

Anyway I'll skip the Mega Man X7 for now and move onto something else completely awesome. Lawyers. Namely, Capcom's resident lawyer Nick Wright and crew. Yes, Iwadare started in the Ace Attorney series with the 3rd game, which we know as Trials and Tribulations. These games originally released as Game Boy Advance games. They were later remade for the Nintendo DS and released internationally a few years later, when I got in on the series.



Iwadare finally got to work for the big name in console RPGs, Square Enix, to compose the soundtrack to Radiata Stories before going back to compose the music for the Grandia I wish I could forget, Grandia III. After this he went back to making music for some Japanese exclusive sims primarily he made a return to the Ace Attorney series with Ace Attorney Investigations: Miles Edgeworth in 2009, and its UNLOCALIZED sequel Gyakuten Kenji 2 in 2011.

Alongside the new Ace Attorney spin off Game Arts and Iwadare made ANOTHER Lunar remake for the Playstation Portable. Lunar: Silver Star Harmony came out in 2009. The awesome Limited Edition has some sexy Lunar girl cards and a sweet CD soundtrack of all the music in the game! This is more of a slight enhancement to the PS1 remake than a different overhaul of the Sega CD original.

Grandia Online released in 2010 with Iwadare composing the entire soundtrack. Yes, this MMO is exclusive to Japan. I think its getting quite clear why Noriyuki Iwadare might not be as well known as he should be. Half his music never made it across any body of water!

The most recent games that Iwadare has worked on are the aforementioned Grandia Online, Gyakuten Kenji 2, and Kid Icarus: Uprising. Upcoming games with his music are the newest Ace Attorney game and Nick's return; Phoenix Wright: Ace Attorney - Dual Destinies, as well as Langrisser Schwarz.

Composer Compendium LP - Stewart Copeland

Introducing the Composer Compendium Limited Play, or LP for short. The idea behind the LP is to highlight a short career in video games. Perhaps a life was tragically cut short, or an artist made music for a handful of games and moved on, or, and this is the most common one, they exist as a popular entity outside of video games already. They have a made name with clout behind it, whether the person was in a famous band, does Broadway music, movie and TV soundtracks, whatever else they were doing beforehand does not matter.

As an extra to the conclusion of Noriyuki Iwadare here is the Limited Play of The Police's drummer Stewart Copeland's work in the video game industry.

Sadly, he only worked on one series of games and one other random game, but the best games in that series. Mr. Copeland composed the music for the first four Spyro games. He started work on the very first one for the Playstation, and finished with Enter the Dragonfly on PS2.



This time coincided with many musicians outside of the realm of video games entering the medium in the West. They no longer needed in depth knowledge of a system's sound capabilities with the rise of CD gaming. The CD brought incredibly high quality music with it since NEC first introduced the Turbo CD as an add-on to the Turbografx-16. You did not need to be Yuzo Koshiro and create your own music coding language just to create high quality music. This brought many new audio styles to the world of mid-late 90's gaming.



I love me some Insomniac, and part of that reason is that I grew up with the PS1 trilogy of games and this music. I still like to try and play through them every other summer for some fun and nostalgia. Even back then I thought the music was much different from anything I had played on the Super Nintendo and PS1 beforehand. This may have to do with Copeland's lack of experience with the overall gaming market. He wasn't listening to the soundtracks of other games to get a style of what a game should sound like, he just made great music to fit the style of the one game he was working on at the time.



The one non-Spyro game soundtrack Copeland did is Alone in the Dark: The New Nightmare. I have not played this game so I don't know how it holds up, but I know its supposed to at least be creepy and mildly scary at times. I'll leave you with this nice, pleasant, limited little Spyro sample and this interview footage of the man himself.




I am a child of the 90's, a love child. This was the age of Mode-7, Blast Processing, 3D, Playstation, and encompasses the rise and fall of Sega. So let's take a look at as many Christmas commercials from the 90's as we can possibly fit on our monitor.

Nintendo
What exemplifies the early 90's more than the constant playground war of Nintendo vs. Sega? So it makes perfect sense for retailers to pick one side of the other in this argument or face everybody's wrath!


Gee, would you look at the time? I missed the memo that I must write in rhyme! When it comes to your games, Sears has them all days. In the front or the back, come buy your new cartridge pack, and play the kiosk in store to curb your hunger for more.

Seriously, Sears kicked ass in the 90's for gamers. What the hell happened?


This is just amazing, if there is one piece of media that makes me remember what it was like being a kid in the 90's it is this right here. Entitlement of youth, grungy attitudes, snarky remarks, and a desire to sit down and play video games. I like how the rhyme goes, "South Park will be fine," as if they're just settling for it. "Yeah I'll take it, but I really wanted Mystical Ninja you dumbass parents!"


A nice, generational war, of course. Then as soon as the douchey 90's teens find out that grandpa likes to roll with some Tetris they decide that old folk aren't bad. If grandpa's hearing aid worked he might learn that Tetris was made by a dirty Communist!

Sega
So those were some pretty entertaining commercials from Nintendo's side of the ring. But does Sega always do what Nintendon't? Can they top the Big N and encourage people to buy any of the 3 systems they released in the 90's? How about the add-ons?


Sega advertising at its finest, if you want your kid to be the cool kid on the block then go out and buy him a Sega Genesis for Christmas, then every kid in the city will want a piece of that Blast Processing action.


As a constant follower of Midget Wrestling this is one of the quickest ways to grab my attention, and they have good taste in video games since they just made a ton of money selling the game to Sega, somehow.

Ok, now let's move away from North America for a moment and take a look at what Sega brought out for their Japanese commercials.


This may very well be the greatest thing I have ever laid eyes on. I am going to perpetuate the story of Segata Sanshiro as Santa Claus to my children, citing this commercial as definitive proof. If you're unfamiliar with Segata Sanshiro and why he helped the Saturn dominate the Japanese sales charts then just check out this playlist.
http://www.youtube.com/pl...S4LrAZ_n-uf5p6jRW9gx4qcFP

Word of warning, the American Saturn commercials are weird as all hell, and incredibly frightening in some cases. Search at your own risk.

Sony
A newcomer on the scene of home video game hardware in the mid 90's, Sony and their Playstation quickly rose to global dominance and kept its grip firm for over a decade. Is it because their commercials were great?


Yes, yes they were. Oh that sound and the PS logo really take me back, excuse me while I nostalgia-gasm all over my room. Again, this commercial shows what the 90's was all about, trying to find your own voice, going against the grain, and supporting Bill Clinton.


What's awesome about this commercial is that everything the singers say about Crash Bandicoot: Warped is 100% factual. This is one of the greatest parodies of a Christmas carol I've ever heard, I might start singing it this year. I feel bad for Canadians though, $50 for a new PS1 game and its already $10 off? Man, you guys will hate when I say brand new PS1 games in the States were $40. What was the exchange rate in 1998? Tell me Crabby!

Let's head back to the Land of the Rising Sun.


Crash Bandicoot and PaRappa walk up to a random guy bearing Christmas gifts, just another thing to add to my list of things to experience before I die. Cosplayers, make this happen!

...


Kick! Punch! its all in the mind.

Well that about does it for the nostalgic video game Christmas commercials. I will be going on a small hiatus until 2013 rolls around. Until then, please share if you've enjoyed this post and my others, comment with feedback, and hit that follow button on the sidebar. SirPsycho out!