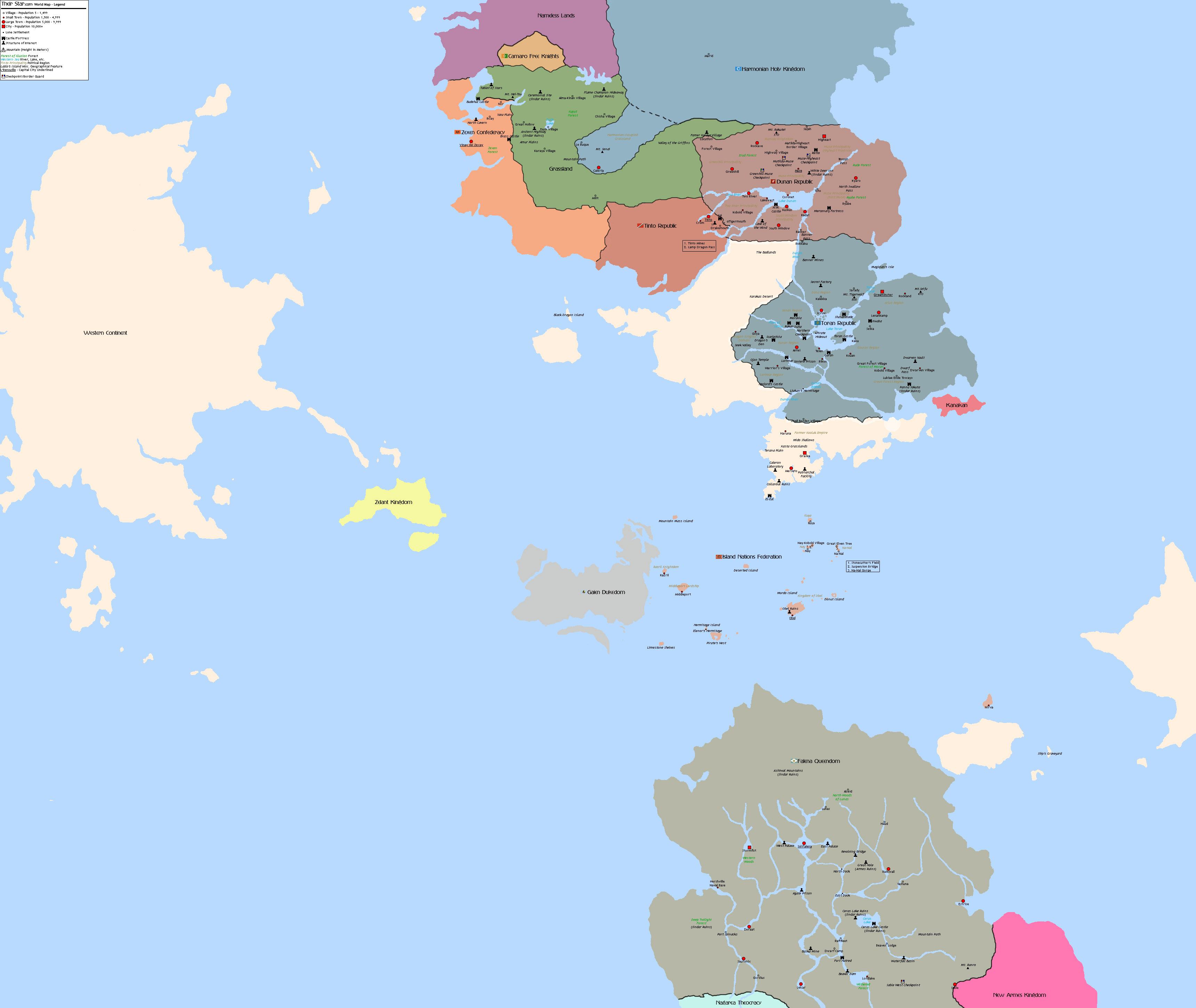 Since the beginning of role playing games, many details have been taken into account by everyone from the top tier game designers down to the dungeon or game master building their first campaign. However, few details are thought about as much as the design of the world the players inhabit. For most gamers, it is nothing more than passing scenery made to make you stop and enjoy the beauty before you move two steps forward and completely forget about it.

In modern video gaming, there are a few different kinds of world designs at play. Most Japanese developed RPGs, from the beginning to this day, are the world spanning epics. No stone is left unturned on these worlds as many are developed without the idea of direct sequels in mind. The juggernauts of Final Fantasy and Dragon Quest almost always take place in a completely new world with linearity in mind. Dragon Quest I and II are notable exceptions to this, where the world of the first game is revealed to be just one small part of the full world that is revealed to the player in Dragon Quest II. This is the idea that Suikoden takes, as it will likely never will reveal the full world in one game.


Continue reading Summer of Suikoden: A Treatise on World Design




Dragon Quest V is one of the most important role playing games to ever be released. Despite this, it has been a near unknown outside of Japan. Enix struggled to establish any sort of long term foothold in the North American gaming market. They were a bit more successful in Europe, enough to keep the doors open through the mid-90s. Translating RPGs is a long, expensive process, and Dragon Quest was the company's flagship series. The first four games on NES were all localized and released, but the process likely started too late. Japan got to see the full, natural evolution of these early Famicom RPGs, while the Western games were jumbled. They released a few years after their initial release as well. Japan originally saw the first Final Fantasy releasing two short months before Dragon Quest III. In the timeline of Western releases, Final Fantasy actually beat Dragon Quest II to market. Being a full game behind made Enix's games look that much weaker once they released internationally.

A big promotion with Nintendo Power got a lot of copies of the first Dragon Quest game circulated in North America, but the sales of each subsequent game in the series just fell. The later games in the series were also hurt, since they were released after the Super Nintendo's release. The early games in the series were like building blocks, introducing more core mechanics with each subsequent game. By the time that Dragon Quest V was getting ready for release, all these pieces were in place, and the focus on telling the personal story of the heroes became even more prevalent.


Continue reading Dragon Quest V: The Lost Masterpiece




Steambot Chronicles, or Ponkotsu Roman Daikatsugeki: Bumpy Trot as it was originally named in Japan, is a Playstation 2 game developed and published by Irem in Japan, Atlus in North America, and 505 Gamestreet in a few countries in Europe. There is also a spin off on PSP named Steambot Chronicles: Battle Tournament, and an odd tie-in puzzle game on PS2 and PSP named Blokus Portable: Steambot Championship (one of only four games published by Majesco on the PSP in the USA).

A quick look at the back of the case of Steambot Chronicles shows the game being marketed as an open world RPG, and that is correct in a way. The game starts off as linear as any other RPG that's been made and then opens up. It's similar to the opening dungeon in Elder Scrolls, but drags on much longer. In this long opening sequence, you'll visit all three of the main towns, many of the back areas, and explore most of the world by the time it's completely opened up. Once an area is open, it may be visited at any time afterwards, and as a result, money can be hoarded this way.


Continue reading Psychotic Reviews: Steambot Chronicles




A nice way to end the year would be sitting down, watch Die Hard once or twice, play some good games, visit friends and family, and enjoy the time off from work. So I decide to do none of that for now and instead do everything in my power to cause myself pain.

Today we look at The Bible Game, a late life Xbox and PS2 budget title that is a game about the Holy Bible. I am joined by a close friend, but only sharp eyes will be able to notice his appearance!

If, like me, you crave for a longer experience then have no fear! Episode 10 will hopefully be out a month from now, and will be a full review of an ancient RPG. Until then keep your eyes posted on my blog, Twitter, and Facebook, and don't forget to like and subscribe!




This installment is back to basics, and I take a look at Harvest Moon A Wonderful Life, the PS2 version. Virtually all the charm that made the series fun to play has been zapped out of this game, but what specifics can be said about it?