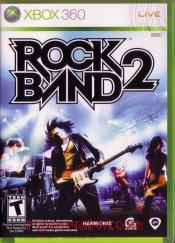 It's a weird feeling, sort of like you'd envision the Mafia to work. Just when you thought you had removed yourself from being a hardcore gamer, some game
pulls
you back in. Such is my new addiction.
When I am not being a good little Site Director and
coding the site
, I find that I have an addiction. This game has me so engrossed that it just isn't funny anymore. When the weather outside is bad, this is the game that keeps me glued in front of the TV. What game is it? Why, it's Rock Band 2.
It's funny though, because this game was the second of the two band games that I bought. See, I bought Guitar Hero: World Tour first because I thought it would have the better instruments since Red Octane was originally a hardware manufacturer. So, I had higher respect for their workmanship. Looking back, it wasn't a bad choice based on limited data, but, it's as though the future has set ablaze to that notion. I've now RMA'ed by PS3 Guitar twice and Drum Set once. It's.... ridiculous. I'd complain more if it wasn't for the fact that their RMA process has been really good, and I get free batteries out of it. I just hope that these new instruments actually continue to work as intended, but hey, right now the drum set works and I am addicted.
Why is it that I like Rock Band so damn much? Well, I like the drums, and I like them a lot. It's probably the closest analog of an instrument that any rhythm game has, and I find that great. To me, it feels as though I am
actually
playing the drums, and that feeling completely engrosses me, much more than playing the plastic guitar ever will. This feeling, coupled with the amazing track list of the Rock Band franchise (Radiohead and Talking Heads YEAH!) keeps me addicted.
Now, you might be asking why I like Rock Band 2 more than Guitar Hero: World Tour. That's a fair question, and I'll give you my spin. Rock Band takes the Band Experience and does it well. While World Tour makes you move from stage to stage, Rock Band does it with more pizazz. I love that although I play by myself the game treats my play through as a band. So, regardless of venue, my band's always the same members of Valley Junction. Guitar Hero, as far as I know, does not do that if I select Drums, and perhaps I should have delved into the band option, but at this point it seems like a moot point. Rock Band has won my heart. Not only does it keep my band intact, but it also makes you feel like you're in a rising band better than Guitar Hero ever will. Hire a staff, take risks, make fans, Band World Tour in Rock Band 2 is a treat and I love it. Perhaps you love it too.
So, such is my addiction. Any of you out there also addicted to this game? I know I am, and to a certain extent it drives me crazy... in a good way.
Note: Yes, I own the PS3 version... why don't you submit an image scan for the game?
I have to agree, Rock Band is really an excellent game, especially when playing drums.

I enjoy Rock Band 2 myself, I've owned both games on the 360 and still play the second regularly. I've wasted a good amount of money on DLC too, which is probably why the game still sees such regular play...

The drums are quite real indeed... Nice review, or rather, confession of an addiction.

Why don't you submit the PS3 version? LOL


Aww, I was hoping it was heroin, or WoW, or something exciting.

Last summer, my addiction was Sid Meier's Civilization Revolution.

Now, I'm starting to get addicted to Fallout 3.

I have yet to pick up Rock Band 2, but I do have GH:WT and enjoy it; however not at the level of addiction...yet.

I'd like to have the opportunity to play the drums on one of these games once myself. I find it too costly though, so I'll just see what happens.


besides TraderJake......who actually owns the PS3 version? lol,most people have moved to the Wii or 360 versions of Rock Band 2!


I own the PS3 version


@Alfador:I feel somewhat sorry for ya!

@The Metamorphosing Leon: XD

Dont have Rock Band 2 but I understand the addiction thing im hooked on oblivion (360) its taken forever but it finally got me


yes, u r addicted, but that's ok b/c u have friends here to intervene if necessary and bring u back if things start to get out of hand.

admitting u have a prob is the first step to recovery of course haha. seriously, someone should start a chapter of rock band anonymous.

Love Rock Band 1 / 2 as well. Not tried GH WT - but have also invested in RB DLC so need to stick with it. also like the way you can import all of the songs from RB1 into RB2. Also prefer the Alt Rock slant in RB