By now the Mana series is one of the longest running, actively developed series in video gaming. This series has a few threads that bind each game together, but for the most part each game is its own, separate entity from the rest of them. However, like most works of media the series has had its ups, and then mostly downs. The first three games in the series, Sword of Mana, Secret of Mana, and Trials of Mana, all pushed the series further upwards in both quality and scope with each game release, with Trials adding multiple character points of view for a nonlinear narrative. In 1999 Squaresoft released the fourth game in the Mana series for the Playstation, Legend of Mana. A North American release would come the following year. Its not immediately obvious, but Legend of Mana is easily a candidate for the best game in this series, and it tends to be woefully overlooked.


Continue reading Legend of Mana



One aspect of criticizing artistic forms of media that is frequently brought up is the idea of recency bias. The main problem with recency bias is that when a work is new, the fresh coat of paint can sometimes successfully hide the pocks of rust hidden by the frame. This idea is true for all forms of media, books, movies, shows, and perhaps it's strongest for video games. Games are heavily reliant on the technology of the era, and as that technology advances, the inherent weaknesses of previous works comes to light even more powerfully than before. In other cases, it's simply a question of project scope.

Xenogears was once touted as one of the greatest Japanese role playing games ever created, but over time, that opinion has softened and any discussion about it inevitably leads to the game's biggest flaws. Pinpointing the source of this slowly decreasing opinion of this once highly touted classic relies on knowing what the game's major flaws truly are, an understanding of everything that happened during and after its development, and speculation on how the gaming public itself has shifted. Xenogears is over 20 years old by this point, having released on the first Playstation all the way back in 1998, so there has been plenty of time for reflection.


Continue reading Xenogears: A Tale of Two Discs



The Yakuza series has been around for quite some time. The first game dates back to the later years of the Playstation 2, and the 7th main game in the series recently released in Japan and is set to come to the West soon. All the regular releases, plus the spinoffs, prequel, and slowly releasing remakes and upcoming remasters make Yakuza one of the most actively developed video games series to date. [iYakuza 6[/i] was developed by Ryu Ga Gotoku Studio and published by Sega for Sony's Playstation 4. It was originally released in 2016 in Japan. A worldwide release followed two years later in 2018. This long running series has quickly been gaining popularity in the West, which has mostly been propelled by the prequel Yakuza 0. Sega's been spacing out the timing of their Yakuza releases, so the market does not become overwhelmed by constant releases as the West gets caught up with the main story on top of the remakes.


Continue reading Yakuza 6: The Song of Life



In the world of gaming there is a phenomenon known as the annual release. In the Western world the annual release is almost synonymous with the sports genre. In Japan, they have annualized role playing games. Its not as ubiquitous as the wide world of sports but there are a few examples, the Atelier series likely being the most prominent. Atelier is a long running series developed by GUST, the first releases being all the way back on the first Playstation with 1997's Atelier Marie: The Alchemist of Salburg. The series went international starting with the localization of the Atelier Iris trilogy for the Playstation 2. The series was an immediate hit for GUST, who just kept pumping more games in the series out. By the time of the series' 20th anniversary in 2017 there were 19 games released in the series. This is not a direct series with sequels, prequels, spin offs, and side projects. Instead the Atelier series is one that features common gameplay elements and mechanical design. Atelier is more of a series of series, with the large library broken down into duologies and mostly trilogies. Today's game, Atelier Ayesha is the first game in the Dusk trilogy, the 2nd overall trilogy that was fully released on the Playstation 3.


Continue reading Atelier Ayesha: The Alchemist of Dusk



The Yakuza series has been a long running saga starting on the PlayStation 2. It actually started fairly late in the console's lifecycle, and a lack of marketing made the first two games go overlooked by most of the Western gaming public at the time. On the other hand this was one of Sega's biggest hits within Japan since the Saturn, so they mostly focused on the home market. Western interest in the series was recently kicked into overdrive with the release of Yakuza 0 and the remakes of the first two games, and a remaster of this third game has already released in Japan. I had played the first Yakuza a couple years before the release of its modern PlayStation 4 remake, Yakuza Kiwami, so I saw firsthand what the improvements were, and the only downgrade in my opinion was the remixed soundtrack. The first Yakuza game I had ever played was Yakuza 4, which seems to be the first game in the series that received a decent amount of attention from Western audiences, but still a shadow of what Yakuza 0 and the Kiwami remakes have enjoyed.


Continue reading Yakuza 3



The World of Darkness is a trio of settings for supernatural and horror tabletop role playing games. It was originally developed as the background setting for the original 1991 release of Vampire: The Masquerade. The series gained some popularity in tabletop circles as an alternative to a rather scant selection between an adaptation of H. P. Lovecraft's Call of Cthulhu and the Ravenloft setting of Dungeons and Dragons. While Ravenloft is medieval and Call of Cthulhu is set in the 1920's, the World of Darkness is mostly our own modern world with plenty of supernatural details added into the recipe, with some spinoffs set in various historical eras.

Vampire: The Masquerade is the most popular game set in the World of Darkness, but some other popular releases include Hunter: The Reckoning, Mage: The Ascension, and Werewolf: The Apocalypse. The naming convention becomes easy to identify quite quickly. Multiple video games have been released in the World of Darkness, including three focused on Vampire: The Masquerade. The first one was an action RPG developed by Nihilistic Software and released in 2000 called Vampire: The Masquerade - Redemption. This game was a modest success, enough to greenlight a sequel. Troika Games developed this sequel, called Bloodlines, with Activision publishing both Redemption and Bloodlines, both exclusive to PC.


Continue reading Spooky Plays: Vampire: The Masquerade: Bloodlines



The year is 2003. The PlayStation 2 is lighting up sales charts the likes of which no console had ever seen before. It was now a few years into the console's lifecycle, so games were starting to really flood the market. Square Enix released a game called Drakengard, the first game directed by a now well known eccentric, Yoko Taro. One of the design elements of the game included multiple endings, one of which seems rather nonsensical at first. (The following will include heavy spoilers to one of Drakengard's endings, and the reason for this detailed description will follow soon after.)


Continue reading NieR: Automata



As the storage size of digital media has increased, so too has the size of the video games that are played. Game worlds used to be quite tiny, and the length of games came from other areas of difficulty meant to make it hard to explore those worlds. Enemies were difficult and frequent; statistical balance was brutal. It would take players hours to get the right equipment, enough money, and high enough stats to be able to properly progress. Games have been expanded in many ways for decades.

The idea of playing through a game twice or more is quite old by now, with the earliest examples coming from some mid-80s hits and classics such as Ghosts 'n Goblins, The Legend of Zelda, and Digital Devil Story: Megami Tensei. The rewards for this choice are varied, the true ending for Ghosts 'n Goblins, or an extra challenge in Zelda and Megami Tensei. It was only later when this idea was not only popularized, but received a name that has stuck with gamers for over two decades and counting now. Chrono Trigger rewarded players for multiple trips through its world by offering a variety of different endings that could be achieved by beating the final boss in any number of different ways and almost anywhere during the story.



Continue reading Old Game -



As video games become an aging hobby, it becomes more difficult to grasp the beginning of its tale, or the history and growth of it in general. This does not just mean its actual history, but also its dominant theories of design. For example, when many gamers talk of role playing games, only two dominant styles are generally brought up: The consolized Japanese designed role playing games, and the historically more mechanically complex and open, Western designed role playing games. Despite the fact that these two schools of design are considered different enough to be easily categorized, they share a common ancestor in tabletop games, specifically Dungeons and Dragons. While Dungeons and Dragons has been around since the 1970's, it has evolved and is almost unrecognizable in comparison to its earliest version, as the company that originally created the game went bankrupt, was bought out, and its creator has passed away.



Continue reading The Great Western RPG Schism?



Since the beginning of role playing games, many details have been taken into account by everyone from the top tier game designers down to the dungeon or game master building their first campaign. However, few details are thought about as much as the design of the world the players inhabit. For most gamers, it is nothing more than passing scenery made to make you stop and enjoy the beauty before you move two steps forward and completely forget about it.

In modern video gaming, there are a few different kinds of world designs at play. Most Japanese developed RPGs, from the beginning to this day, are the world spanning epics. No stone is left unturned on these worlds as many are developed without the idea of direct sequels in mind. The juggernauts of Final Fantasy and Dragon Quest almost always take place in a completely new world with linearity in mind. Dragon Quest I and II are notable exceptions to this, where the world of the first game is revealed to be just one small part of the full world that is revealed to the player in Dragon Quest II. This is the idea that Suikoden takes, as it will likely never will reveal the full world in one game.


Continue reading Summer of Suikoden: A Treatise on World Design



The vast sea of forgotten tales long buried in the sands of time can seem insurmountable to one looking for a place to dig. Sega's Saturn is a system that has been pushed to the wayside for the entirety of its existence in the West, while it enjoyed a brief success as the great black gaming box of the East. Some of its games made their way over to the West, but the overall ratio of those that came compared to those that never made it is sad to look at, especially if you put yourself in the mindset of a Western Saturn fan who sees the press talk about new Japanese games that only had a tiny chance of being brought over. Some of the ones brought over were excellent, like Dragon Force, GunGriffon and the arcade ports that I have previously discussed. Even the weaker titles brought over were at least something to whet the appetite. With all that in mind, which category of quality does Dark Savior manage to fall into, or is it just another futile voyage along a sea of the endless sands?


Continue reading Psychotic Reviews: Dark Savior



Steambot Chronicles, or Ponkotsu Roman Daikatsugeki: Bumpy Trot as it was originally named in Japan, is a Playstation 2 game developed and published by Irem in Japan, Atlus in North America, and 505 Gamestreet in a few countries in Europe. There is also a spin off on PSP named Steambot Chronicles: Battle Tournament, and an odd tie-in puzzle game on PS2 and PSP named Blokus Portable: Steambot Championship (one of only four games published by Majesco on the PSP in the USA).

A quick look at the back of the case of Steambot Chronicles shows the game being marketed as an open world RPG, and that is correct in a way. The game starts off as linear as any other RPG that's been made and then opens up. It's similar to the opening dungeon in Elder Scrolls, but drags on much longer. In this long opening sequence, you'll visit all three of the main towns, many of the back areas, and explore most of the world by the time it's completely opened up. Once an area is open, it may be visited at any time afterwards, and as a result, money can be hoarded this way.


Continue reading Psychotic Reviews: Steambot Chronicles



I have been excited about the release of Tales of Xillia 2 since I played and reviewed the first one a few months ago (http://www.rfgeneration.c...-Tales-of-Xillia-2755.php). I greatly enjoyed the main characters and writing of the original game and thought that the plot took plenty of nice turns that were not as predictable as an RPG veteran would expect.


Continue reading Psychotic Reviews: Tales of Xillia 2



Suikoden Tierkreis was the second Suikoden game made by Konami for a non-Sony system and was the first to be released outside of Japan. The first, Suikoden Card Stories, was released on the Game Boy Advance (Japan exclusive) and is basically a retelling of Suikoden II as a trading card game. Though I have no idea what I'm doing in that game due to the language barrier, I do know what's going on in Tierkreis. Tierkreis was the first Suikoden game released since Suikoden V on the PS2, and was anxiously awaited by fans of the series, since there was about a three year gap between these releases.


Continue reading Psychotic Reviews: Suikoden Tierkreis





Albert Odyssey is one of those pesky Working Designs games for the Sega Saturn. It is a classical styled turn based RPG which is actually a departure from earlier titles in the series. The Albert Odyssey series started on the Super Famicom, developed and published by NES favorite Sunsoft. These are tactical, strategic RPGs in the vein of Fire Emblem and Ogre Battle mostly. There was also a sequel made for the Super Famicom, but both of these were never released outside of Japan. Albert Odyssey: Legend of Aldean began development for the Super Famicom as a side story to the first two games, but that version was cancelled and ported to the Sega Saturn. In Japan this game was released as Albert Odyssey Gaiden ~Legend of Eldean~, and was developed and published by Sunsoft as usual.

In comes Working Designs, finally moving beyond the limited audience of the Sega CD and onto Sega's new system. This audience would also be quite limited, and the Saturn's short life would eventually move the company onto the juggernaut Playstation. But before that happened the company managed to localize and release 6 games for the Saturn. Albert Odyssey is the first one that I am playing.



First off I want to say that graphically this game is a slight upgrade from its Super Famicom roots, but it certainly feels like it would be right at home for that system. As a result of the Saturn's strong 2D capabilities the pixel count is much higher than you would see on any Super Nintendo game. There are little bits of 3D perspective on the world map that the Saturn was able to soup up a bit, but these would have looked fine with the Mode 7 capabilities, much like Final Fantasy VI's airship traveling. The music is all Sega Saturn though, with nice CD quality audio and high quality, crisp voice acting from time to time. There's not much voice acting in the game, but what is there is quite enjoyable and fits the characters rather well. Not susprising since Working Designs was one of the first to utilize voice acting for their CD games.

What really bugs me about this game, and this was also a complaint from reviewers when the game released, is the localization. Its not a direct translation with a few cultural phrases, superstitions, and such changed so the new audience would understand them, oh no. Some of the dialogue, especially NPC dialogue, is a poor attempt to garner laughs, chuckles, and such, but it is poorly executed and a vast departure from the original Japanese script. I even saw on the main characters say "Holy Sh-nikes" to which I replied, "Holy 90s localization!" Another NPC blatantly breaks the fourth wall by saying she doesn't remember her lines in the script. This was the furthest thing from funny I've seen. Everybody calling Pike, the main character, fat gets really old, really quickly. Its because of games like this that have RPG fans so adamant about the differences between translation and localization. This is an example of a localization that just went too far and Working Designs is the prime reason for this.



See what I mean?

The story is a typical save-the-world from big evil bad guys scenario at first. Later on however, there is a twist where you must go on a manhunt, again looking for a big evil bad guy because kidnapping and such. At least this is a bit different. You not only have to save the world from certain conquest and destruction not once, but twice! I wonder what would happen if you failed in taking down the first threat, would the two bastions of evil then decide to fight it out to determine who shall be the supreme evil overlord of all beings of this world? Would they enter some sort of endless using pawns of little evil underlings for various schemes and maneuvers? That would be some Baatezu vs. Tanar'ri style warfare there.

One feature I do enjoy about Working Designs games of this time period is a section of the manual where they explain what changes were made to the gameplay. Some of the things they did included cut down on the encounter rate while increasing experience gains, decrease load times, fixing diagonal movement, and adding shoulder button support to change between characters in the equipment and magic menus. I really can't imagine why a game would originally release without shoulder button support for character switches but hey, they were still kind of new in 1996, by five years. This at least gives you an idea about some of the changes, and helps you realize how some minor changes like L + R button support can shave a lot of time off of menu navigation.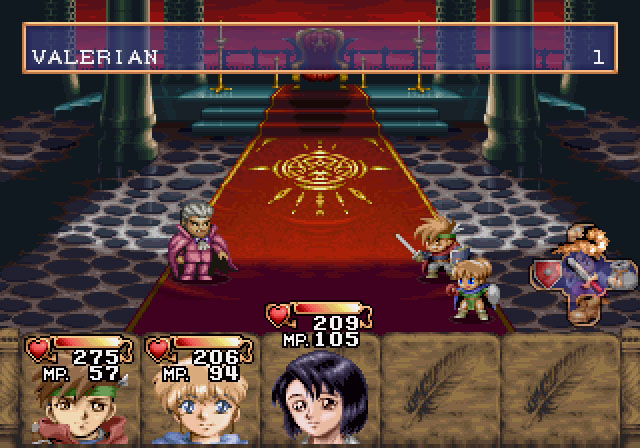 Overall this game is quite easy. It starts off impossible to lose but does increase in difficulty as you get stronger and add more members to the party. It never gets overbearing though, and you'll only really grind for about 10 minutes here and there to squeeze out an extra level or get a little bit more money. The characters are quite interesting from a narrative standpoint, with Pike being one of the most boring ones. He was a child when his hometown was invaded and destroyed, so he was raised by peaceful harpies and carries a magical sword. Eka is a beautiful singer who joins Pike and the two end up getting married and living happily ever after. Leos is a charismatic priestess who becomes renowned for caring about all the people and races of the world, and going above and beyond to help them. Gryzz is a Dragonman who joins after the party saves his people from certain death, he's young but is a bastion of honor and the party's heaviest hitter. Amon is a metrosexual Birdman who joins because he's hot headed and tired of the personal politics of his tribe, so he joins the group without even really knowing them too well. Kia is a young magician who joins the party for their second quest. She has the power of the teleport spell and adds a rather naive young voice to the party.

The gameplay is solid, yet simple. This game is quite short, so if you're looking for an RPG that you can sink your teeth into, play casually, and beat without much of a time investment then I would recommend this game. If you're somebody who wants more value for your buck then I would pass on this game, as it regularly sells for over $80 nowadays. The packaging is quite solid and beautiful, with shiny lettering and a much higher quality manual than most Saturn games received, so this game has a crossover appeal between RPG fans and collectors since it looks so good on a shelf.