In the world of gaming there is a phenomenon known as the annual release. In the Western world the annual release is almost synonymous with the sports genre. In Japan, they have annualized role playing games. Its not as ubiquitous as the wide world of sports but there are a few examples, the Atelier series likely being the most prominent. Atelier is a long running series developed by GUST, the first releases being all the way back on the first Playstation with 1997's Atelier Marie: The Alchemist of Salburg. The series went international starting with the localization of the Atelier Iris trilogy for the Playstation 2. The series was an immediate hit for GUST, who just kept pumping more games in the series out. By the time of the series' 20th anniversary in 2017 there were 19 games released in the series. This is not a direct series with sequels, prequels, spin offs, and side projects. Instead the Atelier series is one that features common gameplay elements and mechanical design. Atelier is more of a series of series, with the large library broken down into duologies and mostly trilogies. Today's game, Atelier Ayesha is the first game in the Dusk trilogy, the 2nd overall trilogy that was fully released on the Playstation 3.


Continue reading Atelier Ayesha: The Alchemist of Dusk



The Yakuza series has been a long running saga starting on the PlayStation 2. It actually started fairly late in the console's lifecycle, and a lack of marketing made the first two games go overlooked by most of the Western gaming public at the time. On the other hand this was one of Sega's biggest hits within Japan since the Saturn, so they mostly focused on the home market. Western interest in the series was recently kicked into overdrive with the release of Yakuza 0 and the remakes of the first two games, and a remaster of this third game has already released in Japan. I had played the first Yakuza a couple years before the release of its modern PlayStation 4 remake, Yakuza Kiwami, so I saw firsthand what the improvements were, and the only downgrade in my opinion was the remixed soundtrack. The first Yakuza game I had ever played was Yakuza 4, which seems to be the first game in the series that received a decent amount of attention from Western audiences, but still a shadow of what Yakuza 0 and the Kiwami remakes have enjoyed.


Continue reading Yakuza 3



The World of Darkness is a trio of settings for supernatural and horror tabletop role playing games. It was originally developed as the background setting for the original 1991 release of Vampire: The Masquerade. The series gained some popularity in tabletop circles as an alternative to a rather scant selection between an adaptation of H. P. Lovecraft's Call of Cthulhu and the Ravenloft setting of Dungeons and Dragons. While Ravenloft is medieval and Call of Cthulhu is set in the 1920's, the World of Darkness is mostly our own modern world with plenty of supernatural details added into the recipe, with some spinoffs set in various historical eras.

Vampire: The Masquerade is the most popular game set in the World of Darkness, but some other popular releases include Hunter: The Reckoning, Mage: The Ascension, and Werewolf: The Apocalypse. The naming convention becomes easy to identify quite quickly. Multiple video games have been released in the World of Darkness, including three focused on Vampire: The Masquerade. The first one was an action RPG developed by Nihilistic Software and released in 2000 called Vampire: The Masquerade - Redemption. This game was a modest success, enough to greenlight a sequel. Troika Games developed this sequel, called Bloodlines, with Activision publishing both Redemption and Bloodlines, both exclusive to PC.


Continue reading Spooky Plays: Vampire: The Masquerade: Bloodlines



The year is 2003. The PlayStation 2 is lighting up sales charts the likes of which no console had ever seen before. It was now a few years into the console's lifecycle, so games were starting to really flood the market. Square Enix released a game called Drakengard, the first game directed by a now well known eccentric, Yoko Taro. One of the design elements of the game included multiple endings, one of which seems rather nonsensical at first. (The following will include heavy spoilers to one of Drakengard's endings, and the reason for this detailed description will follow soon after.)


Continue reading NieR: Automata



As the storage size of digital media has increased, so too has the size of the video games that are played. Game worlds used to be quite tiny, and the length of games came from other areas of difficulty meant to make it hard to explore those worlds. Enemies were difficult and frequent; statistical balance was brutal. It would take players hours to get the right equipment, enough money, and high enough stats to be able to properly progress. Games have been expanded in many ways for decades.

The idea of playing through a game twice or more is quite old by now, with the earliest examples coming from some mid-80s hits and classics such as Ghosts 'n Goblins, The Legend of Zelda, and Digital Devil Story: Megami Tensei. The rewards for this choice are varied, the true ending for Ghosts 'n Goblins, or an extra challenge in Zelda and Megami Tensei. It was only later when this idea was not only popularized, but received a name that has stuck with gamers for over two decades and counting now. Chrono Trigger rewarded players for multiple trips through its world by offering a variety of different endings that could be achieved by beating the final boss in any number of different ways and almost anywhere during the story.



Continue reading Old Game -



As video games become an aging hobby, it becomes more difficult to grasp the beginning of its tale, or the history and growth of it in general. This does not just mean its actual history, but also its dominant theories of design. For example, when many gamers talk of role playing games, only two dominant styles are generally brought up: The consolized Japanese designed role playing games, and the historically more mechanically complex and open, Western designed role playing games. Despite the fact that these two schools of design are considered different enough to be easily categorized, they share a common ancestor in tabletop games, specifically Dungeons and Dragons. While Dungeons and Dragons has been around since the 1970's, it has evolved and is almost unrecognizable in comparison to its earliest version, as the company that originally created the game went bankrupt, was bought out, and its creator has passed away.



Continue reading The Great Western RPG Schism?



Since the beginning of role playing games, many details have been taken into account by everyone from the top tier game designers down to the dungeon or game master building their first campaign. However, few details are thought about as much as the design of the world the players inhabit. For most gamers, it is nothing more than passing scenery made to make you stop and enjoy the beauty before you move two steps forward and completely forget about it.

In modern video gaming, there are a few different kinds of world designs at play. Most Japanese developed RPGs, from the beginning to this day, are the world spanning epics. No stone is left unturned on these worlds as many are developed without the idea of direct sequels in mind. The juggernauts of Final Fantasy and Dragon Quest almost always take place in a completely new world with linearity in mind. Dragon Quest I and II are notable exceptions to this, where the world of the first game is revealed to be just one small part of the full world that is revealed to the player in Dragon Quest II. This is the idea that Suikoden takes, as it will likely never will reveal the full world in one game.


Continue reading Summer of Suikoden: A Treatise on World Design



The vast sea of forgotten tales long buried in the sands of time can seem insurmountable to one looking for a place to dig. Sega's Saturn is a system that has been pushed to the wayside for the entirety of its existence in the West, while it enjoyed a brief success as the great black gaming box of the East. Some of its games made their way over to the West, but the overall ratio of those that came compared to those that never made it is sad to look at, especially if you put yourself in the mindset of a Western Saturn fan who sees the press talk about new Japanese games that only had a tiny chance of being brought over. Some of the ones brought over were excellent, like Dragon Force, GunGriffon and the arcade ports that I have previously discussed. Even the weaker titles brought over were at least something to whet the appetite. With all that in mind, which category of quality does Dark Savior manage to fall into, or is it just another futile voyage along a sea of the endless sands?


Continue reading Psychotic Reviews: Dark Savior



Steambot Chronicles, or Ponkotsu Roman Daikatsugeki: Bumpy Trot as it was originally named in Japan, is a Playstation 2 game developed and published by Irem in Japan, Atlus in North America, and 505 Gamestreet in a few countries in Europe. There is also a spin off on PSP named Steambot Chronicles: Battle Tournament, and an odd tie-in puzzle game on PS2 and PSP named Blokus Portable: Steambot Championship (one of only four games published by Majesco on the PSP in the USA).

A quick look at the back of the case of Steambot Chronicles shows the game being marketed as an open world RPG, and that is correct in a way. The game starts off as linear as any other RPG that's been made and then opens up. It's similar to the opening dungeon in Elder Scrolls, but drags on much longer. In this long opening sequence, you'll visit all three of the main towns, many of the back areas, and explore most of the world by the time it's completely opened up. Once an area is open, it may be visited at any time afterwards, and as a result, money can be hoarded this way.


Continue reading Psychotic Reviews: Steambot Chronicles



I have been excited about the release of Tales of Xillia 2 since I played and reviewed the first one a few months ago (http://www.rfgeneration.c...-Tales-of-Xillia-2755.php). I greatly enjoyed the main characters and writing of the original game and thought that the plot took plenty of nice turns that were not as predictable as an RPG veteran would expect.


Continue reading Psychotic Reviews: Tales of Xillia 2



Suikoden Tierkreis was the second Suikoden game made by Konami for a non-Sony system and was the first to be released outside of Japan. The first, Suikoden Card Stories, was released on the Game Boy Advance (Japan exclusive) and is basically a retelling of Suikoden II as a trading card game. Though I have no idea what I'm doing in that game due to the language barrier, I do know what's going on in Tierkreis. Tierkreis was the first Suikoden game released since Suikoden V on the PS2, and was anxiously awaited by fans of the series, since there was about a three year gap between these releases.


Continue reading Psychotic Reviews: Suikoden Tierkreis





Albert Odyssey is one of those pesky Working Designs games for the Sega Saturn. It is a classical styled turn based RPG which is actually a departure from earlier titles in the series. The Albert Odyssey series started on the Super Famicom, developed and published by NES favorite Sunsoft. These are tactical, strategic RPGs in the vein of Fire Emblem and Ogre Battle mostly. There was also a sequel made for the Super Famicom, but both of these were never released outside of Japan. Albert Odyssey: Legend of Aldean began development for the Super Famicom as a side story to the first two games, but that version was cancelled and ported to the Sega Saturn. In Japan this game was released as Albert Odyssey Gaiden ~Legend of Eldean~, and was developed and published by Sunsoft as usual.

In comes Working Designs, finally moving beyond the limited audience of the Sega CD and onto Sega's new system. This audience would also be quite limited, and the Saturn's short life would eventually move the company onto the juggernaut Playstation. But before that happened the company managed to localize and release 6 games for the Saturn. Albert Odyssey is the first one that I am playing.



First off I want to say that graphically this game is a slight upgrade from its Super Famicom roots, but it certainly feels like it would be right at home for that system. As a result of the Saturn's strong 2D capabilities the pixel count is much higher than you would see on any Super Nintendo game. There are little bits of 3D perspective on the world map that the Saturn was able to soup up a bit, but these would have looked fine with the Mode 7 capabilities, much like Final Fantasy VI's airship traveling. The music is all Sega Saturn though, with nice CD quality audio and high quality, crisp voice acting from time to time. There's not much voice acting in the game, but what is there is quite enjoyable and fits the characters rather well. Not susprising since Working Designs was one of the first to utilize voice acting for their CD games.

What really bugs me about this game, and this was also a complaint from reviewers when the game released, is the localization. Its not a direct translation with a few cultural phrases, superstitions, and such changed so the new audience would understand them, oh no. Some of the dialogue, especially NPC dialogue, is a poor attempt to garner laughs, chuckles, and such, but it is poorly executed and a vast departure from the original Japanese script. I even saw on the main characters say "Holy Sh-nikes" to which I replied, "Holy 90s localization!" Another NPC blatantly breaks the fourth wall by saying she doesn't remember her lines in the script. This was the furthest thing from funny I've seen. Everybody calling Pike, the main character, fat gets really old, really quickly. Its because of games like this that have RPG fans so adamant about the differences between translation and localization. This is an example of a localization that just went too far and Working Designs is the prime reason for this.



See what I mean?

The story is a typical save-the-world from big evil bad guys scenario at first. Later on however, there is a twist where you must go on a manhunt, again looking for a big evil bad guy because kidnapping and such. At least this is a bit different. You not only have to save the world from certain conquest and destruction not once, but twice! I wonder what would happen if you failed in taking down the first threat, would the two bastions of evil then decide to fight it out to determine who shall be the supreme evil overlord of all beings of this world? Would they enter some sort of endless using pawns of little evil underlings for various schemes and maneuvers? That would be some Baatezu vs. Tanar'ri style warfare there.

One feature I do enjoy about Working Designs games of this time period is a section of the manual where they explain what changes were made to the gameplay. Some of the things they did included cut down on the encounter rate while increasing experience gains, decrease load times, fixing diagonal movement, and adding shoulder button support to change between characters in the equipment and magic menus. I really can't imagine why a game would originally release without shoulder button support for character switches but hey, they were still kind of new in 1996, by five years. This at least gives you an idea about some of the changes, and helps you realize how some minor changes like L + R button support can shave a lot of time off of menu navigation.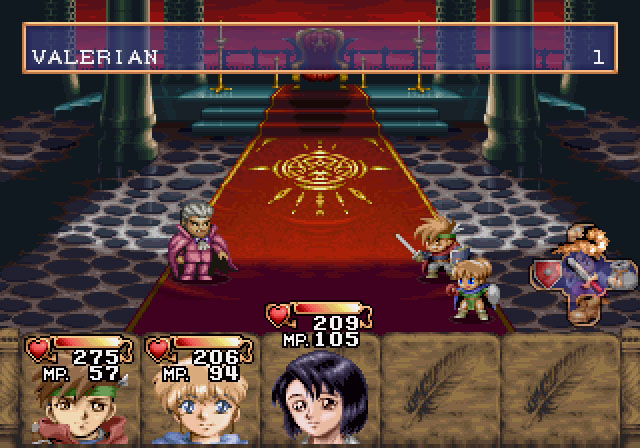 Overall this game is quite easy. It starts off impossible to lose but does increase in difficulty as you get stronger and add more members to the party. It never gets overbearing though, and you'll only really grind for about 10 minutes here and there to squeeze out an extra level or get a little bit more money. The characters are quite interesting from a narrative standpoint, with Pike being one of the most boring ones. He was a child when his hometown was invaded and destroyed, so he was raised by peaceful harpies and carries a magical sword. Eka is a beautiful singer who joins Pike and the two end up getting married and living happily ever after. Leos is a charismatic priestess who becomes renowned for caring about all the people and races of the world, and going above and beyond to help them. Gryzz is a Dragonman who joins after the party saves his people from certain death, he's young but is a bastion of honor and the party's heaviest hitter. Amon is a metrosexual Birdman who joins because he's hot headed and tired of the personal politics of his tribe, so he joins the group without even really knowing them too well. Kia is a young magician who joins the party for their second quest. She has the power of the teleport spell and adds a rather naive young voice to the party.

The gameplay is solid, yet simple. This game is quite short, so if you're looking for an RPG that you can sink your teeth into, play casually, and beat without much of a time investment then I would recommend this game. If you're somebody who wants more value for your buck then I would pass on this game, as it regularly sells for over $80 nowadays. The packaging is quite solid and beautiful, with shiny lettering and a much higher quality manual than most Saturn games received, so this game has a crossover appeal between RPG fans and collectors since it looks so good on a shelf.




Tales of Xillia is a role playing game developed and published by Bandai Namco. It did not take me long to start enjoying Tales of Xillia. The characters are quite memorable, which in today's world of RPGs seems to be less common. Or they focus so heavy on characters that they make a bland, boring, and repetitive world (looking at you Bioware). Xillia manages to avoid both of these shortcomings to create a memorable cast of characters, and a wondrous, magical filled world to explore. Artes, Rieze Maxia's form of spirit channeled magic, help fuel everything from a healthy ecosystem to the architecture of cities, even an area's local climate, and passing of the seasons.

The game starts with the ability to choose which side of the story you want to view. You're able to pick between Jude Mathis or Milla Maxwell. They're pretty much the same for over 90% of the game, but there are a few moments when the party splits up and bad things happen. Number 1 rule of RPGs, be they video game or tabletop, never split up. That's how people get hurt, or die.

Anyway, I started with Jude's story. He lives in the city of Fennmont, blessed under a cover of eternal night, and the capital of a country called Rashugal. Jude is studying at the Talim Medical School to be a doctor, following in his father's footsteps. He wanders out to find the teacher he's doing slave labor, I mean graduate study work for. He makes his way to the Laforte Research Center, where outside he sees a strange woman who can walk on water with ease. He grows curious and follows her, and she claims to be the Lord of Spirits Maxwell in a human form. Milla has control of the Four Great Spirits, and begrudgingly decides to let Jude travel through the Research Center with her since he insists on finding his professor.

For those of you familiar with the Tales series you'll know that the combat system is where the real meat of the game is, having a nice story and interesting world are wonderful add ons. The combat system for Tales of Xillia is a real time system. Enemies appear on the screen, and the player has the option of how they approach the enemy. Do you run and strike them behind for some damage? Do you give them the run around until they stop chasing and hit them from behind for even more damage and a stun? Or do you gather up enemies to fight a big group all at once for added EXP and money? I usually chose the latter option as it coupled well with EXP and money boosting food buffs.



You can customize your combo system, using the left stick + circle button, just the right stick, or pressing down L1 for a second set of combos. Each character also controls completely differently. Jude is a very fast fisticuffs brawler, smacking enemies around the screen with his gauntlets. Milla uses a shortsword to dispatch enemies, and is great to use as an aerial combatant. Alvin is the heavy physical damage dealer, swinging a greatsword around like its nothing, as well as using a gun for added distance. Elize is primarily an artes user, being a great healer as well as an area of effect threat. Rowen is a great arte user for single target spells, the Fireball spam is strong with him. Leia shares many combos with Jude, but uses a staff for extended reach and different attacks.



And you can create pretty princesses with various fashion items!

Whoever you're playing as can link up with another character, and as you build a battle gauge on the side of the screen you can unleash combos by pressing R2 and certain combos while linked with a specific character. The skills you must use are predetermined, and some links are more fruitful than others. When you've climbed this ladder enough you have the ability to unleash as many of these Link Attacks as possible in a given timeframe, even if you switch who you're linked with in the middle of the timeframe. This game's combat is incredibly satisfying, and I found myself turning the difficulty up to hard so I could enjoy longer fights.

This combat system is deep and incredibly satisfying. You feel like you're in complete control as the player, and you can even customize your ally's AI to help support you by healing, or go all out with their strongest attacks, or anything in between.




One of my favorite parts about this game are the villains. In a game of war, politics, intrigue, and quickly advancing military technology each antagonist has his own goals and a defined personality. Each one is much more complex than a stereotypical mustache twirling, world conquering, or slaughtering menace. Nachtigal, King of Rashugal rules through a military junta and is investing heavily in powerful technology that could be Rieze Maxia's Weapon of Mass Destruction. Gaius, another king who has united the country of Auj Oule, united warring clans by force and has consolidated his rule by winning the hearts and minds of his most common subjects. These two powerful kings and some other unforeseen players are all ready to strike in the name of glory, power, and survival.

In the end the goal is not conquest, or destruction, but merely an ideal for how the world should be. The game's story and narrative are centered more around philosophical quandaries amongst Rieze Maxia's most ambitious people, be they king or a medical student on the lam. As such I feel this story is a true sign of the evolution of video gaming as a whole, growing from nonexistent stories to one of an ultimate, nonsensical evil being hell bent on world destruction or domination, with no real follow up plan. If you're a fan of RPGs you owe it to yourself to play this game and discover some well rounded characters and a world of mixed fantasy and science fiction. I am anxiously waiting for the sequel to be localized!



NO! THAT'S NOT WHY I'M SO EXCITED! MY EYES ARE BURNING!





I am unsure if Ni No Kuni: Wrath of the White Witch is the RPG I would use to introduce the genre to a child or not. I was planning on showing my eventual offspring the classics first, maybe start with some Dragon Quest and lead into some SNES Squaresoft. I am still leaning towards Ni no Kuni as a launchpad as it throws Dragon Quest, Monster Rancher, Pokemon, and My Neighbor Totoro in a blender and just lets it all puree for hours. Glorious hours. Level-5 and Studio Ghibli have crafted a beautiful world with wonderful characters that show a child's journey from the worst circumstances you could imagine into a strong and independent leader.

Oliver is a resident of the post-war Americana inspired peaceful town of Motorville. Early on in the game Oliver's mother dies, saving her son from drowning after he test drives his friend Phillip's hand made car. He holds onto a stuffed animal that his mother made for him and begins to cry on it. When his tears hit the stuffed doll Studio Ghibli happens and the stuffed animal is granted life, becoming Lord High Lord of the Fairies Drippy. Drippy gives a bunch of information to Oliver about another world where people's hearts are connected. If somebody exists in Motorville, they will exist in this world, so his mother could still be alive there!

Not long into the adventure in this new world Oliver is granted the spell to create a familiar from the power of his heart. Oliver creates the Milites Mitey Mite. You as the player have the ability to feed and grow your familiars as you see fit, and get the ability to catch your own once Esthar is recruited into the party later. Swaine has the ability to steal items and cause status ailments with his gun. Marcassin is recruited late in the game and is another powerful spellcaster to add to the mix of Oliver and Esthar.



That's a tidy pose, ent'it?

You'll really get your power from familiars, as they can take up roles that just don't fit your main characters. Early on Mitey is a pretty good tank and does decent damage, but attacks slowly. Mitey is not very useful after the halfway point, his stats start to flatten. There will be plenty of options for a replacement though, assuming you've been singing to catchable familiars with Esthar! This is a Level-5 game, so expect item alchemy as well.

Combat itself is fairly straightforward, attack, use skills and magic, and you can stagger your enemies and cancel their attacks with proper timing. Familiars with fast attack speed are better at staggering and canceling than slow attackers like Mitey. Staggering can lead to a possible golden glim, which gives the familiar a form of super ability. It could be an offensive ability, healing, or a buff. The combat is turn based, so the feel of attacking and the experience gains give the feeling of Dragon Quest influence.

The music is fantastic, being composed by Studio Ghibli veteran Joe Hisaishi and Rei Kendoh. All the music was performed by the Tokyo Philharmonic Orchestra. The music was first compressed so it could fit on a DS cart, a 4 gig cart though. The PS3 soundtrack is the full orchestral performance.



The world really feels like an old school RPG world though. For every kingdom or large landmass there only seems to be one town to visit. There you stock up on items, move the story forward, run errands for people for items and money, and take monster bounties. For the most part of the game I found the errands and bounties to be the best way to stock up on money, as monsters just didn't seem to drop enough. It really felt more balanced around the fact that you do run all the errands while playing through the game.

This really slows down the midgame, as you end up devoting entire play sessions, multiple hours each time, to simply running errands and taking out bounties. Otherwise you can't afford new weapons and armor and lag even further behind! Eventually the errands start to bottleneck as you're running out of new pieces of heart to take and give to other people, so it doesn't take long towards the endgame.

The game quickens pace towards the end and leads straight to the final showdown with the White Witch. After completing the game the player has the option of creating a cleared save file and returning to the world to complete more errands, bounties. You can also do some more side quests like win stuff at the casino, finish the Solosseum, and make all the hidden and powerful alchemy recipes. As sweet and magical as this game is, this post game content might just be hard to resist.

I would give a strong recommendation to this game for anybody that is an RPG fan and has been looking for a classic styled game that is just modern enough, challenging, and tells a strong enough story to keep you hooked. The characters in this game are not the same tired clichs that have been running rampant in the genre for the past decade, so their performances and development should leave you satisfied.




5. Id (Xenogears)

Those that are familiar with Freudian psychology already know what Id is, even if they've never played Xenogears. Well, he's a bit different than the textbook Freudian definition, replacing the libido with say, instinctual bloodlust would make the Id of Xenogears more accurate.



The ladies can't resist him either.

He pops up seemingly out of nowhere, for no reason. Its unclear when Id first starts showing up which side he is on, but the characters quickly learn that he's more just out for a nice stroll with a side of wanton destruction. I do not want to spoil the truth behind Id though, but knowing Freudian psychology, or playing Xenogears can let you figure that one out. This 'twist' is one of the reasons why Id scores so highly on my list.

""That was interesting. But dropping a warship on me is cheating. Take it back!" - Id

4. The Godwins (Suikoden V)

Motive. I cannot stress how important it is for a villain to have a good, believable motive. There needs to be purpose behind actions, words are empty, especially in the highly politicized Game of Thrones which happens in every installment of Suikoden.

Unlike most villains the Godwins have a very clear motive for the coup d'tat of the Queendom of Falena, personal power, wealth, glory, and the ability to declare war on their neighbors whenever they desire. That said, Marscal and Gizel Godwin are much deeper than their motives. Marscal is the grizzled veteran, no stranger to the game of nobles, I would compare him to Tywin Lannister as he's not afraid to deeply scold his son in private.



Dress for the job you want they told Lord Marscal.

Gizel however, just seems to shrug everything off of himself. In public he oozes charm and watches his tongue and body language carefully. In private Gizel schemes and hatches various little plots, usually just putting them in motion and watching as the story unfolds before him.

Gizel is just so sneaky and snakelike, an absolute joy to watch scheme. The Godwins, Gizel in particular, are just so interesting. You always want to know what they're up to and the game indulges your curiosity. This family is the pinnacle of the idea of loving to hate something. I hate them because of their actions, they killed the Prince's family and took his little sister and her throne and now want you dead. They're so well written, casual, and laid back that watching them brings a big smile to my face.



But enough talk, have at you!

"When you get involved in intrigue, do it decisively." - Marscal Godwin

"What if my master plan was murdering you... in front of your beloved brother?" - Gizel Godwin

3. The Transcendant One (Planescape: Torment)

The greatest enemy one can conquer is oneself. The Nameless One is the main character of this cult classic, but that immortal bag of bones is only half the equation. The real power lies with The Transcendant One, the mortality of The Nameless One personified and he fortifies himself in The Fortress of Regrets. This is one antagonist that makes their appearance known quickly and is just completely imposing.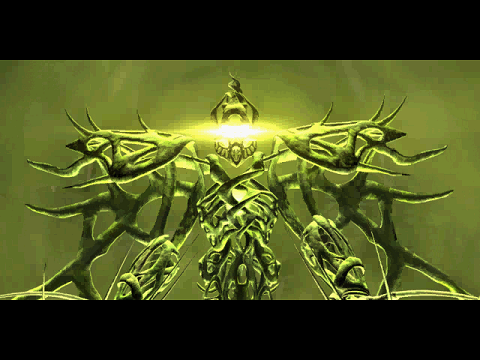 Imposing might be putting it lightly...

The Transcendant One does not have much screentime. The Nameless One does not even know he exists until you are inside the Fortress, but his sheer force of will is maddening. What makes this villain score so highly for me is the fact that you can just talk him into committing suicide by recombining with The Nameless One and fighting in the eternal battle of the lower planes, finally blessed with the death that breaks The Nameless One's prison of eternal life.

2. President Dick Richardson (Fallout 2)

Eugenics. How often does this subject come up in gaming? If you ask me, on the whole, whether I prefer Eastern, or Western villains, I'll usually say Western. Most of the Western ones I've experienced have been great villains that were well written, had a clear motive, and were devious enough to really rustle your jimmies.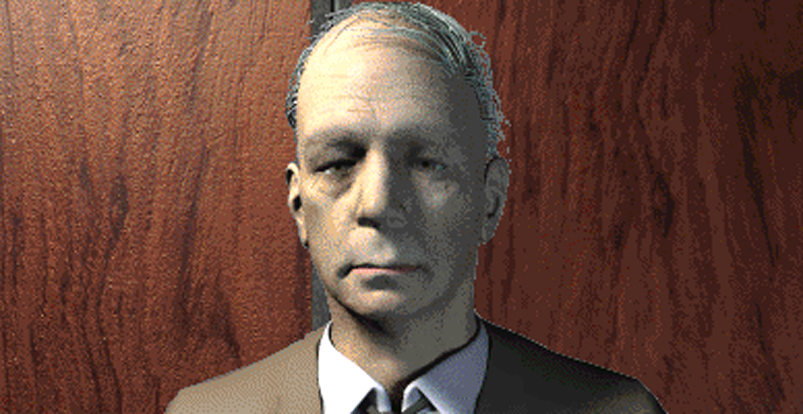 Its time for my Nintendo Power nap!

President Richardson is one of the few examples of a reluctant villain. He just happens to be the President of the Enclave while all these plans for purification and recolonization of mainland North America are coming to fruition. Their main weapon for 'purification' is a modified strain of FEV, Forced Evolution Virus (why Super Mutants exist), which will supposedly eliminate all life on the mainland.

In the end, President Richardson is just another frail politician hiding behind a wall of muscle. Literally.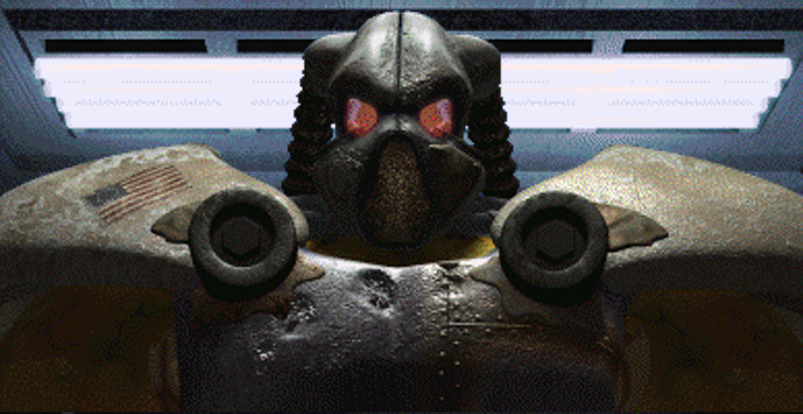 His name is Frank.

"The only way for true humans, and democracy, to be safe is to cleanse the mutants from the globe. We humans will take back that which is rightfully ours." - President Richardson

1. Luca Blight (Suikoden II, Genso Suikogaiden Volume 1)



The White Wolf of Highland. The Mad Prince Luca Blight.

There have been deep, excellent villains on this list but none of them match the sheer raw ferocity of Luca Blight. Most antagonists usually have some sort of political power and use it to hide in their castle while they bark orders. Well, Luca Blight is a prince, he is known as the Mad Prince and is not afraid to be on the front lines, leading his soldiers during their killing. You see this happen right from the start.

The moment that really solidifies Luca Blight as a more sinister villain than the others on this list is that he is the only one that actually raises his sword and slashes it downwards towards a defenseless little girl. A small child! Pilika is like 5 years old! Even then, it takes four people to save little Pilika from her early death. Even before all this there's the systematic slaughter of the Unicorn Brigade, which is where Highland's young, up and coming recruits train during their teenage years until they're ready to wield a sword, all just so he will have the support of the Highland population to go to war.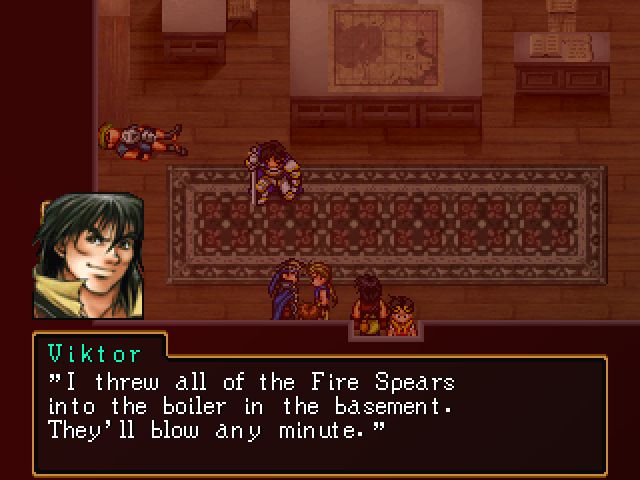 Viktor you magnificent bastard, never stop drinking!

Every time Luca is on screen the entire tone of the game shifts, even though he only speaks in text boxes the man is so charismatic that he commands the attention of the room he's in, even if he's not talking! The fear that others feel when they are around him is quite evident as even his own generals start plotting a way to kill him.

Also, since when does an incredibly powerful madman become challenged by a small handful of teenagers? No, Luca's better than that and you better have three full parties of six decked out characters when it comes down to the final rumble. He even takes a dozen or so arrows to the chest by the time the final duel happens between the deadly White Wolf Luca Blight and Little Riou.



Great villains are always shown being rather villainous.

Remember when I said that Kefka is the best uber super destruction wanton killinator? Yeah, totally taking it back now. Well, Luca Blight has some reasons for his mental state, but that would ruin the experience of playing this masterpiece would it not?

"It took hundreds to kill me but I killed humans by the thousands. I am sublime!!! I am the true face of evil!!!!" - Luca Blight's dying words