---




It's here! Time to dive into Jak 3! Thanks to the evolution of this review I now know how I'm going to be handling Perfect Sequels videos in the future. I expected this review to be a lot shorter, and thus expected to be finished with it sooner. Most of the gameplay would have been covered by the last video, so all I would have to do to review Jak 3 would be to cover the new stuff, give a short story description and then call it a day, right? After seeing that my original take on the story was incorrect, I soon realized that a short review wouldn't cut it.



Continue reading Perfect Sequels: Jak 3 l Review The PS2




Folks on this site likely know the feeling; You and three 'friends' are in a heated Super Smash Bros. Melee when someone cries out, "My "R" button isn't working! Hey guys, wait!" Or that heated Joust versus match with the controller that just doesn't 'flap' as fast, or the time you were excited to show off your rare Sega CD Snatcher on one of the four days of the week that the drive tray doesn't want to work...

If you are a retro gamer that plays as well as collects, you know the effort it takes to upkeep your library. Vintage video game collecting is like classic car collecting or pinball machine collecting; it's more than just having space for the stuff and the ability to find and pay for the games and hardware. If it is going to remain playable, there's some know-how and some elbow grease that will become part of the hobby. From notorious controller wear and faulty optical drives, to analog drift and bad capacitors, every retro player/collector has to get comfortable with just how far down the rabbit hole they are going to go. Perhaps you are fortunate enough to have a passion for a console that seems immune to all but psyonic attacks (SNES, Game Boy Color) or maybe you've fallen for a glass snowflake (Famicom Disc System, a Turbo Duo with good sound), but either way there is always some basic maintenance needed.


Continue reading Thoughts On The Upkeep of Retro Game Collecting





I'm back at it again with a review of some beat em ups from my favorite anime, Fullmetal Alchemist. I first watched it probably back in middle school with the original series, and didn't finish Brotherhood until college. The action is sweet, I love how alchemy makes sense in the world and is explained by science, and all the characters are great. I really like Greed, if you can't tell from the video.

Anyway, on to the review...


Continue reading Fullmetal Alchemist l Review The PS2




Budokai is one of the first games I remember playing on the PS2. It has to be at least one of the first 5 games I saw on the system. I played a bunch of it with my brother and my cousin and we are all big DBZ fans. A couple years later we got Budokai 2 and I was amazed at the improvements. Along the way we rented Sagas and I remember him hating it while I was fine with it. Eventually we got Tenkaichi 2 and played a ton of it and after my brother moved out I was lucky enough to find Tenkaichi 3 for $20 at a Gamestop and played way too much of it for the rest of my high school years.

Needless to say I have a lot of history with these games.


Continue reading Every Dragon Ball Z Game l Review The PS2




Finally found a way to upload another video, one that I've had completed for months. This time, it's XIII, a game based off of a comic franchise of the same name. I bought it purely because of how well it was presented, since it reminded me of Comix Zone. I actually wrote a review for it after I beat it years ago, but my opinion has changed. Its amazing presentation, graphical style, and story tricked me into thinking this was a good game. Unfortunately it is not. No amount of graphics can excuse bland gameplay.

I hope to be putting out more videos soon enough. I already have the rest of two LPs finished as well as another review in the works. Stay tuned, and remember to subscribe on Youtube and follow me on Facebook and Twitter.




This could be me soon!



While I eagerly anticipate the arrival of October because of my trip down south to meet up with several rfgen members to once again attend the seminal Retro World Expo, I'm making sure I've got my wishlist in order and ready to rock. This trip gives me the opportunity to delve into the stock of dozens of stores and vendors that I'd normally never have access to while at home. My hope is to be able to find some of the more challenging games to obtain in different sets. Since completing my licensed NES and Turbografx 16 collections, I've been focusing on completing a few other full libraries. Some easier than others.....



Continue reading Travel Prepping for RWX




Despite being a huge fan of JRPGs for most of my life, I had never played a Dragon Quest game until earlier this year, with that game being Dragon Quest V on the DS. While I did enjoy that game, I didn't enjoy it as much as I thought I would based on all of the praise I had previously heard about it. One thing that I can say about Dragon Quest V though, and I assume is true of every game in the series, is that it has a lot of charm, and that charm left me wanting to play more games in the series. So with the recent release of an enhanced version of Dragon Quest VIII: Journey of the Cursed King for the Nintendo 3DS, the time seemed right to jump into my next game in the series.



Continue reading Dragon Quest VIII: Journey of the Cursed King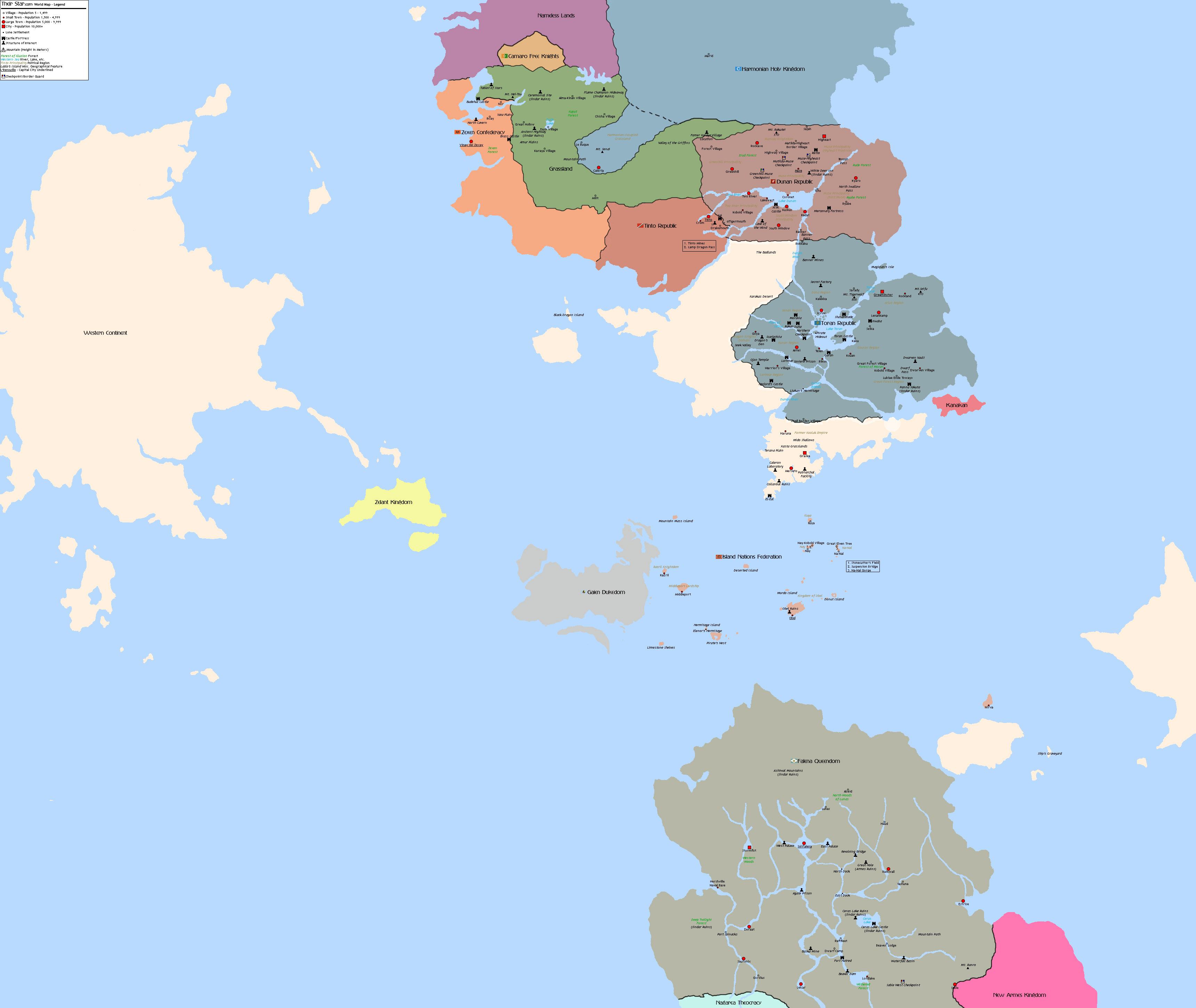 Since the beginning of role playing games, many details have been taken into account by everyone from the top tier game designers down to the dungeon or game master building their first campaign. However, few details are thought about as much as the design of the world the players inhabit. For most gamers, it is nothing more than passing scenery made to make you stop and enjoy the beauty before you move two steps forward and completely forget about it.

In modern video gaming, there are a few different kinds of world designs at play. Most Japanese developed RPGs, from the beginning to this day, are the world spanning epics. No stone is left unturned on these worlds as many are developed without the idea of direct sequels in mind. The juggernauts of Final Fantasy and Dragon Quest almost always take place in a completely new world with linearity in mind. Dragon Quest I and II are notable exceptions to this, where the world of the first game is revealed to be just one small part of the full world that is revealed to the player in Dragon Quest II. This is the idea that Suikoden takes, as it will likely never will reveal the full world in one game.


Continue reading Summer of Suikoden: A Treatise on World Design




Pic from Kotaku and about a million bookmarks


Approximately a million years ago in Internet time, I wrote an article intended as a sort of clarion call about losing our gaming history. You can dust off the electrons and find it here.

This weekend, two events reminded me of that article. The first was reading about how Alan Wake, the Remedy developed atmospheric action game, was about to be delisted from digital sale from Steam and Xbox Live storefront due to music licensing issues. When smaller titles are released in only the digital format, they occasionally disappear and the lost content may be lamented on an equally small scale. (Not to claim irrelevance, just the level of awareness.) To have a decently successful IP such as Alan Wake become unavailable for purchase seven years after release may still seem pretty reasonable in our gaming economy. Every game goes out of print eventually, right?



Continue reading Saving Games...Continue?





I have never considered myself to be primarily a PC gamer, but there was a time back in the late '90s and early 2000s when I did a considerable amount of gaming on the PC. During this time, I played such revered classics as Half-Life, Max Payne, and Deus Ex, all of which I would consider to be among my all-time favorites. Many excellent games were being released exclusively on PC, and when these titles were later ported to consoles, the results were often lackluster.

One such game from this era that I have always remembered fondly is Mafia. Releasing less than a year after the immensely popular Grand Theft Auto III, it may be easy to dismiss Mafia as a cheap knockoff. While Mafia may resemble the Grand Theft Auto series at first glance, I have always felt that it was the "anti-GTA" game. Although both games share similarities with their open-world environments, crime-based stories, and emphasis on driving and shooting gameplay mechanics, Mafia's more serious and less satirical tone, focus on realism, and larger emphasis on narrative rather than free roaming sandbox gameplay sets it apart from Rockstar's juggernaut.


Continue reading Mafia




Dragon Quest V is one of the most important role playing games to ever be released. Despite this, it has been a near unknown outside of Japan. Enix struggled to establish any sort of long term foothold in the North American gaming market. They were a bit more successful in Europe, enough to keep the doors open through the mid-90s. Translating RPGs is a long, expensive process, and Dragon Quest was the company's flagship series. The first four games on NES were all localized and released, but the process likely started too late. Japan got to see the full, natural evolution of these early Famicom RPGs, while the Western games were jumbled. They released a few years after their initial release as well. Japan originally saw the first Final Fantasy releasing two short months before Dragon Quest III. In the timeline of Western releases, Final Fantasy actually beat Dragon Quest II to market. Being a full game behind made Enix's games look that much weaker once they released internationally.

A big promotion with Nintendo Power got a lot of copies of the first Dragon Quest game circulated in North America, but the sales of each subsequent game in the series just fell. The later games in the series were also hurt, since they were released after the Super Nintendo's release. The early games in the series were like building blocks, introducing more core mechanics with each subsequent game. By the time that Dragon Quest V was getting ready for release, all these pieces were in place, and the focus on telling the personal story of the heroes became even more prevalent.


Continue reading Dragon Quest V: The Lost Masterpiece




It's been quite a while since I gave any love to my actual collection, either in real life or on RF Generation. In fact, after recently moving my entire collection for the second time in just under a year, I noted it to be quite burdensome, and I found myself wondering: "Why?" However, in organizing, setting up, and alphabetizing everything after the move, I realized I truly still love the hobby. Holding items in my hands, which I forgot I even had, renewed the sense that I am in fact curating a library of games and items that reflects my personal tastes and curiosities. The room I'm using in our new place is actually smaller than any I've put my games in before, but I actually think this is the best iteration of my game room yet for exactly that reason. The cozy, intimate setting takes me back to huddling around a garbage-picked CRT dinosaur in my parents' basement playing Super Nintendo with my friends and siblings. Let's be honest, the reason we collect is largely to chase that feeling.

As much as we try to organize, there are always odds and ends that fail classification and confound even the most obsessive collectors. Sure enough, after the move I discovered and took a second look at some of the eccentricities in my game library. I imagine we all have odds and ends like this, and they should be celebrated. They make our collections unique. Here's what I have.


Continue reading Collection Odds and Ends




Steambot Chronicles, or Ponkotsu Roman Daikatsugeki: Bumpy Trot as it was originally named in Japan, is a Playstation 2 game developed and published by Irem in Japan, Atlus in North America, and 505 Gamestreet in a few countries in Europe. There is also a spin off on PSP named Steambot Chronicles: Battle Tournament, and an odd tie-in puzzle game on PS2 and PSP named Blokus Portable: Steambot Championship (one of only four games published by Majesco on the PSP in the USA).

A quick look at the back of the case of Steambot Chronicles shows the game being marketed as an open world RPG, and that is correct in a way. The game starts off as linear as any other RPG that's been made and then opens up. It's similar to the opening dungeon in Elder Scrolls, but drags on much longer. In this long opening sequence, you'll visit all three of the main towns, many of the back areas, and explore most of the world by the time it's completely opened up. Once an area is open, it may be visited at any time afterwards, and as a result, money can be hoarded this way.


Continue reading Psychotic Reviews: Steambot Chronicles




ZAGNORCH PRODUCTIONS INC., LLC

PRESENTS

2015



A NEW YEAR'S THRIFTING ODYSSEY



Greetings from Terra!

My adventure began when I saw this notice on the front door of the local Goodwill around mid-December:





Needless to say, my plans to just goof off and kick back on New Year's Day went right out the window. Instead, I embarked on one of my patented cross-county thrift runs. With over a dozen Goodwills within a half-hour drive from home, I figured I'd find more than a few things of interest. When the first day of 2015 was in the books, I'd logged a twelve-hour trip, driven over a hundred miles, and filled eleven blue cases with some pretty awesome swag.





First stop: the Almaden/Foxworthy Goodwill. Although its asking prices for games and hardware are rarely reasonable, it does get in a few interesting things from time to time that I'm willing to pay a little extra for...





...like these CIB Asia-region PSP games (Mobile Suit Gundam Seed: Rengou vs. Z.A.F.T. Portable, Tenchu 4, and Monster Hunter Portable 2nd G) that set me back $5.99 $4.43 each.

Then it was on to the Blossom Hill/Snell location. It hadn't had much of... well, anything since it was remodeled a few months back. Today, however, was a different story...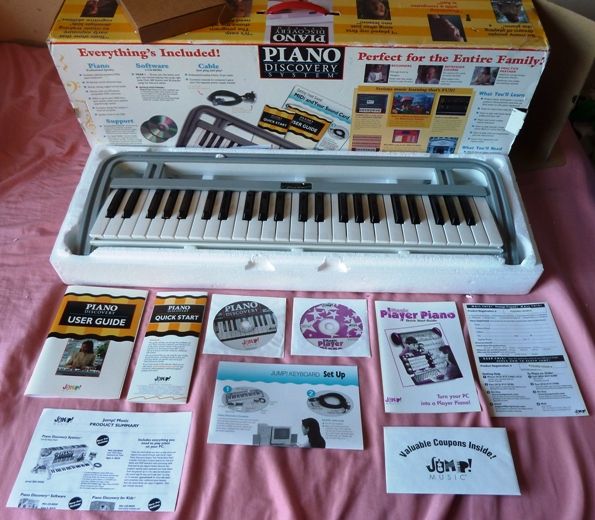 ...a not-quite-CIB Piano Discovery System for PC for $19.99 $9.80. All I need is a connector cable... and DOS Box... and probably a few adapters... and I'll be all set to rockit with John Herbie Hancock! While this pickup isn't all that... miraculous... at least it doesn't need a foot pedal.





BTW it wasn't until I was home that I discovered that it bore another price tag neither I nor the cashier had noticed:





You know what they say: never attempt to correct an error in your favor. Anyhoo, also found at the same location, setting me back $4.99 $3.72: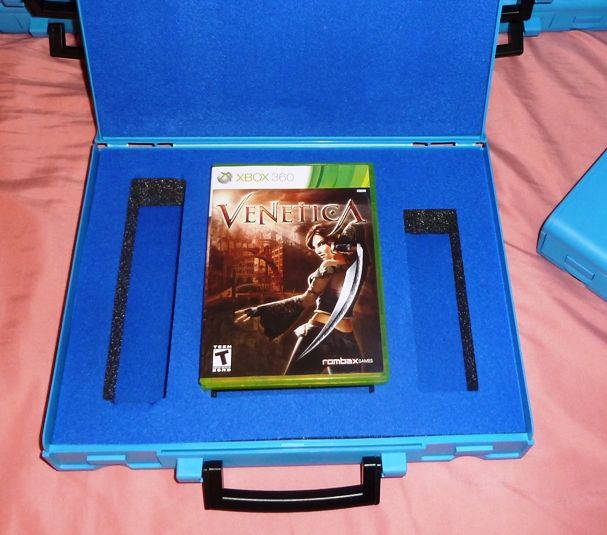 The adventure continued at the Capitol/Silver Creek store, where I found this for $4.99 $3.72:





And then I hit the one-oh-one and headed south to the Mecca of Garlic. There was nothing of note at the Gilroy Goodwill, but the Salvation Army store across town was a slightly different story: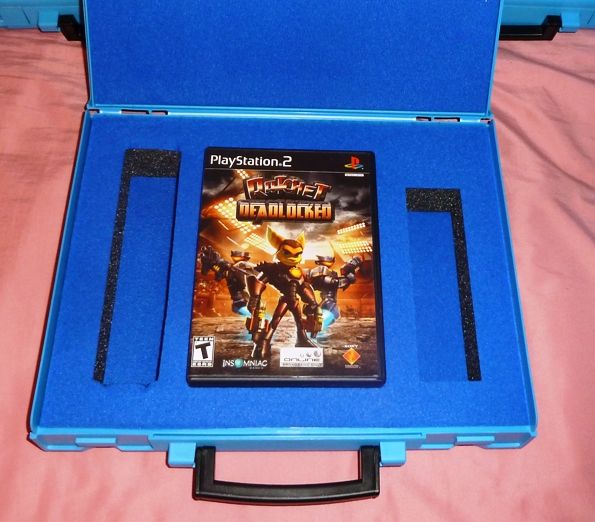 An original-release CIB Ratchet Deadlocked for $3.50 to replace my Greatest Hits copy, and...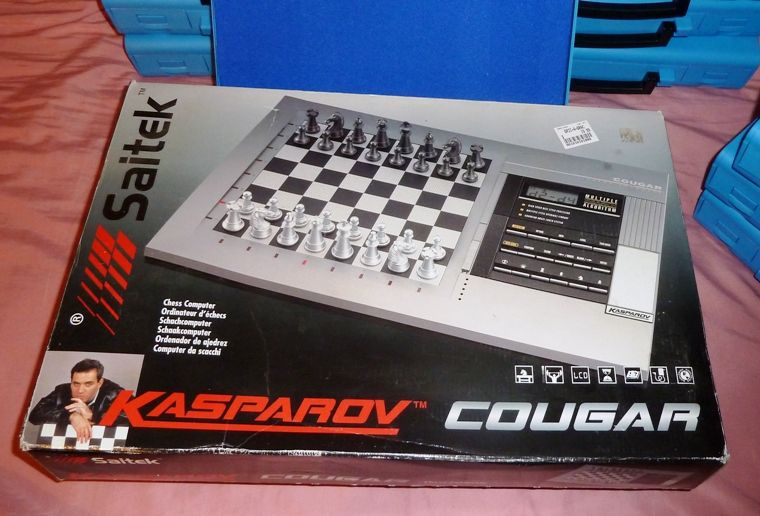 ...a CIB Saitek Kasparov Cougar chess computer for $19.99.

I then drove a few miles up the road and hit the outlet mall, where I found...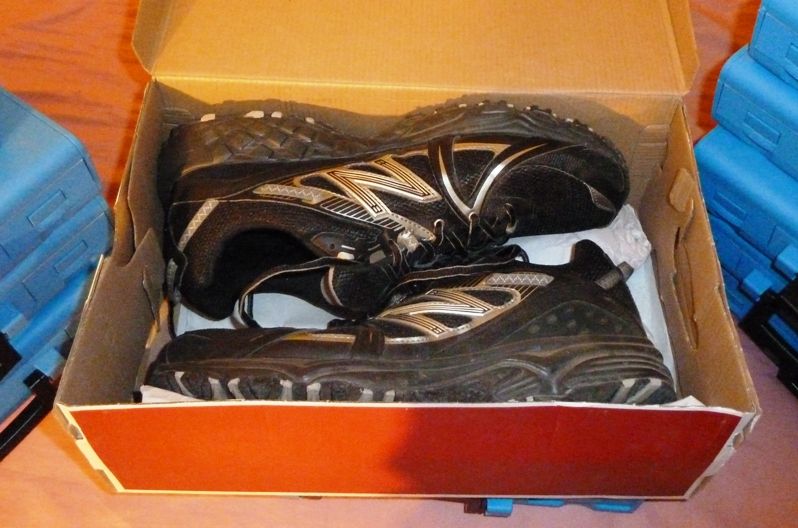 ...a CIB pair New Balance 510 trail-walker shoes to replace my well-worn 605s. And what better way to break in a pair of trail-walker shoes than to hit the local hiking trails for a couple hours?



Always insist on 100% natural lens flare! J.J. Abrams eat your heart out!



With some daylight to spare, I headed northward, eventually making it to the Cupertino store, where I grabbed:





Then it was the Mountain View Goodwill's turn, which yielded...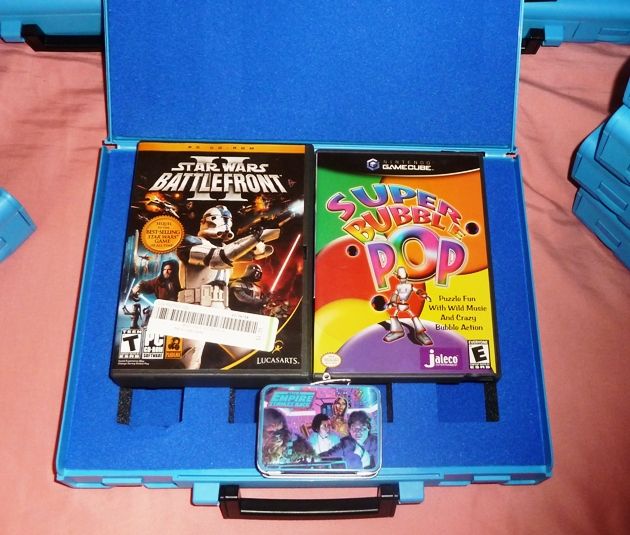 I gave the Empire Strikes Back mini lunchbox tin to someone I knew would get a kick out of it:



Oah! Appreciative of this gift I am! Very much thank you! Mmm-hmm-hmm, yes!



Up next was Sunnyvale, the original hometown of Atari, and the first Goodwill store I ever set foot in. This particular stop only yielded...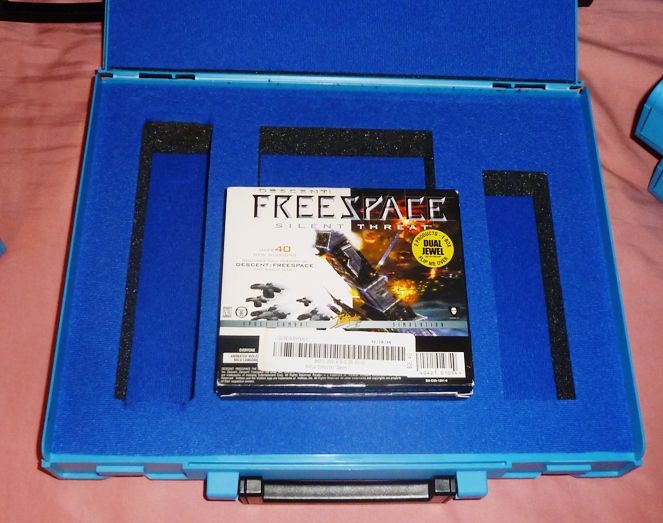 ...a CIB copy of Descent Freespace: Silent Threat for just $1.24? Now we're talkin'. But wait, what's this disclaimer on the package?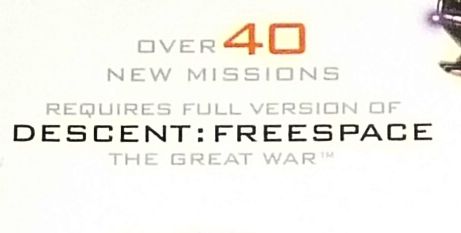 Aw, maaaan... it's just an expansion? Well, that totally blows. Eon knows how many long hours I'll have to spend to find the main game that goes with--





Oh wait, there it is; just had to flip the box over is all. Okay, never mind.

The final stop of the day would be the Palo Alto Goodwill. Located in "the birthplace of Silicon Valley," this store has yielded many of my greatest vidya scores over the last few years. This is where I found my first Miracle Piano, my Atari 2600 Jr., my first near-CIB Dreamcast, and countless games and portable consoles. Its constant supply of the good stuff, friendly and helpful staff, and close proximity to my workplace has kept me coming back on a very regular basis. Culminating my New Year's thrifting odyssey here seemed to make all the sense in the world. And yet... it could very well have been the worst time to have come. For one thing, the place had been open for business all day, and the sun had set two hours earlier. If there had been anything there at the start of the day that I would have been interested in, surely it would have long since been sold and out the door? Undaunted, I ventured inside.

A bad omen appeared right away: the electronics showcase couldn't be unlocked because someone had misplaced the key. Inside that case, mocking me in deafening silence, was a CIB copy of Pokemon XD: Gale of Darkness. Oh, the horror. What kind of loving God would allow this to happen, I lamented. Adding insult to injury, one of the clerks said he was sure he saw a copy of Twilight Princess for Game Cube somewhere in there. That's when I realized that there is no God.

Theological dilemmas notwithstanding, I looked around the place, hoping to find something worthy of purchase. After several minutes of fruitless searching, I conceded defeat, and headed for the exit. I was just about to open the door when I took a quick look at the front-end display case... and caught a glimpse of something. My curiosity piqued, I took a closer look, and grinned from ear to ear when I realized that I'd discovered...





...a loose limited-edition Fire Emblem Awakening 3DS with Pokemon X card? Aw hellz yeah! Now I know what you're asking yourself right now... and here's the answer:



($11.19 after discount)



If that isn't the greatest capper ever to an amazing thrift crawl, then I don't know what is. And if the first day of 2015 is any indication, it's gonna be

The

BEST

YEAR

EVAR!!!11one1one1!!!1one!1!!!!




I can hardly wait to see what I'll bump into next. And I bet you can hardly wait, either. Worry not, for I'll keep you in he loop.

Until next time...


...'Late



Blog Navigation
---
Browse Bloggers | My Blog
We are a community of collectors, gamers and the likes, and some of us enjoy to let the world know what is on our mind. For those members, we have the community blogs, a place where they can publish their thoughts and feelings regarding life, universe, and everything. Some of those members might even choose to write about gaming and collecting! Whatever they write about, you can find it on their blog. You can either see the latest community blog entries in the feed you see to the left, or you can browse for your favorite blog using the menu above. Interested in having your own blog hosted on RF Generation? It's rather simple, first be a registered member, and then click the "My Blog" link that you see in the navigation above. Following those two steps will certainly get you on your way to blogging.

Sit back, relax, and enjoy our entries, rantings, and completely unrelated series of thoughts. We write for you to read, so we certainly hope that you enjoy our material.
Hot Community Entries
---
Hot RFG Blog Entries
---